Hey, Gove - leave them teachers alone!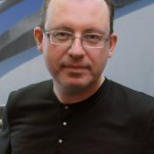 A British journalist and editor who commutes between northeast England and Moscow, Tim Wall is an editor at RT.com. He has written extensively about Russian politics, business and society since 2003, serving as a member of the Valdai Club, an international group of Russia experts, journalists and academics, from 2009 to 2012. A former editor-in-chief of The Moscow News, Russia's longest-running English language periodical, and business editor at The Moscow Times daily, he also writes about global economics, the growth of protest politics and the alienation of mainstream media from reality. He has also lived and worked in Azerbaijan for four years, covering energy geopolitics and regional conflicts in the Caucasus and Central Asia for Caspian Business News, The Baku Sun and The Azeri Times. In a previous life, he was editor of British Chess Magazine, an expert chess coach and British under 16 chess champion.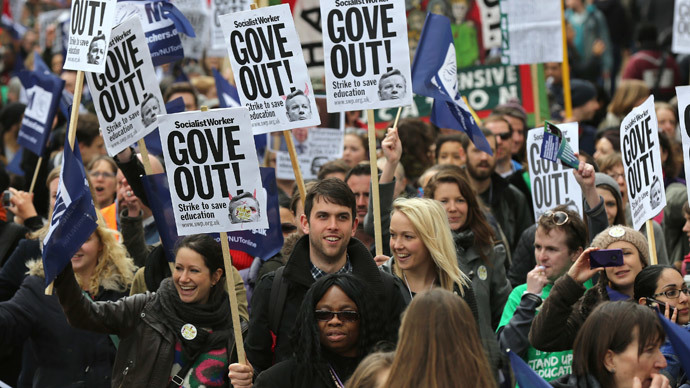 Back in the 1980s, Pink Floyd's 'Another Brick in The Wall' summed up the frustrations of a generation of young people in Thatcher's Britain – bullied and fed through a mincer of rote-learning, millions were thrown on the scrapheap of the dole queue.
Fast forward three decades, and it's Thatcher-2, the horror sequel.
Today it's PM David Cameron's hit-man, Education Minister Michael Gove, who's the classroom bully, and teachers and school students alike who are being force-fed through the mincer.
But teachers are hitting back, and have staged a series of national strikes in their two-year battle against the Con-Dem government. In the latest strike, on March 26, a walkout by the 300,000 members of the National Union of Teachers – the most radical of the teachers' unions – brought thousands of schools to a full or partial standstill in an effort to get Gove back to the negotiating table for realistic talks about the massive attacks on education and teachers he is trying to ram through.
Thousands of teachers staged a lively march in central London, where they explained their reasons for striking and their rejection of Gove's rote-learning proposals.
In particular, teachers are protesting ever-lengthening working hours. Surveys show that primary school teachers are working an average of 60 hours a week and secondary school teachers 56 hours a week. These are forced upon them by ever-increasing amounts of form-filling, reports and testing, rather than classroom teaching.
Solidarity with #NUT members on strike today to win back their pay, their pensions and their weekends! http://t.co/LZEUeBABPH

— Dave Nellist (@davenellist) March 26, 2014
Teachers say that making them work these hours, while the government is proposing to make them work until 68 before they qualify for pensions (up from 65 years currently), is hurting educators and students alike. They are also vehemently against the introduction later this year of performance-related pay – a corrosive system that will pit teachers from the same school against each other, undermining the principle of collective teamwork by teachers and other school staff.
Through these so-called 'reforms', Cameron, Gove & Co. are determined to force down teachers' wages and conditions, as part of the Con-Dem government's austerity measures aimed at shifting the burden of the economic crisis away from the bankers and big businesses that caused it, and on to the shoulders of already hard-hit ordinary working people and their families.
The attacks on teachers' pay and conditions are also part of Gove's crusade to churn out a new generation of school-leavers drilled by soulless, dumbed-down and part-privatized education. His eventual goal appears to be to turn schools from centers of genuine learning into privatized exam factories, where young people leaving school will be fed into low-paid jobs on zero-hours contracts – all to feed the insatiable appetite for profits by Cameron, Osborne, Gove and Co.'s friends in big business.
In response to those who say that teachers' strikes are hurting children's education, NUT General Secretary Christine Blower points out it's the other way around – it's the government attacks on the teaching profession that are harming children's learning.
Sir Michael Wilshaw, the chief schools inspector, has described as a "national scandal" the situation where two out of every five teachers that come into the profession are leaving within five years – a terrible indictment, and a sign that education needs a massive increase in funding, not the massive cuts being callously carried out by Gove.
Then there are Gove's experiments with privatizing education. The introduction of academies and so-called 'free' schools, which are being separately funded by Cameron's government outside of local councils' control, and with the involvement of private companies – regardless of whether such schools are wanted or needed by local communities. Meanwhile, conventional state schools are suffering from a lack of funding, shortages of places for children and growing class sizes.
"Under new legislation, teachers will not have to be qualified," says Blower, the NUT leader. "Free schools are opening in areas where they aren't needed. But local authorities are not allowed to open schools where there is a schools places crisis."
The mood on the striking teachers' demonstrations last week was one of increasing anger and frustration – and of feeling that now is the time to take a stand against Gove and Cameron, before it is too late.
Typical of the teachers' feelings were those expressed by Lee Coombs, a Buckinghamshire teacher on the march in Oxford, who told the BBC:
"The main reason I'm leaving and the main reason I'm on strike today is that teaching is no longer the journey of discovery that it should be. It's now just a pressure cooker for pupils and teachers alike. And that's not the environment that I want my four-year-old son and two-year-old daughter to grow into."
Martin Powell-Davies, a member of both the NUT national executive and the anti-austerity Trade Unionist and Socialist Coalition (TUSC), says that the way to stop the attacks on education is to set a clear calendar of future strike action – in a similar vein to the RMT Tube strikes led by the late Bob Crow – including a two-day strike in the summer term, along with coordinated action involving all teachers' unions.
#March26#NUT@teacherROAR Parents support strike "to defend quality education and terms and conditions" http://t.co/0Fe6NMSLky

— Martin Powell-Davies (@MPDNUT) March 23, 2014
And in a sign of recognition that the struggle is not just about supporting teachers, but also part of a general fight-back that must be launched to defend young people's future, Powell-Davies and other teachers' union activists are getting involved in a campaign to fight for better pay and conditions for school-leavers forced into low-paid jobs in the fast food industry.
In the campaign, 'Fast Food Rights', organized with the Bakers and Allied Food Workers' Union, a national day of action was held March 29, with over 20 protests in cities across the UK, calling for McDonald's and other low-wage employers to raise pay and recognize workers' rights to join a trade union.
For teachers and school students alike, it's clearly time to stand up to Cameron and Gove and their bullying tactics. Once the envy of the world, Britain's education system needs defending now to avoid becoming merely a mediocre factory for churning out rote-learning, low-paid workers from the mincer, based on forcing a demoralized teaching profession to work longer hours and years, for less pay.
Ordinary members of the NUT have taught that a fight-back can be organized. Now it's up to the leaders of other teachers' unions to learn that lesson and follow their lead.
The statements, views and opinions expressed in this column are solely those of the author and do not necessarily represent those of RT.