UK & Spain: Between a rock and a hard place on 'shady' Gibraltar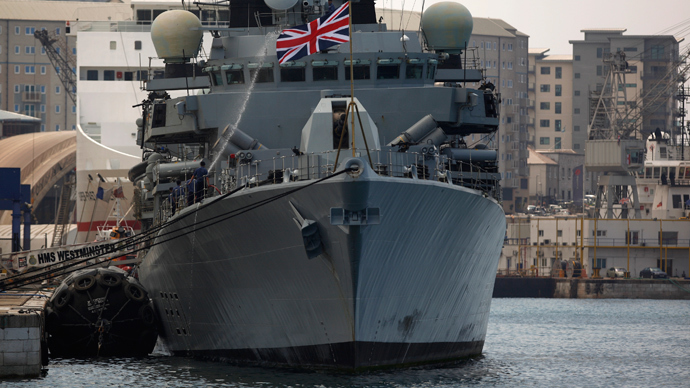 Two nations with collapsing economies, the UK and Spain, are now fighting over fishing rights, raising the stakes in a bizarre war of words and boats that seems to belong more to Elizabethan times than to the 21st century.
Britain says that the nine Royal Navy vessels it sent to Gibraltar which corralled Spanish fishermen on Sunday are all part of a routine exercise – they are merely stopping by on their way to the Persian Gulf – presumably to project UK military might against Iran as well as to demonstrate support for autocratic regimes attempting to suppress democracy in the Middle East.
The whole imbroglio began when Gibraltarians (or Llanitos as they are colloquially called) began dumping concrete blocks into the sea to prevent Spanish fishing boats from casting their nets. The dumping was supposedly a sign of ecological progressiveness. Spain retaliated by closer customs checks at the border, slowing down travel between Spain and the "British Overseas Territory." Spain also plans a 50 Euro traveller tax to offset fishermen's losses and the European Commission calls that toll "illegal." 
In itself, the docking of the UK Royal Navy's HMS Westminster in Gibraltar harbor demonstrated the diminution of UK conventional military power.

Admiral Lord West, former head of the Royal Navy has said that government cuts are becoming dangerous for the UK.

Just days before the HMS Westminster's supposed show of strength, Britain's Royal Navy flagship, the HMS Ark Royal, was sold to a Turkish company for four and a half million dollars to be turned into razor blades and cans. The Ark Royal was the aircraft carrier that led the British Navy into its 2003 invasion of Iraq.

Both of Britain's main political parties support the upgrade of the Trident nuclear weapons program and the de facto decimation of UK conventional forces. 
Britain is keener on Mutually Assured Destruction policies, than the sort of practical military force that it may need to protect her colonies. We can only assume that the UK doesn't foresee a nuclear war against Spain.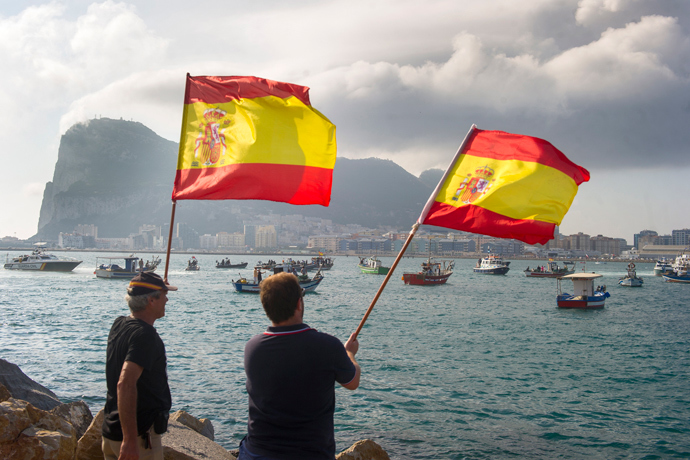 As for the Spanish Navy, austerity cuts have meant the decommissioning of its aircraft carrier Principe de Asturias. Spain reputedly ended its nuclear weapons program in the 1970s under UK-backed fascist dictator, General Franco.
British Prime Minister David Cameron says he is "seriously concerned" and his Foreign and Commonwealth Office mandarins emphasized that the UK intends to "use all necessary measures to safeguard British sovereignty."

Cameron's Spanish counterpart, Mariano Rajoy replied that his government will "take the necessary measures to defend the interests of Spanish citizens." Rajoy is currently defending himself at home against charges that his governing People's Party operated a slush fund from which he benefited. As for Rajoy's economic policies, one of his towering failures has been youth unemployment which is nearly 60%. In Britain, youth unemployment is at its highest for 20 years.
Status quo? Things are too good for that
Also in the mix is a bizarre British threat of legal action against Spain – using the International Court of Justice from which the Cameron government only days ago said it wanted to withdraw.

Spain came back with intentions to use Argentinian support at the UN Security Council to discuss ownership of Gibraltar alongside that of the Falklands/Malvinas Islands. Gibraltarians want the status quo – while Britain and Spain face catastrophic economic austerity amidst stagnant GDP growth, the peninsula has seen a 30 percent rise in GDP since the 2008 global economic crash. Why change masters when things are going so well?

Money laundering on the rock of Gibraltar doubtless does the economy no harm. According to US diplomats quoted in a WikiLeaks cable dated 9 May, 2008, the director of Spain's anti-money laundering/terrorism unit, Sepblac, Ignacio Palicio, told the US that poor UK-Spain relations "represented a major problem because a significant amount of laundered money associated with Spain's Costa de Sol housing boom has been moved to accounts in Gibraltar where Spain has no access.  Hence, this makes it very difficult for Spanish authorities to pursue investigations."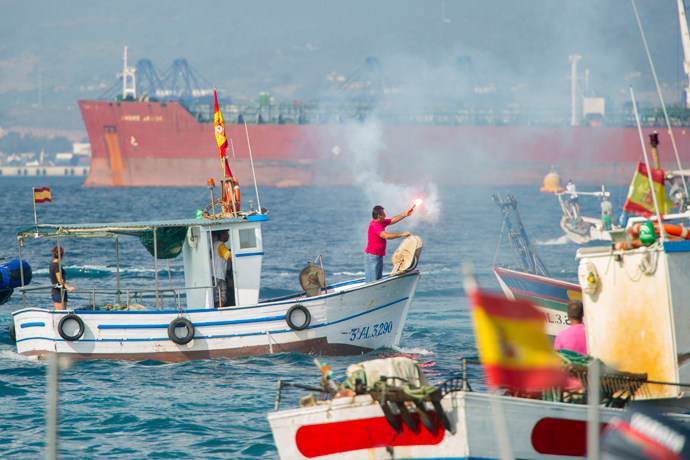 The territory is also a haven for fake companies avoiding tax, online gambling firms and more recently hedge funds. In June, Gibraltar Chief Minister Fabián Picardo was in London to tell multimillionaire hedge fund managers to relocate to Gibraltar because it was "much cheaper", with financial products sold from the Rock "unlikely to be liable for corporation tax".
According to a WikiLeaks' 2011 release of a confidential cable dated 20 August, 2009, the meeting of former Spanish foreign minister, Miguel Moratinos with his British counterpart, David Miliband, shortly after Mr. Moratinos' historic visit to the peninsula was more to talk about possible war with Iran than the sovereignty of the island. Before detailing US interests, American diplomats noted "Moratinos' visit was the first time in 300 years a Spanish Minister had set foot in Gibraltar since it was ceded to Britain under the Treaty of Utrecht." The cable continued: "The British Embassy in Madrid continues to be concerned about Spain's role in EU deliberations on the next steps regarding Iranian proliferation and potential high-level Spanish delegations to Teheran (sic)."
The tiff between Spain and Britain is a good decoy for their governments to ramp up fake patriotism while they remain servants of Chicago-school economics. Meanwhile, Gibraltar looks set to continue its role as one of Europe's favored holes for shady activities. Mainstream media can play its part – it deflects news away from serious topics in the traditional summer "silly season" manner that blights journalism in August. TV news in Britain is leading with the fake war over Gibraltar. 
As for real news, here in Britain, it might be useful to remember that 22 years ago, a British television company was effectively closed down by UK authorities after it made a documentary, "Death on the Rock." The Thames Television investigation detailed the UK's extrajudicial killing program, specifically the SAS mission Operation Flavius, which resulted in the gunning down of three members of the provisional IRA on the Rock of Gibraltar.

The statements, views and opinions expressed in this column are solely those of the author and do not necessarily represent those of RT.
You can share this story on social media: