Cameron comes out as fundamentalist with nukes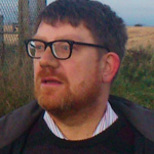 Beginning his working life in the aviation industry and trained by the BBC, Tony Gosling is a British land rights activist, historian & investigative radio journalist. Over the last 20 years he has been exposing the secret power of the Bank for International Settlements (BIS) and élite Bilderberg Conferences where the dark forces of corporations, media, banks and royalty conspire to accumulate wealth and power through extortion and war. Tony has spent much of his life too advocating solutions which heal the wealth divide, such as free housing for all and a press which reflects the concerns of ordinary people rather than attempting to lead opinion, sensationalise or dumb-down. Tony tweets at @TonyGosling. Tune in to his Friday politics show at BCfm.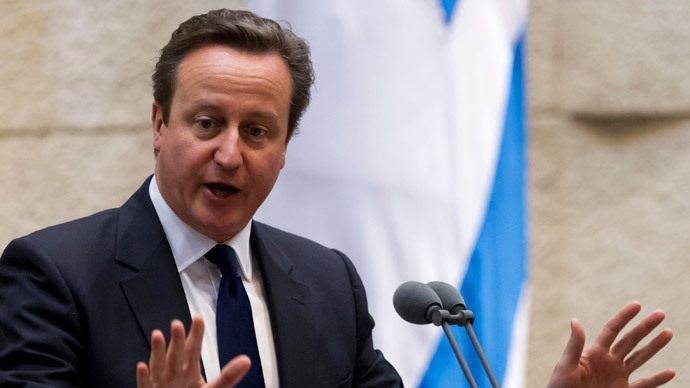 ​In an extraordinary move, which was not part of his 2010 election platform, David Cameron came out as an Israeli fundamentalist in his long-awaited first visit to Jerusalem as British prime minister.
There he confessed to his 'unbreakable support' signing up to the Israeli creed that Bibi Netanyahu's Israel was put there by the God of Abraham, Isaac, and perhaps even Jesus, to free the Holy land from those Middle Eastern 'infidels'.
Cameron's 'holy war' speech echoed the sentiment of the Medieval crusader, of the Knights Templar who would spend any amount of blood and money to exterminate the 'indigenous devils'. Also declaring the state of Israel to be the Jews' historical "homeland," David Cameron was endorsing the view that Old Testament prophets such as Isaiah would applaud ongoing evictions of hundreds of thousands of Palestinians. Cruel human rights abuses for which the Israeli state has been roundly condemned both at the United Nations and around the world for the last 50 years.
Cameron's speech was disturbed by Knesset members heckling over last week's controversial new Israeli law which forces Orthodox Jews to serve in the armed forces. He explained, over the shouting, that he has much Jewish blood flowing through his veins. The PM explained that his great-grandfather was Jewish, of German origin - one Emile Levita. Another more distant relative, Elijah Levita, apparently "wrote the first Yiddish novel"
There was disquiet too from the Israeli civil service. Diplomats lodged a formal complaint because Cameron's visit broke their strike which is being held over pay and conditions – so Cameron's inaugural trip took place with virtually no Israeli state assistance. The diplomat's union wrote to the British ambassador Matthew Gould: "As professionals to a professional ... we express our disappointment that your embassy has been actively contributing to the ongoing efforts to break our struggle for better and fairer conditions."
Cameron's Knesset speech though was not just the usual political posturing, of favors for big business, the British Prime Minister's political allies in the Levant. By attempting to pin Britain's fortunes to those of the fundamentalist movement, which includes US pastor Hagee, Cameron is playing with hellfire. Britain is already signed up to the Pentagon's 'War on Terror' which, though most 'Islamist terror arrests' in Britain come to nothing in front of a jury, sees Islamic fundamentalism as the scourge of the world that needs to be stopped at all costs.
By coming out as someone who believes he's on a mission from God, Cameron has stepped from the relatively safe secular political ground. He's admitted to being beyond the reach of rational argument. For a fundamentalist there can be no negotiation or discussion, there can only be good and evil and there can only be rejoicing that God gave Netanyahu and Cameron's side such an enormous armory of nuclear weapons.
British establishment trust Israeli security over their own
Back in 2004, a few months before the 7/7 London bombings, London Underground subway train security were sacked and the work was privatized into the hands of an Israeli Company, Verint Systems. Run by former Israeli Defense Forces (IDF) officer Daniel Bodner, Verint was formerly known as 'Comverse Infosys' but changed its name after being implicated in a 2001 Israeli spy ring in the US. According to the FBI and reported by Fox News' Carl Cameron, Comverse had been using their 'AmDocs' telephone billing contracts to gain access to US phone networks, tipping off the Israeli Mafia every time FBI wiretaps were put onto Mafia phones.
Israeli parent private security company Comverse Technologies too was hit by scandal in 2006 after the US Securities and Exchange Commission (SEC) caught directors using 'stock option backdating' to rig six-figure bonuses at the expense of shareholders. Chairman Kobi Alexander was tipped off and fled the US for Israel, subsequently hiding out for months on a Uranium mining settlement in Namibia. The SEC was after him for $13 million dollars which, returning to Israel, he eventually agreed to pay in fines and confiscations rather than be extradited and lose his liberty.
Extraordinary then that the same company should have continued to be contracted to run CCTV systems at the heart of the London Underground. In the London bombings of 2005, 52 innocent passengers on three Tube trains and one bus died. Despite the scores of cameras on buses, on trains and in Tube platforms, not a single CCTV image was ever produced by Daniel Bodner, Verint Systems, or anyone else to place any of the four bombers on the bombed bus or trains.
Then there is the extraordinary case of Adam Werritty, a friend of Israel who, despite having no security clearance, was allowed to accompany UK Defence Secretary Liam Fox MP around the world using fake House of Commons credentials. It later transpired that Werritty's unofficial role was almost certainly to assemble a case for attacking Iran. Something which he was thankfully failed to accomplish before his sponsor Fox was forced to resign in October 2011.
A press neutered under NATO command and control
Perhaps the fear of challenging Israel's cult-like religious fundamentalism, that should have died a death with Templar Grand Master Jack De Molay in 1307, is also why the West's mainstream media has stopped asking the difficult questions? In the mistaken belief that the Israeli state represents world Judaism, are they also buying into the belief that nuclear armed militaries and governments of Israel and the US are on a mission from God?
NATO certainly to be unswervingly pro-Israel, and joining them on that 'Mission from God' are the European Round Table of Industrialists who draft much EU legislation. These have become the battalions, brigades and divisions of the 21st century's economic crusade. Putting in an appearance as reinforcements the Western mainstream media have been formed into a Goebbels-like psychological war force whose lies have the potential to penetrate deep into hundreds of millions of unsuspecting psyches.
Just as Orwell warned us in his 1948 novel 1984, the temptation to control the press, to make a stab for the vast voting militia of hearts and minds, has been too great for the Western establishment. Armies of lawyers fired up by vast supplies of financiers' bailout money cash can and do take over democratic institutions, political parties or opinion formers by stealth, but every bit as effectively as a corps of SS Panzer-Grenadiers.
"You won't know what hit you until it's all over" as one SS Officer at Nuremberg bragged to a young British army officer, recounted by his nephew, English UK Independence Party supporter Idris Francis. Perhaps the old SS boy was right, that Britain and the other Western nations are being subsumed in an undeclared war which uses religious fundamentalism to justify all kinds of mass deception because 'the end justifies the means'.
But we certainly won't be told because Britain's great investigative documentary teams of the 21st century have all been closed down.
Referring to the Iraq war US General Stanley McChrystal remarked to ill-fated US Investigative Journalist Michael Hastings: "Boy we really co-opted the media on that one." And you can be sure that even more honest editors and journalists have been 'weeded out' by the military industrial complex and their security service friends since then. And they're not giving up on the killing any time soon either... on its land grab under the guise of a 'God-given quest' Israel is still gunning for Syria and Iran, Crimea too is in Israel and NATO's crosshairs.
No, butter wouldn't melt in the mouths of the war advocates, and they talk, for all the world, as if they were on a mission from God. But 'once bitten twice shy.' However carefully the lies are crafted for the next set of war crimes, increasing numbers of media workers and decision-makers and public alike will not swallow them.
The statements, views and opinions expressed in this column are solely those of the author and do not necessarily represent those of RT.