​Turkey's Tehran thaw: What lies behind Erdogan's rapprochement with Iran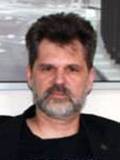 Can Erimtan
Dr. Can Erimtan is an independent scholar residing in İstanbul, with a wide interest in the politics, history and culture of the Balkans and the Greater Middle East. He attended the VUB in Brussels and did his graduate work at the universities of Essex and Oxford. In Oxford, Erimtan was a member of Lady Margaret Hall and he obtained his doctorate in Modern History in 2002. His publications include the book "Ottomans Looking West?" as well as numerous scholarly articles. In the period 2010-11, he wrote op-eds for Today's Zaman and in the further course of 2011 he also published a number of pieces in Hürriyet Daily News. In 2013, he was the Turkey Editor of the İstanbul Gazette. He is on Twitter at @theerimtanangle
Dr. Can Erimtan is an independent scholar residing in İstanbul, with a wide interest in the politics, history and culture of the Balkans and the Greater Middle East. He attended the VUB in Brussels and did his graduate work at the universities of Essex and Oxford. In Oxford, Erimtan was a member of Lady Margaret Hall and he obtained his doctorate in Modern History in 2002. His publications include the book "Ottomans Looking West?" as well as numerous scholarly articles. In the period 2010-11, he wrote op-eds for Today's Zaman and in the further course of 2011 he also published a number of pieces in Hürriyet Daily News. In 2013, he was the Turkey Editor of the İstanbul Gazette. He is on Twitter at @theerimtanangle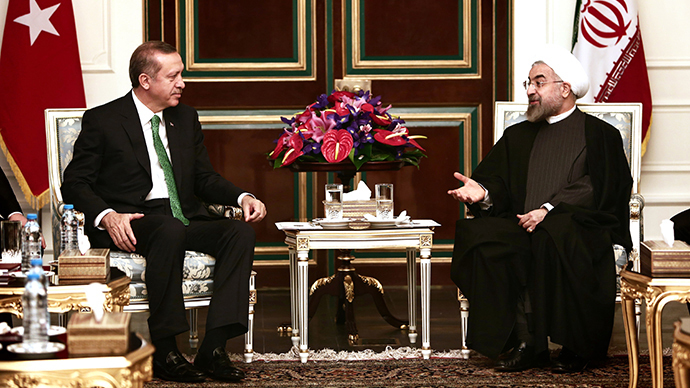 The relationship between Turkey and Iran has never been an easy one to define or summarize.
Back in the 16th and 17th centuries, for example, when the Sunni Ottomans (ruling Anatolia, today's Turkey) and the Shia Safavids (holding sway over the lands of Persia, today's Iran) were engaged in near-continuous armed tussles based upon their ideological differences, Anatolian and Iranian merchants were nevertheless happily and fruitfully engaged in the silk trade.
Europe's ever-growing demand for silk essentially formed the "structural basis" of the Ottoman and Safavid economies at the time, thereby proving that the Islamic Orient and the Christian Occident have always been heavily interconnected. Today as well, religious and ideological differences persist while trade between Turkey and Iran thrives unencumbered, or rather used to thrive unencumbered until the US under President Barack Obama tried to force its Missile Shield, the continuation of George W. Bush's National Missile Defense (NMD), onto the world stage at the 2010 NATO Lisbon Summit.
Following this high-level meeting, the cordial relationship between Ankara and Tehran experienced a certain deterioration (Iran being conspicuously part of the Bush-proclaimed "Axis-of-Evil" that was supposedly threatening the Free World). The outbreak of war in Syria the following year all but sealed the rift between the two countries.
Since then, trade has nevertheless been resumed – Turkey actually primarily depending on Iran (in addition to Russia) for most of its natural gas imports, and now, at long last, the country's political leadership is following suit as well. Turkey's popular yet recently beleaguered Prime Minister Recep Tayyip Erdogan flew to Iran's capital for a two-day visit on January 29-30. It seems more than just coincidental that Turkey now finally seems to have realized that its relationship with its eastern neighbor needs mending.
After all, even the US now seems to be moving closer to the Islamic Republic, following the election of President Hassan Rouhani last June. President Obama's predecessor, George W. Bush, was more than outspoken in his enmity for Iran and its leadership. During the Bush years, or should one say the Cheney-Bush Administration, the controversy over Iran's nuclear program came to a head. In spite of the country's assurances that its nuclear ambitions are purely peaceful and Supreme Leader Ayatollah Ali Khamenei's fatwa that held that "the Islamic Republic, logically, religiously and theoretically, considers the possession of nuclear weapons a grave sin and believes [that] the proliferation of such weapons is senseless, destructive and dangerous."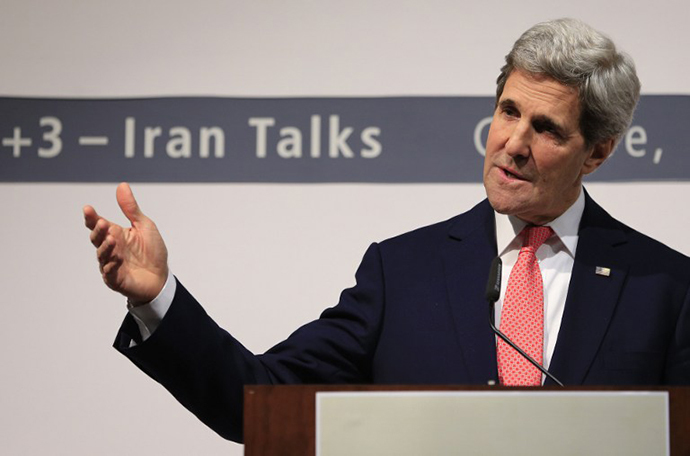 Despite the fact that, just prior to the 2003 start of the Shock & Awe campaign against Saddam Hussein's Iraq, then-Iranian President Mohammad Khatami had sent a wide-ranging peace proposal to the US, the Cheney-Bush Administration continued its anti-Iranian rhetoric and its campaign of sanctions, as well as its confidence in Israeli distrust of Iran.
Indeed, in his recent book "Manufactured Crisis," American historian and investigative journalist Gareth Porter states: "US and Israeli policies have been driven by political and bureaucratic interests, not by a rational, objective assessment of available indicators of the motives and intentions of Iranian leaders."
Since 1992, Israel, either under Likud or Labour, has been at pains to exaggerate the dangers posed by Iran and to demonize its leadership, pointing towards "Iran and Shia fundamentalism" as posing a direct threat to global peace and stability – one need but recall Israeli Prime Minister Benjamin "Bibi" Netanyahu's address to the UN General Assembly in 2012, when he produced a diagram depicting "Iran's nuclear plans to build a bomb."
In contrast to such colorful and blatantly populist rhetoric, already in late 2007, a US National Intelligence Estimate (NIE) indicated that Iran had abandoned its nuclear weapons program as long ago as 2003. And in early 2008, the International Atomic Energy Agency (IAEA) reported that "Iran had resolved all the concerns that had arisen out of IAEA investigations in the preceding years." Obama assumed office on January 20, 2009, and all but continued his predecessors' foreign policy initiatives, including the Missile Shield program, leading to a necessary cooling on the Turco-Iranian diplomatic weather front.
Previously, Turkey's much-vaunted "zero problems" and what I call its "pseudo-Ottoman" policies ensured that greater regional activism and trade-driven foreign relations became the new Turkish norm, including with Iran. In 2007, for instance, the political scientist-turned-political actor and main architect of Turkey's current self-confident stance on the international stage, Turkey's FM Ahmet Davutoğlu, stated: "[A]s a growing economy and surrounded by energy resources, Turkey needs Iranian energy as a natural extension of its national interests."
In 1998, Turco-Iranian trade was languishing at a little more than $600 million; by 2004, under the AKP's firm steering, the trade balance stood close to $3 billion and managed to exceed $10 billion in 2008 – an impressive 15-fold increase over a decade. Elliot Hentov, a fellow with the Truman National Security Project, opined that Turkey, in the period 2002-10, perceived Iran as "a regional partner whose victimization by the Western-led international community could be detrimental to Turkish interests." But the Obama Administration's continuation of the Cheney-Bush Administration's take on Iran somehow seems to have persuaded Ankara to cool its rapprochement toward Tehran.
In fact, in Turkey, critics of Tayyip Erdogan regard his meteoric rise to power as a function of American goodwill and the AKP's role in a US-led approval of moderate Islam on the world stage. Turkey's approach to Syria following the outbreak of anti-Assad violence seems to confirm that Erdogan started toeing the American line pursuant to the Lisbon Summit. After all, President Obama did call Turkey a "central state" and the US-Turkey relationship a "model partnership."
But now that the conflict in Syria has apparently entered another stage – a stage that sees so-called Al-Qaeda-linked armed groups as a threat bigger than the Baath-led Assad regime in Damascus – Turkey appears on the brink of reassessing its relationship with the Shia powerhouse in the east (and thus necessarily also with the US).
The thin line
Even though Assad's alleged cruelties still manage to obtain some airtime – for example, as in the case of the 31-page Report into the credibility of certain evidence with regard to Torture and Execution of Persons Incarcerated by the current Syrian regime, commissioned by Carter-Ruck and Co. solicitors of London and paid for by the rulers of Qatar – the majority of the news reports on Syria nowadays deal with violence perpetrated by such factions as the Jabhat al-Nusra and the Islamic State of Iraq and the Levant.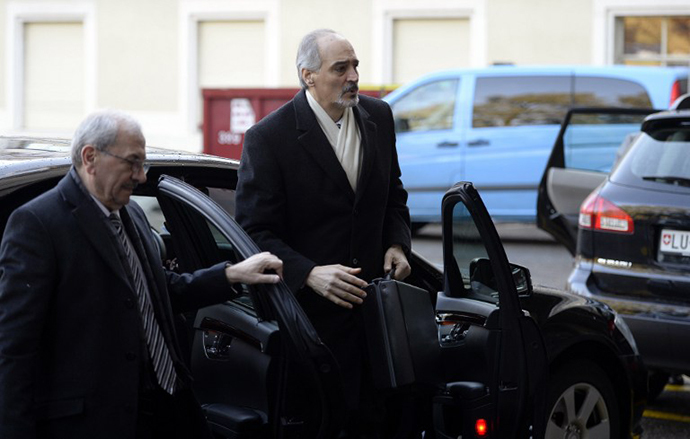 At the outset of the first sessions of the Geneva 2 negotiations, the Turkish news agency Doğan Haber Ajansı even released a report indicating that the Turkish security forces have "determined that 20 ISIL members were planning to organize suicide attacks in [Turkey]. Hotels in [the province of] Hatay are considered among the primary targets. Besides Hatay, big hotels and meeting centers in Ankara and Istanbul are also [among the targets]. The suicide bombers have a list of names that were determined as primary targets."
On January 29, Turkish armed forces opened fire on an ISIS convoy in Syria, destroying three vehicles – a "pick-up, a truck and a bus," as reported by the news agency Agence France-Presse. The attack was in retaliation for cross-border fire the previous day.
Against this volatile backdrop, Recep Tayyip Erdogan decided to accept an invitation made by Iran's Vice President Eshaq Jahangiri to travel to Tehran. But Turkey's PM did not visit Iran on his own. The delegation included his foreign, economy, energy, development and culture ministers, as well as the general director of Turkey's state-owned Anadolu news agency. The Turkish delegation was met by Jahangiri in the Sa'dabad Palace in Tehran. During the meeting Erdogan and the Iranian Vice President signed a memorandum of understanding on mutual cooperation. On the sidelines of the Erdogan-Jahangiri meeting, three more MoUs were signed as well. Tayyip Erdogan and Eshaq Jahangiri announced during their subsequent press conference that it is their intention to increase bilateral trade to $30 billion by 2015. A MoU on preferential trade was signed by Turkey's Economy Minister Nihat Zeybekçi and Iran's industry minister Mohammad Reza Nematzadeh. Iran's official Islamic Republic News Agency and Turkey's Anadolu Agency also agreed upon a MoU on mutual cooperation. These signatures seem to indicate that a thaw is currently taking place on the Turco-Iranian diplomatic front. These business-minded meetings were followed the next day by get-togethers of a more political nature, as Turkey's prime minister met with President Hassan Rouhani and Supreme Leader Ayatollah Ali Khamenei.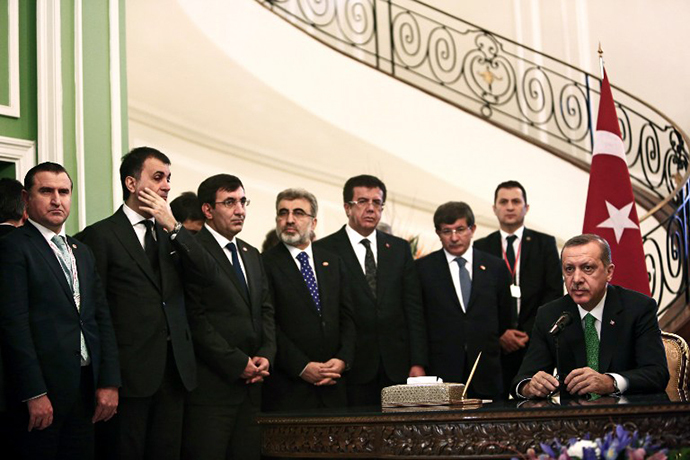 Iranian Foreign Ministry spokeswoman Marzieh Afkham told reporters in Tehran: "Our relations with Turkey have entered a new phase and we hope this trend continues. Besides serving the interests of the two countries, we hope our dialogue [with Turkey] will serve regional interests as well. As two neighbors and Muslim countries, Iran and Turkey enjoy many commonalities and many cooperation opportunities."
Tayyip Erdogan, for his part, declared: "The trade turnover between Turkey and Iran reached $13.5 billion in 2013," stressing that $7.6 billion of this amount came in the form of oil and gas exports from Iran. These renewed cordial ties between Ankara and Tehran seem certain now to upset Washington. Particularly when coupled with the upset caused by Erdogan's assertions that the corruption scandal which erupted December 17 was in some ways orchestrated by the US – Erdogan himself notoriously speaking of a plot "with international dimensions," while certain pro-government newspapers directly accused the US Ambassador in Ankara Francis Ricciardone of involvement.
It therefore hardly seems surprising that an angered Ricciardone has recently been quoted as telling various EU ambassadors: "We told them to cut their relations with Iran. They did not listen to us. You will now watch the fall of the empire," apparently hinting at Erdogan's apparently imminent fall from grace. While Turkey now seems to be reasserting its pseudo-Ottoman persona with regards to its eastern neighbor Iran, other issues remain unresolved. On his return flight to Turkey, the PM made some announcements to the gathered members of the Turkish press, indicating that serious rifts over the conflict in Syria persist between the Turkish and Iranian governments.
Particularly the issue of terrorist activities in Syria remains contentious, with Iran's leadership stressing that it would be impossible for Assad to step down in view of the continuing terrorist threat in the country. Tayyip Erdogan then added that "We told [the Iranian authorities] the following: three years ago there were no terrorist organizations in Syria. These terrorist organizations were established there with Assad." As a result, it seems that the Turkish PM continues to toe the American line with regards to Bashar al-Assad and the ongoing armed struggle in Syria, while simultaneously, moving away from Washington when it comes to strengthening trade and commercial links with Iran. Turkey's Prime Minister appears like a pseudo-Ottoman tradesman who is simultaneously trying to negotiate a bloody war in a neighboring country. In the end, all that one can really conclude now is that Recep Tayyip Erdogan is treading a very fine line at the moment, that he resembles a trapeze artist, a trapeze artist juggling a number of commercial goods who is trying to walk across a veritable quagmire.
The statements, views and opinions expressed in this column are solely those of the author and do not necessarily represent those of RT.