​Turkey elections: Erdogan won't show white flag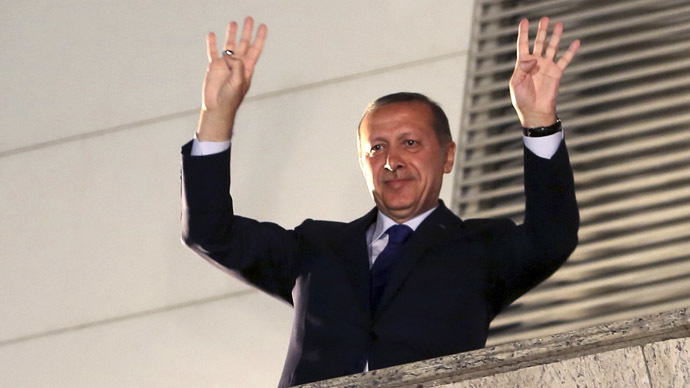 Turkish Prime Minister Tayyip Recep Erdogan announced that recent local elections were a test of his popularity and he won. What is next?
Erdogan's ruling party received around 45 percent of the national vote and won in Istanbul and Ankara, running neck-in-neck with the main opposition party.
The art of keeping people on their toes
Tensions were mounting throughout the entire Sunday. Voting stations in the east of Turkey stopped working at 4pm - in the west of the country at 5pm.
The sad news about fatal clashes among voters in Hatay fueled the concerns. By the evening, the knifing among villagers became more of "an armed conflict at the Syrian-Turkish border."
Right before the elections it was said there wouldn't be any exit polls, and the results would not be announced until 10pm. However, the first results came out at around 8:30 pm, and the numbers provided by the opposition Jihane agency and the state Anadolu agency were extremely different. One of the spokesmen for AKP, Mustafa Sentop, encouraged people to keep track of the results.
A number of leading journalists explained the discrepancy in numbers by saying the agencies didn't specify where the data was coming from and were just publishing information on those voting stations where their candidates received most of the votes. The Jihane agency said it could vouch for every basis point and was only publishing the numbers it received from the electoral commission. The chairman of the Central Election Commission promised to publish records from all stations on their website.
Nothing has been said about voter turnout, although according to the governing party it was quite high.
Three voting stations in Istanbul faced a power blackout that lasted for over half an hour. Opposition said the same thing happened at 40 stations.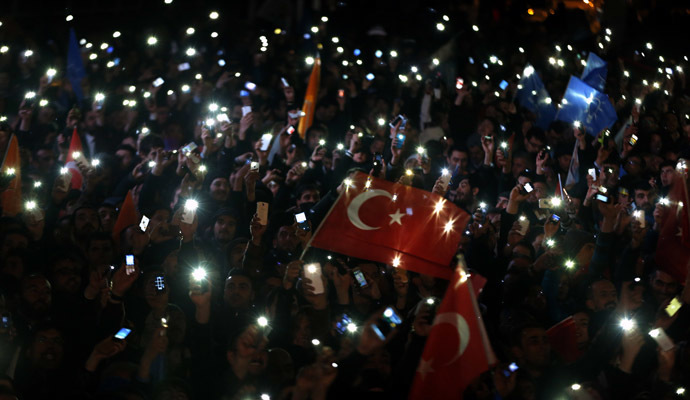 Assassins' lair
On Sunday at 11:40pm, Erdogan with his wife and son came out to his supporters. That was the son with whom Erdogan was allegedly discussing how to get rid of cash, following which accusation Twitter was banned. The PM showed the Rabia sign that shows solidarity with the casualties of the coup in Egypt of August 2013. Apparently, this sign meant that no coup was about to happen in Turkey.
Erdogan spoke for 40 minutes, thanking "all brothers who were praying" for them, paying special attention to Palestinian brothers.
He avoided saying "enemies," using the word "they" instead.
"They promised there would be chaos. Yes, we witnessed it. They wanted our country to be overwhelmed with chaos so bad that they even wiretapped our Foreign Ministry," he said.
"We will enter their lair," Erdogan promised, which was welcomed by the audience.
George Bush made a similar promise 13 years ago, when he said they would enter the lair of those responsible for the attacks on the Twin Towers, and the US military has been in Afghanistan and Iraq ever since.
"We will never yield our country to Pennsylvania or its delegates. They will pay the price," vowed the prime minister.
As if he didn't want Pennsylvania (where former Erdogan's ally Fethulla Gulen currently lives, whom Erdogan now accuses of concocting a graft scandal to compromise his government) to worry too much about the price it would have to pay, the premiere channeled his anger to a different subject.
"Right now Syria is in a war with us. Anyattackon the Tomb of Suleyman Shah will be considered as an attack on Turkey," said Erdogan confirming, whether willingly or unwillingly, the secret talks of this mausoleum as a casus belli.
Let me remind you that in the last wiretapped scandalous pre-election talks, they had allegedly discussed a possibility of attacking the mausoleum by means of their own scouts, to create a pretext for Turkey to invade Syria. Following that leak, the government blocked YouTube access in Turkey.
"They surpassed the assassins," the PM added, after which the thread of his narrative was somewhat lost.
"The results demonstrated not as much who won as who lost. The politics without morals and plans has lost. You'd have nothing to say at all, if you didn't have those leaked recordings, would you?" he summarized.
Before even listeners had a chance to guess exactly what was now to be considered as morals and rights, he concluded: "Those who wanted to take over the politics got a true 'Ottoman slap'."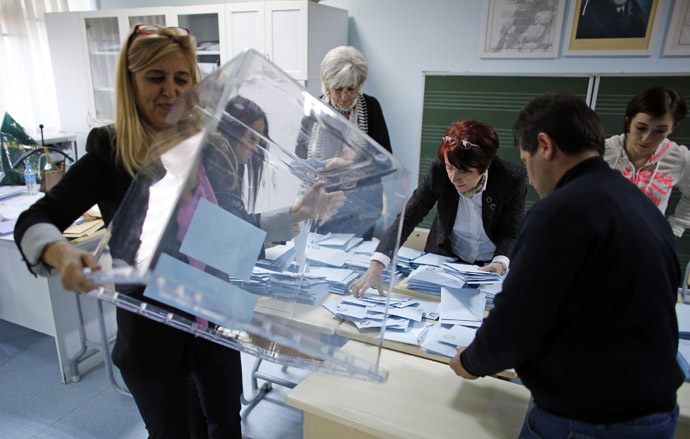 Democracy is a celebration
Television vans filled the empty Taksim Square starting from the early morning. By night, several police vehicles were hanging around there as well. The opposition didn't show up anywhere. And the blocked Twitter was filled with those who were expecting more protests like those that had occurred last summer.
The city's atmosphere was filled with tourists and shoppers, as usual. Visitors from Saudi Arabia dressed in fur coats were the only ones standing out from others.
The main opposition candidate Mustafa Sarigul spoke in the afternoon at his voting station in the well-off district of Sisli. He said that his supporters received phone calls from unknown representatives of the party ensuring that there wouldn't be a rally on Sunday night.
In an interview with RT, Sarigul said that that his party hadn't decided whether to rally on Taksim Square or not.
"We will assess the results and then perhaps have a rally. Right now we are still observing," he said. "Had it been a fair election, we would've won."
"And if I lose? I believe in democracy!" Sarigul bypassed the question whether his party would protest against the election results.
The ruling party's candidate Kadir Topbas (AKP) has been Mayor of Istanbul for 10 years. He also believed in democracy, and he wasn't mistaken: "In democracy, election is a celebration. Let us set off for this journey together as one family, as one nation. Despite the results, democracy wins."
Rasim Acar, the third candidate of the MHP nationalist party told RT that they weren't going to participate in any rallies.
"There have been a lot of political games around your youth wing. I can say that your young people haven't participated in any rallies, nor they are going to. If you see anyone speaking in our name you should know it's a provocation," he added, and began exploring the issue of poor environmental situation.
In summarizing the election results, the question remains: did those horrible assassins, the ones without morals and plans, vote at all? And if they did, who did they vote?
Nadezhda Kevorkova, Istanbul
The statements, views and opinions expressed in this column are solely those of the author and do not necessarily represent those of RT.
The statements, views and opinions expressed in this column are solely those of the author and do not necessarily represent those of RT.
You can share this story on social media: