Thailand in danger: Watch out for yet another coup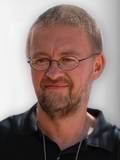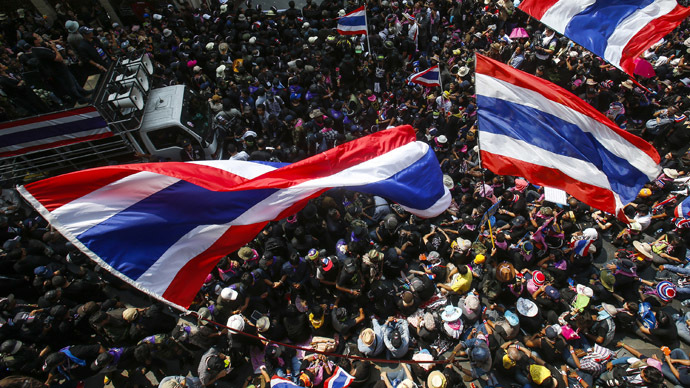 The Thai army is covertly and openly threatening to carry out yet another coup, which would be country's 19th since 1932.
The question is, on whose behalf would this coup d'état be carried out? Almost everyone in Thailand believes that the army is defending the interests of the feudal elites and the monarchy against at least to some degree the "progressive" political and business clan of the Shinawatras.
Several senior generals, including Army chief Gen Prayuth Chan-ocha, are now sending confusing messages that are often open to a diverse interpretation.
On February 25, The Bangkok Post implicitly suggested that the army might be tempted to carry out a coup, because of the planned action by the so-called red-shirts (the United Front for Democracy against Dictatorship [UDD]) to defend the present government.
Reacting to the same speech, The New York Times wrote that that stance is seen as a shift after months of neutrality and a signal to protesters: "The head of Thailand's army, one of the most powerful institutions in the country, appeared to distance himself from the goals of anti-government protesters..."
Nobody knows what to expect in the coming days and weeks, and the government of caretaker Prime Minister Yingluck Shinawatra is evidently scared and confused, too; it does not dare to use force to disperse the "opposition demonstrators" who for three months occupied several key areas and intersections of Bangkok, endangering both Thailand's democracy and its economy.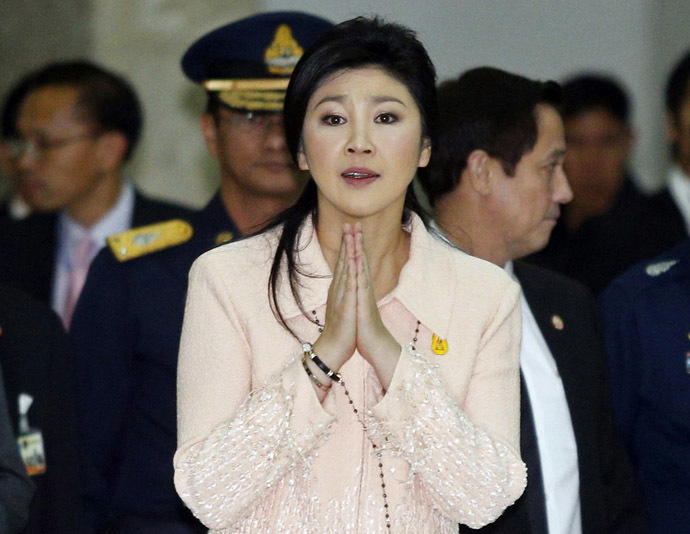 The government is fearful of "some powerful forces" at the very top of Thailand's society. But what are they? "The military," say some, but others are looking even higher, at the throne itself.
"Protests" are clearly damaging to Thailand and its capital, causing losses of billions of dollars, while making the capital city almost unlivable. The main arteries including iconic Sukumvit, are blocked and have turned into sprawling tent cities. Noise pollution from loudspeakers broadcasting anti-government propaganda, speeches and cheap political music is omnipresent. Tasteless cartoons depicting the former prime minister, naked and with an exposed and grotesquely small penis, are decorating many stands and electric poles.
The government itself, as well as almost all pro-government organizations, is either permanently or sporadically besieged by a shouting, flag-waving mob, demanding that employees and officials leave their offices and "go home."
Some protesters are armed, and some are wearing bulletproof vests. It is "protesters," not the government, who decide who can go where, or who would be allowed to drive through the main roads of the city. Thugs-turned-vigilantes are now in charge of many overpasses. The tension is high and hatred can be felt at all protest sites.
Everything is well organized. There are expensive and heavy electric generators humming day and night, there are medical posts, and food distribution centers. There is nothing spontaneous about this "uprising" – it seems as well planned and well paid for.
'Peaceful' protests
On February 23, I found myself facing one of the leaders of the "opposition," Mr. Akanut Phromphan, the spokesman of the People's Democratic Reform Committee (PDRC). Mr. Phromphan's English is perfect. As most top ranking members of Thai elites, he was educated abroad, in his case at the University of Oxford, in the United Kingdom.
A former member of the House of Representatives, Mr. Phromphan is clear and sharp linguistically, but not always transparent when it comes to the substance. He is unrepentantly promoting his movement as "peaceful" and essentially "democratic":
"In Thailand right now, there is so much discontent and so much hatred… and we are trying to defuse the tension... There is no legal [connection] to our movement; people come to us voluntarily, and these are really peaceful demonstrations, with no violence and no force…"
He dismissed reports and images of violent clashes, and of protesters blocking citizens from polling centers during the latest round of elections. He did not like to talk about turned-over cars, or about the government officials who are forced to climb over the makeshift blockades, humiliated at various checkpoints, whenever they are trying to perform their duties. He dismissed as untrue the "accusations" that his movement pays cash to many protesters, and that some of them are nothing else than ordinary thugs imported from the restive southern provinces.
I told him that I saw a group of "protesters" right in front of the pro-Shinawatra television station Voice TV, encouraging reporters and employees to "leave their work and go home." I also saw and photographed the blockades; witnessed intimidation and encountered plenty of violence… Anywhere in the West, particularly in the United Sates and the United Kingdom, even much smaller protests would trigger a ferocious response from the state, as was recently witnessed in New York, where genuine and truly peaceful Occupy Wall Street activists were dispersed in the most brutal and unceremonious fashion.
"Our culture is different," replied Mr. Phromphan. He refused to give any credit to this government.
When I asked him to clarify the differences between the Red Shirts' uprising in 2010 and what is now taking place in Bangkok, he admitted that "class struggle" is not on his movement's agenda.
"Both uprisings are very different in their nature. In 2010, the Red Shirts were fighting for equality. In a way, for many of them, it meant a class struggle. This, here, right now – it is not a class struggle. From the beginning, the Red Shirts consisted of both Thaksin Shinawatra's supporters, and also of many Marxists. We are not dealing with class issues in our movement. We want to oust Thaksin Shinawatra, his sister (now caretaker Prime Minister) Yingluck Shinawatra, her Pheu Thai party, and all of their supporters… Only when they are gone, then we can return to a 'normal democratic process'…"
"Without the largest political force in the country?" I asked, thinking aloud. That is an extremely old-fashioned authoritarian approach, very similar to those applied by fascist pro-Western dictators like Pinochet and Suharto: you take down, destroy, kill or exile the biggest political movement in the country, with the greatest popular platform, and then "restore democracy."
Mr. Phromphan said: "Thailand has around 60 million inhabitants. Present government got only some 16 million votes…"
He was referring to a general election that took place on February 2, 2014, and which was widely boycotted and violently disrupted by his own followers. Millions of Thai citizens were denied their right to vote, and at least 10 percent of polling stations had to shut down. Some voters were physically attacked, and one was almost choked to death in front of the cameras.
He also did not mention the fact that this is a young country, with many children and old people who can't vote, and with ethnic minorities (particularly those in the north of the country) who are grossly discriminated against and not allowed to vote at all, as they are not considered to be "Thai enough."
Mr. Phromphan did not mention several other important topics, including what and who is behind his movement. He claimed that the movement is actually "spontaneous."
Even the Western mass media, which is generally supportive of the Thai monarchy and the "elites," now appears to be uncertain. In its latest report ("Stagnant Revolution"), The Economist boldly declared:
"In the past, the Thai army would have stepped in by now at the behest of the monarch. But the king is old and frail; and the Crown Prince is seen as close to the Shinawatras. Once installed on the throne, he is thought likely to push for continued democratic rule by the elected majority rather than by self-appointed councils."
"This is one reason why large sections of Thai society – representing the old establishment of the civil service, the army, the judiciary and the monarchy – continue to back Mr. Suthep. They see this as their last chance to secure their privileges against the great unwashed in the red-shirt camp supporting Ms. Yingluck. Their hopes of power could well die with the current king…"
But one day before talking to this right-hand of Mr. Suthep, Mr. Phromphan, I had a brief meeting with another leading figure of PDRC, Mr. Sakoltee Phattiyakul. He was much more explicit, and when I pressed him on the topic of the military and the monarchy, he exclaimed: "But of course protesters are supportive of both the military and the monarchy! Absolutely! Both of the institutions… yes… It is one of the reasons why we are here!"
The bloodshed
My exchange with Mr. Phromphan took place on Feb. 23, in the basement of the Bangkok Art and Culture Center (BACC). This itself is a bizarre occurrence, as the BACC, one of the leading art institutions of Southeast Asia, is a state-run and state-funded art establishment, and as such should be either supportive of the government, or at least preserving its neutrality.
Then a bomb or grenade exploded around 5:20pm, not far from the BACC – just some 10 minutes brisk walk from it. The blast occurred at Ratchaprasong intersection, between the entrance to an enormous shopping mall, Siam World, and the entrance to the Big C Supermarket.
PDRC people informed me of the tragedy. They were surprisingly calm; there was no panic.
I ran to Siam World and what I saw first was a chain of ambulances with flashing lights, the military crew and police. There was blood on the pavement, and some shoes left in the puddles of gore. There was a shoe that used to belong to a child; it was abandoned and bloodstained.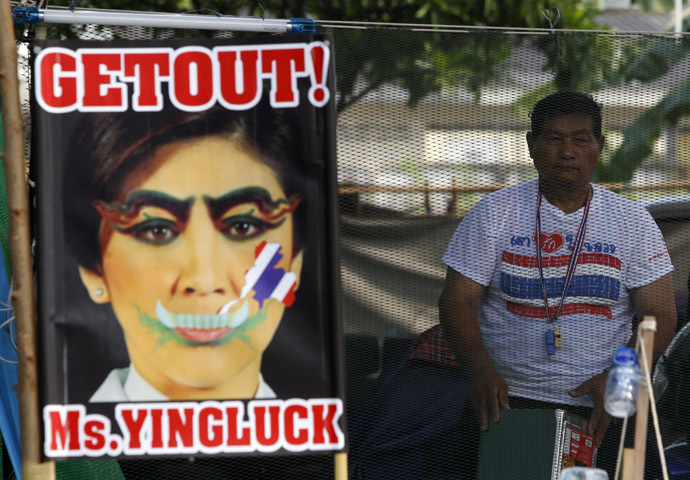 "Perhaps there was a grenade explosion, and some 10 people were injured, including children," a military medic said. "Casualties were taken to the hospital."
At night, it was confirmed that two people had died, including one child. One day later, the dead toll climbed to four. Two children perished.
The protests that began on November 30, 2013, took so far at least 22 lives, and the pace of violence is dramatically accelerating. Over 700 people have so far been injured.
One day before the Ratchaprasong explosion, two 5-year-old girls were killed in Trat province when gunmen opened fire at the protesters. And in another recent incident, one policeman and three "Democrats" lost their lives, when the confrontation between well-armed protesters and law enforcers spun out of control.
At times, it all increasingly resembles the Kiev scenario, and remotely, the Caracas, Venezuela, situation. If there is yet another military coup, one could also easily draw a parallel between Egypt and Thailand.
Pro-Western elites are attacking an elected government, or they simply pay for such attacks. The West watches and does nothing, or it is supporting its old allies, the elites, from behind the scenes.
Ms. Shinawatra won the recent elections by a landslide, but that seems to mean nothing to the "Democrats." They want an unelected council to rule the country until "the Thai public is ready for free elections."
The Bangkok Post warned in its 'Page 1 Commentary' on February 26:
"…What is worse is that as the violence continues, a culture of extreme hatred that has been forged and fomented since the 2006 coup d'état by both sides of the political divide is also taking root and spreading right across the country…"
It all looks like stalemate. And in the worst possible scenario, it could all still end in terrible bloodshed.
On Feb. 25 I flew to the north, to Chiang Mai, to the stronghold of the Red Shirts and the Shinawatras. I wanted to hear what the 'reds' had to say about the recent developments in the capital.
Surprisingly, the leadership sounded reconciliatory and calm.
I met one of the leaders of the Red Shirts, Mr. Krisanapong Phrombuengram, who appeared more like a negotiator than a warrior. I asked him about the chance of the north or northeast seceding, something that is seen by many Thais as a real danger, and whether there would be another coup and suppression of democracy.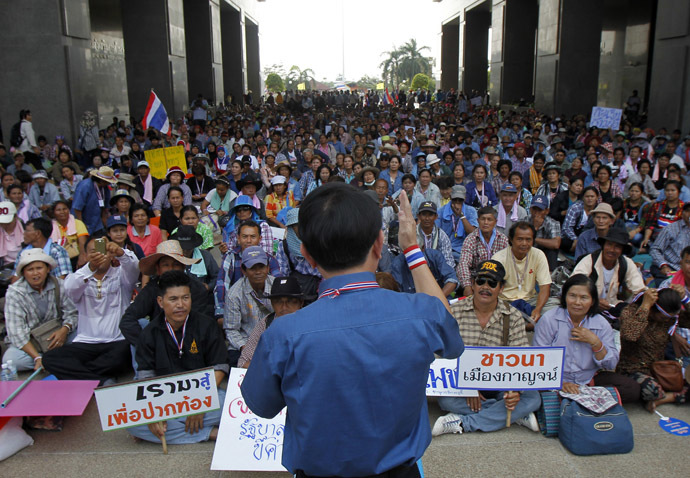 Mr. Phrombuengram replied calmly: "There is no need to secede, because we all share the same culture and the same language."
And what would happen if there really is a coup 'd'état?
"If a coup is carried out, the military government would face huge objections from two groups of Thai people: from the Red Shirts and from those who are opposing PDRC… The number of those who would be against the coup could reach 40 million people," Phrombuengram said.
Mr. Shinawatra was not a saint. When he was in power, I often criticized him for brutal, heavy-handed handling of the low-key civil war with Muslim separatists in the south, and for his oligarchic approach to capitalism, as well as for the "war on drugs," which took many innocent lives.
But he was a pragmatist and his modern capitalism was clearly defending the interests of the majority of Thais much better than it is "defended" by the feudalism of the elites and the military.
Under his rule, Mr. Shinawatra introduced a universal free medical care system; some argue it is much better and more advanced than anything proposed in the United States. Primary and secondary education improved significantly, and needy people began to be housed.
The West was not betting on him, as he was too pragmatic and too interested in turning Thailand into a modern and competitive state. The West was betting on the old military establishment and on the monarchy, on the old generation of right-wing rulers from the Cold War era, like Marcos, Suharto, Mubarak and the Saudi royal family.
Thailand has been a staunch ally of the West, before, during and after the Vietnam War. Millions of sorties were flown from Pattaya and other military airports. Millions of Vietnamese, Laotian and Cambodian people died as a result of the carpet bombing and weapons that originated in Thailand. Many sorties were actually flown by Thai pilots.
"When we take power, we will fully reform the police force," Mr. Phromphan said.
But would they reform the army?
"No", he replied. "The army does not have to be reformed."
"Even after performing 18 coups in Thailand's modern history?" I said.
The statements, views and opinions expressed in this column are solely those of the author and do not necessarily represent those of RT.