​'It's good for business to have Syrian refugees suffering'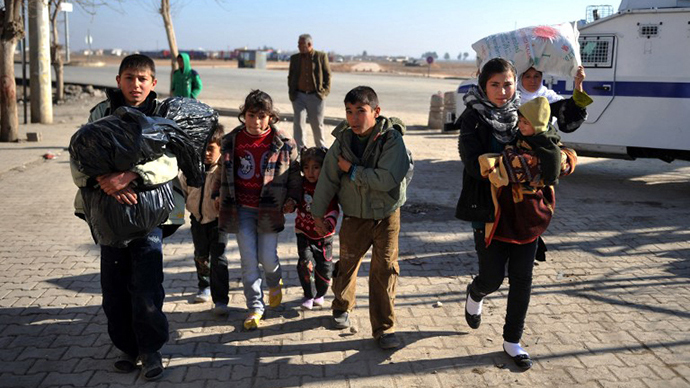 All aid going through Turkey to Syria is actually being handed over to the terrorists, not to the Syrian people, defense consultant and conflicts analyst Moeen Raoof told RT.
RT:You claim to have evidence of Al-Qaeda-linked rebels getting their hands on Western non-lethal aid. Can you tell us more about that?
Moeen Raoof: They are Muslims from the UK, who are collecting funds from well-wishers and people who wish to assist the Syrian refugees. They are collecting a lot of money from individuals, buying ambulances and also medicine and other aid items, for example clothes, baby milk powder, and driving in convoys to Turkey. And we know for a fact that the northern part of Syria is controlled by the terrorists. So all the aid going through Turkey is actually being handed over to the terrorists and not to Syrian people everywhere on an equal basis.
RT:Russia, the US and the UN are trying to get the sides to talk peace at the Geneva-2 conference next week. Could sending more aid to the opposition actually encourage them to keep fighting?
MR: It does, it really does. What's happening here, it's not only giving them provisions - for example food and non-lethal aid like night vision goggles, so they can snipe at civilians - but also gives them the moral authority to continue. And this is what is being the major problem. And also France, the UK and the United States are playing good cop/bad cop, where the US claimed that they are for peace and then the others contradict that. And you know that John Kerry's own spokesperson has contradicted him on several occasions now.
RT:The sides also mulled a partial ceasefire and prisoner exchange on Monday. What kind of incentive does the opposition need in order for that to happen?
MR: The opposition, actually all they want is to free up their fighters who are under siege, or have been arrested or captured as prisoners of war. And they want to free them because they don't really have strong cards to play when it comes to the Geneva II talks. I think that they really want to go with a strong hand after the release of their fighters and that's all they want. They are not really interested in the talks at all.
RT:The UK has been actively involved in this conflict. But why do you think they have accepted very few of the millions of Syrian refugees?
MR: Refugees is good business. It gives the whole Syrian issue more of an emphasis when you have refugees suffering. If everyone gave asylum to the refugees then there will be no more emergency. This happened in Libya, where a lot of refugees turned up in Tunisia and Egypt. And that's really good for business, not only for the aid agencies but also for mainstream media who can twist the facts as they want, and the governments can claim to their citizens that they really need to go in and help, as we know NATO did in Libya and it tried to do that in Syria recently. So yeah, it's good for business to have refugees suffering.
RT:The UN urged Western nations to take in 30,000 of the most vulnerable Syrian refugees. Do you think these countries will open their doors?
MR: Oh yeah, completely. I mean, who is the UN? The UN is being ignored when it is convenient and it's being courted when they are playing along with the game. You can see this from Navi Pillay giving unsubstantiated evidence to the UN Security Council on Libya previously and now on Syria. So the UN is a convenient underdog, they really don't have say in anything. I mean Brahimi is on fool's errand, to be honest, as was Kofi Annan previous to him in this role.
The statements, views and opinions expressed in this column are solely those of the author and do not necessarily represent those of RT.