'Russians, Americans alike disappointed by NASA's decision to halt cooperation in space'
If political conflict on the ground between the US and Russia stretches into outer space cooperation it could put lives at risk as well as scientific progress that's been a result of friendly relations, a former director of Johnson Space Center told RT.
George Abbey, the former director of the Johnson Space Center and Fellow in Space Policy at the Baker Institute of Rice University, spoke to RT in the aftermath of NASA's announcement that it would suspend "the majority of its ongoing engagements" with Russia's Roscosmos. The decision, which comes amid fresh tensions over the events in Ukraine, could have both immediate and far-reaching consequences.

RT:There had been a great spirit of cooperation between the US and Russia in space. Washington wants to sanction Moscow, so is that spirit paying the price of politics?

George Abbey: I think if NASA takes some action, as I understand they are going to, it's going to be very disappointing and certainly adversely affect our ability to cooperate in space. We really have been able to work together in space and it hasn't been a political issue. Now we're starting to make it a political issue.

RT:You were in the heart of some of these NASA operations, overseeing a number of missions to the ISS. Can the Russian and American space partnership survive this?

GA: Our astronauts are training in Russia. They're well trained when they fly. And Russia not only launches our astronauts, but Russia provides a rescue vehicle for the space station for the six-month duration our astronauts are up there. They also return them back to us safely. We've been flying on the Soyuz. it's a very reliable spacecraft and it's very essential to our operations on the station.

RT:Can you tell us where the scientific community stands on the issue?

GA: It's been very disappointing. Everyone that I've spoken with, my fellow colleagues – both engineers and scientists – were quite disappointed. We don't think it's a very wise decision and it certainly can affect the safety of operations in space. When you're flying on an International Space Station you want to enhance cooperation and enhance communication, so when you start taking actions to lessen those communications, it's not a very safe action and it's not a very wise thing to do.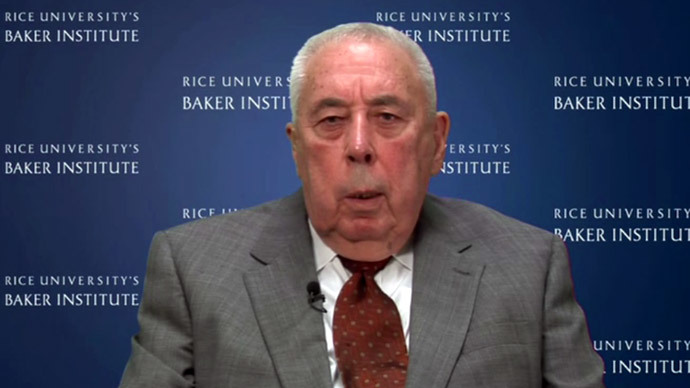 RT:NASA won't be able to launch manned space flights for another three years. If Russia refuses to cooperate, where will this leave the US space program?

GA: The United States right now is totally dependent on our Russian partners. When we stopped flying the space shuttle, we did away with our access to take humans to space and we rely completely upon Russia. Russia does a very good job flying our crewmen up to the space station, so if that were to end, the US human flight program would not really be implemented in any fashion until 2017 or much later.

RT:We don't know how long this relations freeze will last – but how much damage is it doing now?

GA: I hope we don't see any real effect on our actions in the International Space Station. I think it's essential that we continue to work together and work together well and certainly my Russian colleagues and my colleagues in NASA who are on the space station feel very strongly that needs to continue. I would be very disappointed if it starts carrying over and affecting those operations, but there are some activities over and aboard the International Space Station that we really ought to be cooperating with Russia in space, and that's going to be adversely affected. It's not the right thing to do.
The statements, views and opinions expressed in this column are solely those of the author and do not necessarily represent those of RT.
You can share this story on social media: