'Russia should take a closer look at China's Union Pay'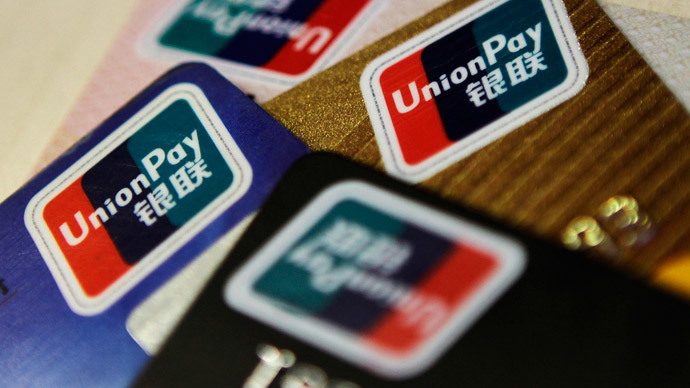 By 2018 China will be Russian energy's biggest customer, along with huge trade volume between the two states. So it makes sense for Russia to take advantage of the China's Union Pay system, Chinese expert, Andrew Leung, told RT.
RT:Visa and MasterCard accounted for 85 percent of the market share of global transactions in 2013. What are the implications for the rest of the world?
Andrew Leung: If we look at the money transactions, they are dominated by Western companies and by Western governments. This is, of course, because the US dollar still remains supreme in the absence of a credible challenger. And of course the world's largest banks and the world's largest financial houses are all invested in Western economies. However, this is changing with China now becoming the world's largest trader and the renminbi has now overtaken the euro as the most traded currency. But in terms of transactions, in terms of money remittances and using debit cards or credit cards, the Chinese Union Pay is now already the world's third largest by market share. In fact, this market share is only a fraction, compared with Visa and MasterCard, but its share of 7.7 percent is already double American Express. In terms of transaction by value it is now the world's second-largest. So it is a sizeable payment system which has gained currency with 141 countries around the world. It is a well-established system. I know that Russia is trying to start a domestic payment system itself but because of much more volume and a much smaller economy and a smaller number of people in Russia this doesn't seem to be viable. Therefore, it opens up an opportunity for Russia to partner with China, or at least of riding on China's Union Pay system.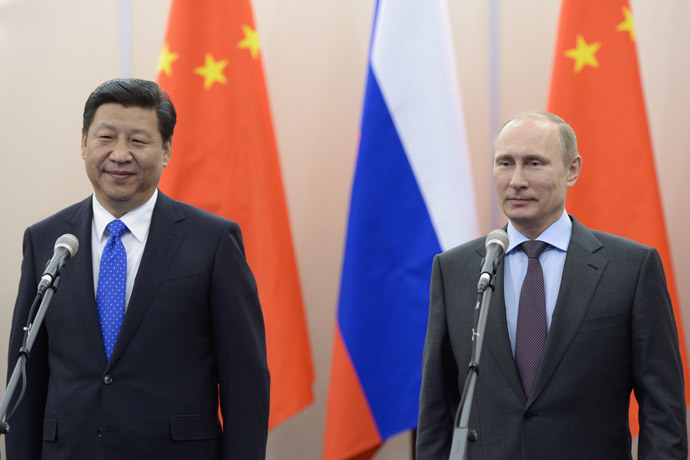 RT:The BRICS bloc has been considering the creation of an independent currency and its own financial institutions not to let the dollar and the west in general reign supreme. Do you think it's possible?
AL: I think it's possible, particularly after the Ukrainian crisis. While the crisis is still developing there is no doubt that in future a lot of the European countries dependent on Russian energy would be more weary of relaying on Russian energy. Of course America also wants to export more shale gas to Europe. I think the Russian government was already aware of this, and therefore, when the new China's president Xi was installed, his first protocol was to Moscow. And the two countries, Russia and China, already signed a deal tripling the amount of Russian energy to China. In future, by 2018 China would be the biggest customer of Russian energy. Now this is a huge trade and of course the trade relies upon and requires a payment system. So if the future Russian energy contracts are with China, it makes sense to take an advantage of the China's Union Pay system.
RT:There is a clear advantage to the use of a single payment system - international trade is lubricated by the quick and easy flow of money. Have the Chinese been isolated with their payment system?
AL: Of course, China is using a number of systems, and uses other payment systems like Swift, for example, for international payments, and for settlements in Europe, it'll use the European system. China is the biggest world trader, so it is inevitably embedded in the global economic, financial and payment systems. But China is also developing its own payment system, which is Union Pay.
RT:What advantage has your national payment system? Doesn't it deter foreign investors?
AL: If we are talking about investing in the system, rather than investing in the country, then of course Union Pay is now the world's second-largest by volume and the third-largest by market share, even though it lags hugely behind Visa and MasterCard. But as the world is becoming more multipolar, different regional and trade blocks are developing; for example, UnAsia, ASEAN+3, ASEAN+1, which is China, and then you have Transatlantic or Transpacific partnerships, and China is developing regional trade blocks of their own, so I think it makes sense for regions to have their own regional trading payment systems. This is a natural development of a more diversified and a more multipolar world we are facing, rather than one dominated by any single system.
The statements, views and opinions expressed in this column are solely those of the author and do not necessarily represent those of RT.
The statements, views and opinions expressed in this column are solely those of the author and do not necessarily represent those of RT.
You can share this story on social media: