No exit: Qatari migrant workers face harsh forced labor conditions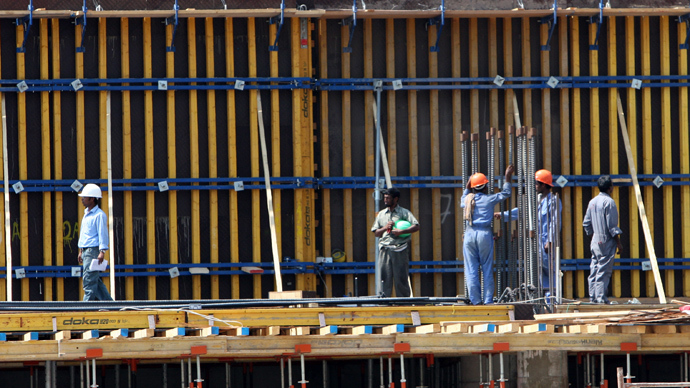 Migrant worker exploitation in Qatar hinges on the country's draconian exit visa system, Dr. Sheriff Elsayed-Ali of Amnesty International told RT. He says that while the country's successful 2022 World Cup bid exacerbated abuses, it did not create them.
"We undertook research in Qatar over 5-and-a-half week period. We made two visits, in October 2012 and March 2013. We interviewed about 210 workers in the construction sector. What we found is that there are systemic problems with migrant workers in Qatar. Many of them are subjected to labor exploitation…In some circumstances people were in conditions that were equal to forced labor," Elsayed-Ali, head of refugee and migrant rights at Amnesty International, said.
A report based on those interviews and subsequent research entitled 'The Dark Side of Migration: Spotlight on Qatar's construction sector ahead of the World Cup,' found that that Qatar's construction sector is "rife with abuse."
The paper revealed that 90 percent of foreign workers had their passports held by their employers, while 56 percent did not have a government health card, which is necessary to access public hospitals. A lack of access to medical care is an especially acute problem as worker safety procedures remain woefully inadequate,  Elsayed-Ali said.
"For example, a survey conducted by a hospital in Qatar showed that in 2012 alone, a 1000 workers have fallen from heights and been admitted to hospital [as a result]. In 10 percent of these cases, they became disabled because of these falls. So there are very significant issues with the health and safety aspects of construction in Qatar," he said.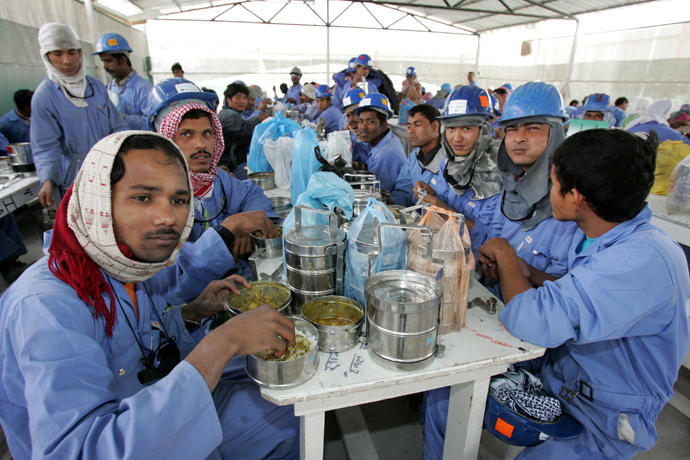 Discriminatory attitudes towards migrants are pervasive. Amnesty researchers heard the manager of one construction firm going so far as to refer to workers as "the animals." And even when the conditions got to be more than the workers could tolerate, they often found they were unable to escape their employers.
"We found groups of workers who had been stuck in the country and were trying to leave but couldn't because there employer would not give them an exit permit, which is required under Qatari law," says Elsayed-Ali.
The sponsorship system, which is employed by various Gulf states, "ties each worker to a specific employer," preventing them from changing jobs without authorization from their sponsors. Qatar, as well as Saudi Arabia is unique in mandating that workers receive exit permits from their sponsors.
"This is extremely problematic. We found many people who are trapped in situations where they have not been paid for months, they're trying to leave, they're desperate, in some cases even suicidal, but they're not able to leave the country because their employer will not give them an exit permit. So one of our main calls is for the government of Qatar to cancel the exit permit, and also to reform the sponsorship system, substantially."
The organization says there are now approximately 1.35 million foreign workers in the country, mostly from Asian states, who comprise 94 percent of Qatar's total work force. Massive exploitation in the Gulf state – one of the richest in the world – is facilitated by employers' abuse of the country's exit permit and sponsorship system, says Elsayed-Ali.
World Cup woes
The massive construction boom is bound up with the Gulf Emirate's winning bid to hold the 2022 FIFA World Cup. Elsayed-Ali says, however, some of the problems being faced by migrants in the country today have existed for years.
"The fact is that since Qatar was awarded the World Cup but also in the years preceding that, Qatar engaged in a huge construction boom. It's estimated that the country, both the private and public sector, will spend $220 billion to build infrastructure – new buildings, new hotels, new stadiums – and many other things."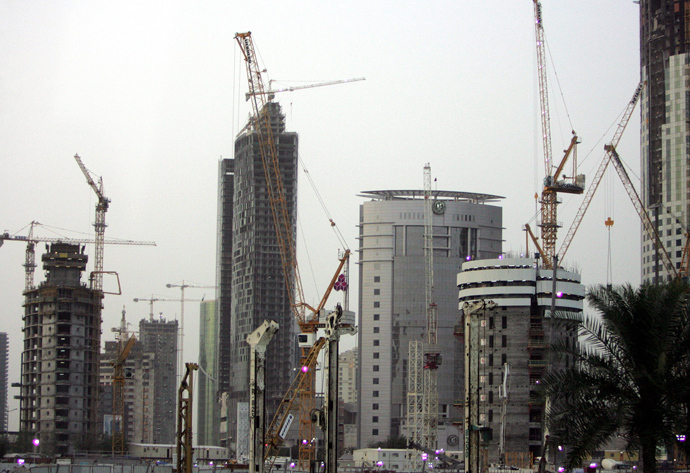 Elsayed-Ali says that while the stadiums will in and of themselves only cost around $4 billion dollars, the government plans to spend $117.5 billion more on infrastructure projects over the next decade.
"If the problem was already there before, it's only been augmented by the World Cup and the construction boom that's going on at the same time in Qatar because the number of workers has increased dramatically."
There have been some encouraging signs from the Qatari authorities, who have recognized there are problems with the sponsorship system, which need to be tackled.  Elsayed-Ali says it is important, however, that changes are implemented immediately, as wide-spread abuses are happening right now and likely to accelerate.
"As a first step, [the government should] cancel the exit permit, which is one of the biggest problems facing migrant workers and really makes the abuses that they face much worse. But also, the government of Qatar needs to look at the sponsorship system, to significantly reform it, so that it no longer facilitates the abuse of migrant workers."
Elsayed-Ali says the current scandal regarding labor practices in the country has provided Qatar a golden opportunity to spearhead labor reforms not just in the Gulf Emirate, but the entire region.
"If Qatar takes the opportunity with the attention of the world on the country because of the World Cup; if it takes this opportunity and substantially reforms the sponsorship system, cancels the exit permit, then that would take a really big step towards not only the protection of migrant workers in Qatar, but also in other Gulf countries."

The statements, views and opinions expressed in this column are solely those of the author and do not necessarily represent those of RT.
You can share this story on social media: