Temporary asylum status can eventually let Snowden leave Russia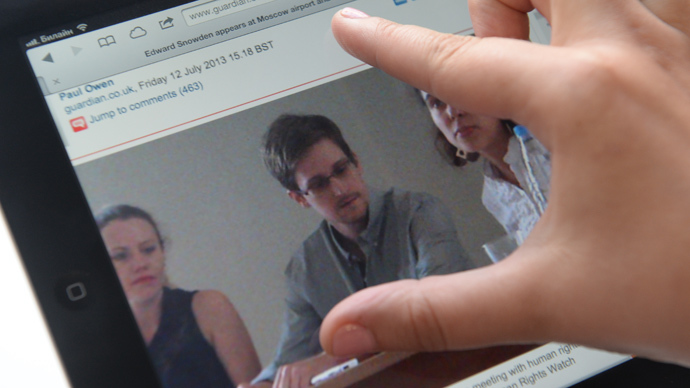 Edward Snowden is still in Moscow's Sheremetyevo airport, but if he is granted temporary asylum by Russia he'll be able to get out of the "legal limbo" he found himself in, John Laughland from the Institute of Democracy and Cooperation told RT.
RT: President Putin said Snowden will leave Russia when the opportunity presents itself. But how is that possible technically? Is that realistic, considering that the US has showed it's willing to ground any plane to get their man?
John Laughland: It is realistic, yes, because when his legal state becomes clear in Russia then he can process his application for asylum or permanent residence in Venezuela or in another Latin America country. As we know, those countries, Venezuela certainly have offered him asylum. His problem in Moscow in the transit lounge was simply that he couldn't avail himself of that offer because he was stuck in legal limbo and so his goal in applying for temporary asylum in Russia is simply to get himself out of legal limbo and of course out of the airport.
RT: One of Russia's conditions for Snowden's asylum was - no more leaks damaging to the US. But he's already handed out key documents to other journalists. Does it mean they can't release this information too?
John Laughland: No, I mean I think he is in an impossible situation. He doesn't want to cease his activity, he wants to carry on campaigning. Vladimir Putin recognized that in his very first remark about the case some weeks ago when he said he didn't think it was likely that Snowden would agree to stay in Russia because of the condition which Putin was going to impose. But it's clear now that the solution has been that he will agree to forbear, at least that's what we understand, releasing any more information, for as long as he is on Russian territory. Russians, as you reported, just said they didn't seek this outcome; they didn't intend Snowden to come to Russia. He happened to be transiting through Moscow just as many people transit through a country without any intending to stay there. So I understand this quite simply as a technical means by which he can, as I say, get out of legal limbo and make progress on his application for permanent residence, let's say for asylum in Latin America. 
RT: Do you think Snowden's revelations have had an impact? Or are people now more concerned about where he'll end up and the political situation his asylum?
John Laughland: No, I think they've had an impact.  I mean they haven't had an impact as far as we can tell yet on, for example, transatlantic relations. In an earlier interview with you I pointed out that the European Union governments are hand in glove with the Americans on spying, they share intelligence, they spy on their own citizens in the same way, and so their expressions of outrage are, in my view, fake. But of course it had a huge effect in, you know, international public opinion. As a whole people now know that there is a massive espionage program and their e-mails and so on are being spied on, all this in the name of the war against terrorism. And for as long as he remains in headlines I think that some people will continue to remember that message.
RT: There's been promises of even more revelations should anything happen to Snowden. But what more could he possibly reveal in your opinion?
John Laughland: I obviously don't know. I mean we assume that he has released a bulk of his information and have of course left his earlier job. He now no longer has access to the same kind of information that he may have had before. I mean I'm not privy to his life and have no idea what he might have. But I don't see that he have any interest in keeping information behind. I mean he has given the most important information already and that's why I think frankly it was not all that difficult to keep this agreement that he seems to have given to the Russian authorities.