Basketball diplomacy in North Korea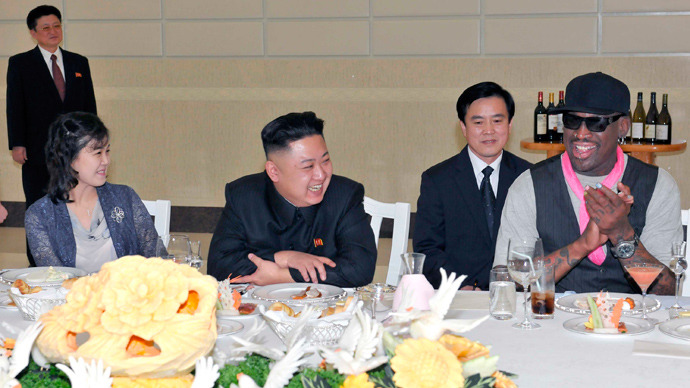 It's an unlikely friendship, built upon the love of basketball. The chummy alliance between former-NBA star Dennis Rodman and North Korean Supreme leader Kim Jong-un was anything but expected, as tensions between Washington and Pyongyang continue to rise.
Following perhaps one of the tensest periods on the Korean Peninsula in recent times since North Korea's third underground nuclear test that was openly aimed at sending a warning to the United States, Rodman's visit, along with three other Harlem Globetrotters, comes at a unique time.
Rodman's crew travelled to Pyongyang with approval from North Korean authorities to conduct a series of basketball exhibitions for a documentary produced by hipster-media outlet VICE, and there were no plans for the group to meet Kim Jong-un. Reports claim that Kim enjoyed Rodman's company so much, that the Harlem Globetrotters and Rodman's film crew were invited to Kim's palace for a party, where they were likely induced to imbibe several bottles of North Korea's famously potent soju.
Kim allegedly expressed to Rodman his desire to improve North Korean-American relations, and Rodman later addressed Kim before a crowd of thousands, telling him, "You have a friend for life." Kim, like his father, Kim Jong-il, is a devoted basketball fan. During her visit to Pyongyang in 2000, former US Secretary of State Madeleine Albright brought Kim Jong-il an NBA basketball signed by Michael Jordan as a goodwill gift. As if the North Korean regime couldn't be any more bizarre following Kim's endorsement of a performance featuring characters dressed as Mickey Mouse and Winnie the Pooh in 2012, Kim's mingling with famously flamboyant Dennis Rodman reinforces the overwhelming peculiarity that is the North Korean regime.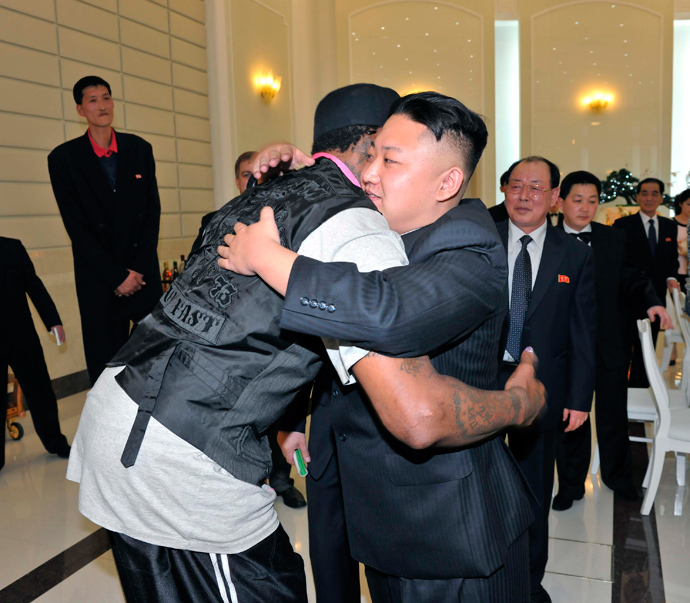 While these two may be strange bedfellows, Rodman's visit represents a very tangible attempt of offering goodwill on behalf of the United States, the sworn and mortal enemy of Socialist Korea.
Kim Jong-il was known to be a huge movie-buff, boasting a huge collection of DVDs, among them many American titles that he was said to be fond of. South Korean media often depicts North Koreans as having a secret affinity for all things American, and if Rodman's stopover in Pyongyang tells us anything, it is that goodwill goes a long way, and maybe the DPRK would be willing to play from different sheet music if the US changed its approach.
It'll take more than basketball to get Beijing on board
Following North Korea's third nuclear test, many Chinese citizens took part in a historically unprecedented outbreak of anti-North Korea protests, and both China's state-run media and various policy experts are becoming more vocal in their criticism of Beijing's North Korean policy.
Xi Jinping has indicated that his incoming administration will soon enter discussions about new policies for the Korean peninsula, including North Korean policy, and reports claim that Chinese researchers have been given orders to prepare reports re-evaluating China's policies toward the North. Many prominent Chinese analysts are beginning to voice their concerns that North Korea's value as a geopolitical ally is outdated. Recent material published by Deng Yuwen, assistant editor of China's Study Times, an educational institute for high-ranking officials in the Communist Party of China that Xi Jinping headed until 2012, stated, "Once North Korea has nuclear weapons, it cannot be ruled out that the capricious Kim regime will engage in nuclear blackmail against China," Deng said, claiming that, when Bill Clinton visited Pyongyang in 2009, Kim Jong-il "suggested that if Washington held out a helping hand, North Korea could become its strongest fortress against China."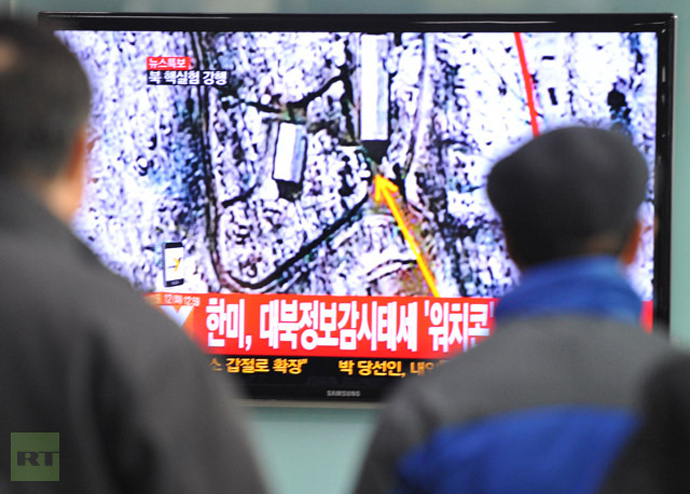 Deng argues that China should begin to shift its focus toward facilitating North Korea's unification with South Korea, thus helping to "undermine the strategic alliance between Washington, Tokyo and Seoul [and] ease the geopolitical pressure on China." The so-called "US-North Korea deal theory" whereby North Korea would participate in US efforts to counter China, if it ever came to fruition, would be the one policy direction that nobody could have ever imagined. As Washington pivots its military muscle toward the Asia-Pacific with over 60% of US naval forces now located there, Washington would likely find more comfort in solidifying North Korea's role as northeast Asia's "madman in the attic," so as to justify the highly unpopular American presence in South Korea and Japan.
Concerns over North Korea dumping China in favor of an alliance with the US have appeared in the Study Times, it is unlikely that the piece is merely the personal opinion of the writer, but rather a reflection of the Chinese political establishment, who feel frustrated with their increasingly noticeable lack of leverage with Pyongyang. Zhang Liangui, a professor at the Central Party School, in an interview with the ultra-nationalist Global Times paper, stated that "North Korea has never cared about China's attitude, when North Korea makes big decisions, it would rather inform Washington than Beijing... the North has never viewed China as an ally." Zhang is referring to the North's April 2012 satellite launch, where US officials were given early notification, while the Chinese foreign ministry was among the last to know.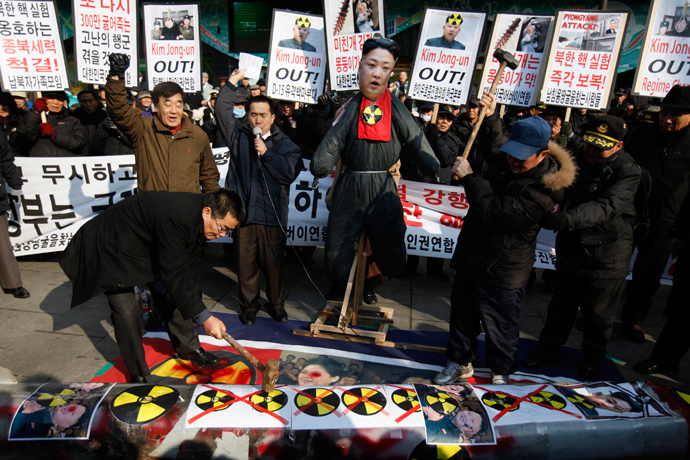 Even as Beijing becomes more upfront with its discontent, China has a valuable economic stake in North Korea's development; it continually invests in joint ventures with Pyongyang and has led initiatives to develop the nation's vast untapped mineral resources (which include deposits of coal, iron ore, gold ore, zinc ore, copper ore, and others) valued at a staggering $6.1 trillion, China is not looking for any additional agitation as it prepares for its once-in-a-decade leadership transition. Two members of China's incoming Politburo Standing Committee, Zhang Dejiang and Sun Zhengcai, have spent years in close proximity to North Korea, engaging in cross-border interactions with North Korean counterparts aiming to promote economic reform in Pyongyang.
Immediately following the North's third nuclear test, China signaled its frustration with the North in an opinion piece with the Global Times, which stated "If North Korea engages in further nuclear tests, China will not hesitate to reduce its assistance to North Korea." The editorial went on to say that if the US, Japan and South Korea "promote extreme U.N. sanctions on North Korea, China will resolutely stop them and force them to amend these draft resolutions." One would hope that the centerpiece of Beijing's foreign policy strategy towards the North under Xi Jingping will be encouraging the regime to behave more sensibly and focus on meeting the needs of its people.

Perhaps policymakers in Beijing will have an easier time convincing Pyongyang to behave if it offered a meaningful security pact in which Pyongyang is guaranteed military support from China if things ever get ugly – given the increasing frustration of the Chinese side of things, this doesn't look so likely. One could surmise that Xi's administration may also voice its discontent with the frequently occurring ROK-US joint military exercises held near the North Korean border and in disputed maritime areas, which have historically irked Pyongyang and have arguably provoked it into behaving in an equally provocative way. One thing is for sure – after three nuclear tests and continuing rhetoric from Pyongyang threatening the South with destruction – all sides are reassessing their positions. Washington's DPRK policy is one of "strategic patience," and after a history of failed deals between the US and North Korea (primarily because both sides are guilty of not sticking to their end of the agreement) Obama would be best advised to take some cues from 'the Worm' and serve up some good will and meaningful engagement on the court.
The statements, views and opinions expressed in this column are solely those of the author and do not necessarily represent those of RT.
The statements, views and opinions expressed in this column are solely those of the author and do not necessarily represent those of RT.
You can share this story on social media: