PM kidnapping fiasco: 'Liberated' Libya is chaos-state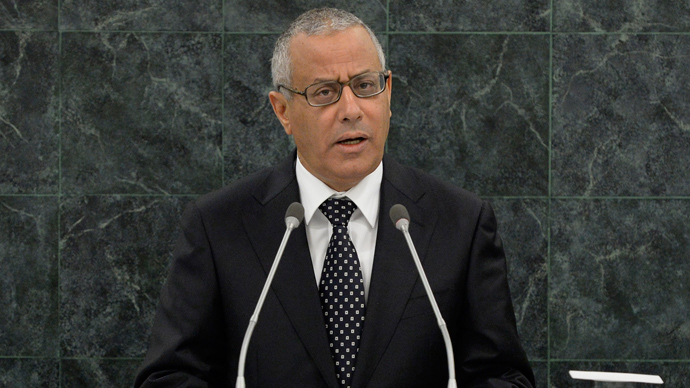 Although the detention of Libyan Prime Minister Ali Zeidan only lasted a few hours, it was a bold indication of the country's deepening instability since the civil war that toppled strongman Muammar Gaddafi in 2011. 
In the early hours of October 10, militants whisked Zeidan out of a luxury suite in the Corinthia Hotel, regarded as one of the most secure places in Tripoli, without a shot being fired. 

The gunmen who abducted the prime minister belonged to one of the many former rebel militias now interwoven into Libya's fragmented power structure as an improvised police force. Militants were angered by the capture of suspected militant Abu Anas al-Liby, who was abducted days earlier off the streets of Tripoli by US Special Forces in connection to the 1998 bombing of US embassies in Kenya and Tanzania. 
Prime Minister Zeidan was held over suspicion that he allowed al-Libi's abduction to take place, despite publicly raising concerns over the illegality of the snatch to US authorities.
Reports indicate that Zeidan's abductors were not willing to let him go, and that another militia – calling itself the 'Reinforcement Force' – intervened and freed the prime minister by force. The Libyan leader escaped unharmed, certainly the best scenario that could have resulted from this crisis. 
Information trickled out slowly in the tense few-hour period during which Zeidan's whereabouts were unknown, and had allied militias not come to his aid, the situation could have spiraled into a hostage crisis or worse. 
This embarrassing incident speaks volumes about the state of affairs in Libya today, and casts doubt on the government's ability to maintain order in a state that is now struggling to contain rival tribal militias and Islamist militants with separatist ambitions. The irony is that since NATO provided funding, arms, and air support to topple the previous regime on the basis of "humanitarian intervention," the country become more lawless, fractured, and unstable, while ongoing violations of Libya's sovereignty by the US add more fuel to the fire.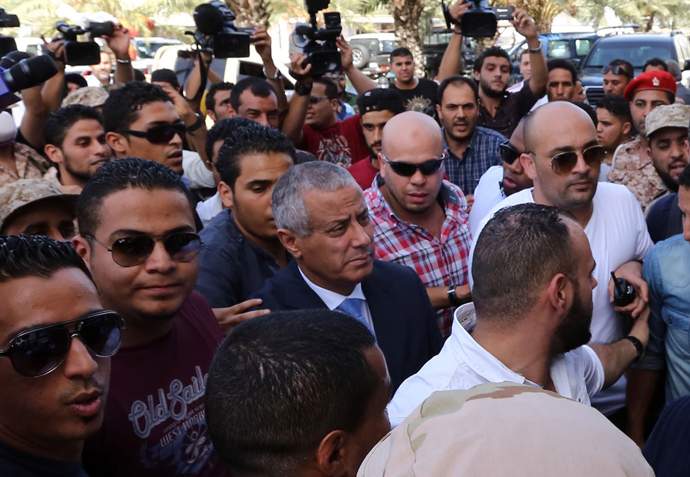 Washington's snatch-and-grab
Since Liby's capture near his home in Tripoli, the militant has been kept captive aboard the USS San Antonio warship in the middle of the Mediterranean Sea and faces interrogations by the CIA, FBI, and US military without access to a lawyer or notification of his legal rights. The use of a US warship as a floating 'black-site' where legal rights are withheld violates Article 22 of the Third Geneva Convention, which mandates that any detention premises be located on land. 
The Obama administration has gotten around international law by justifying Liby's detention under the laws of war, in much the same process used for Somali militant Ahmed Abdulkadir Warsame in 2011 prior to being taken to the US to face charges. Prime Minister Zeidan – whether or not he colluded with the US over Liby's capture – was detained as a result of the US sidelining international law and operating with impunity inside Libyan territory.
Zeidan gently raised the issue in a press conference days ago in a bid to appease popular outrage over the US commando raid, but stated that the incident would not seriously harm relations with the US. The fragile Libyan government denied having played a role in the commando operation, but the New York Times reports that the authorities were "willing to tacitly support the raid as long as they could protest in public." 
After less than a year in office, Zeidan could find himself sacked by members of the Libyan parliament that have sworn to remove him if evidence emerges that he had prior knowledge of the US raid. The growing perception among militias that Libya's government has become subservient to the United States is inherently dangerous, as it provides a powerful pretext for those groups to challenge Tripoli by force.

Libya's militias were happy to receive support from NATO and the United States – who had the mutual aim of giving Gaddafi an early funeral – but 'the revolutionaries' were naïve if they thought that Washington's interests would be anything other than a priority in their new state.
Although there is a parliament and a prime minister, political power still grows from the barrel of a gun, and militiamen clearly wield control in the absence of an army and police force.
Closing Pandora's Box of extremism?
During his recent speech to the UN, President Obama offered a weak defense of US foreign policy in Libya, claiming that "countless lives were saved, and a tyrant could not kill his way back to power," and that "without international action, Libya would now be engulfed in civil war and bloodshed." 
As Al-Qaeda-linked groups carry out waves of assassinations and thousands of prisoners are held in militia-run clandestine detention centers throughout the country, the Obama administration is clearly not being honest. The widespread persecution of dark-skinned Libyans native to the south of the country continues, while the current government uses Gaddafi-era tactics to track dissenters and loyalists with impunity. The West was correct in thinking that Gaddafi could eventually be toppled with enough force, but they were simply wrong to assume that Libya – with its complex tribal and ethnic demographics – would become a compliant satellite state under the umbrella of a transitional government run by bureaucrats with European-dual citizenship.
PM Zeidan spent the last three decades in exile in Geneva, and though he played a crucial role in persuading France to lend its firepower to the rebels, he came within a hair's breadth of being consumed by the 'revolution' he helped create.

Libya holds enormous freshwater aquifers and the largest oil reserves in Africa, and gaining preferential access to exploit these resources was a major factor in persuading Western states to support the rebels – but instability has caused chaos in the oil sector as militias vie for control over oilfields.

Reports indicate that as of July 2013, oil production fell to about 200,000 barrels a day from around 1.3 million, resulting in $5 billion in losses. The absence of a strong and inclusive central government, a state-backed reconciliation process, and a post-Gaddafi constitution all pose major challenges to the stability of the state.

There is little to applaud as momentum grows in the provinces of Cyrenaica and Fezzan to break away from the government in Tripoli. Libya is hemorrhaging, and recent events indicate a growing divide between the Western-backed government and the armed groups who are now overtly challenging the fragile state apparatus.
The statements, views and opinions expressed in this column are solely those of the author and do not necessarily represent those of RT.
The statements, views and opinions expressed in this column are solely those of the author and do not necessarily represent those of RT.
You can share this story on social media: