Latvia brings growth to the eurozone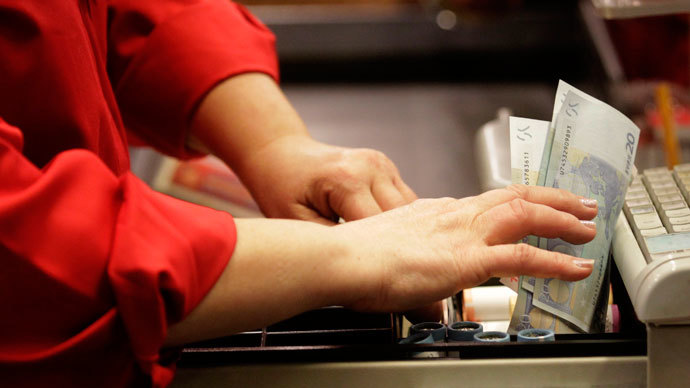 The fastest growing eurozone nation is: Latvia - which only joined on January 1! Does that affirm or undermine the single currency?
Why mark a big event with a single ceremony when you can double the pomp? In Riga's picturesque old town square, government ministers brandished euro notes on January 1 from a Citadele ATM. (Ironically Citadele Bank was formed from the ashes of Parex which notoriously collapsed triggering Latvia's depression). January 10, EU big guns jetted in to celebrate the 18th Euro member. 330 million EU citizens are now beholden to the quixotic currency.
The fact that the euro was adopted without any popular endorsement was naturally ignored amidst the bureaucrats' 'celebrations'. Intriguingly, the EU's Eurobarometer claimed a remarkable 90 percent desire for adoption of the euro last October, but Latvian pollsters have yet to record anything like a majority favoring the single currency. Barely 20 percent endorsed adoption. A solid 50 percent remained consistently opposed. As a good European, Prime Minister Dombrovkis naturally avoided empowering the citizens to decide their own economic sovereignty.
Latvia is trumpeted as a great EU 'success' thanks to rebounding from depression following its vast property bubble. Naturally eurocrats deftly massage the truth to fit their beliefs. However, Latvians emerged from recession thanks to their own remarkable stoicism. Then again, as one Latvian pensioner told me in 2009: "We've been invaded by the Nazis, oppressed by the Soviets, endured years when occupation left us without enough food. We suffered hyperinflation when we returned to independence. Do you really think silly plastic cards and mortgages can keep us down?"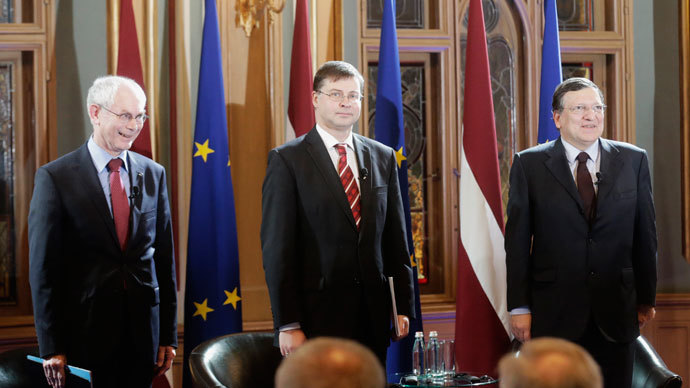 Latvia suffered genuine austerity and a 20 percent economic contraction! Public salaries were cut by 25 percent, unemployment reached 20 percent, and vast swathes of schools and public resources closed. Latvia teetered on the verge of bankruptcy, but thanks to the resolve of its citizens, the economy came back from the brink of total meltdown.
Latvia joined the euro because it is a small step. Since 2005, the Baltic state has maintained a peg (a fixed rate of Ls 0.702804 = €1) against the euro despite economic turmoil. With fixed exchange rates, Latvia had no economic flexibility to devalue as Poland could, to escape recession in 2008. Therefore it makes some sense to become a full euro member. Nevertheless citizens are worried about joining a fundamentally precarious currency project, which may yet see cross-border debt pooling or confiscation of bank deposits (as suggested by the IMF) to reduce EU sovereign debts.
Despite 4 percent growth as Latvia rebounds (how the eurozone as a whole must envy that!), Mr Dombrovkis resigned, apparently as a result of a shopping center collapse before Christmas. However, cynics saw oligarchical manipulation behind the scenes. Aivars Lembergs, one of the nation's richest men (amidst a trio of political oligarchs) is bringing his party into the refreshed coalition which will serve until October's general elections. Mr Lembergs has a colorful past, keeping busy with the judiciary during long running proceedings concerning money laundering and abuse of office.
Elsewhere in the EU concerns are being raised about money laundering on a broader scale. Latvia, thanks to a large ethnic Russian population, has proven popular as a banking domicile for cash hailing from east of the European Union. Some see Riga's euro accession as being in the vanguard of a 'dirty money' cash influx. In reality eastern oligarchs have long used Riga as a key banking center, before and after EU accession, let alone since joining the euro. Foreign bank deposits amount to about 40 percent of GDP amidst signs that Riga has become more popular as a banking haven, after the EU sponsored theft… er… 'haircut,' of deposits in Cyprus during 2013.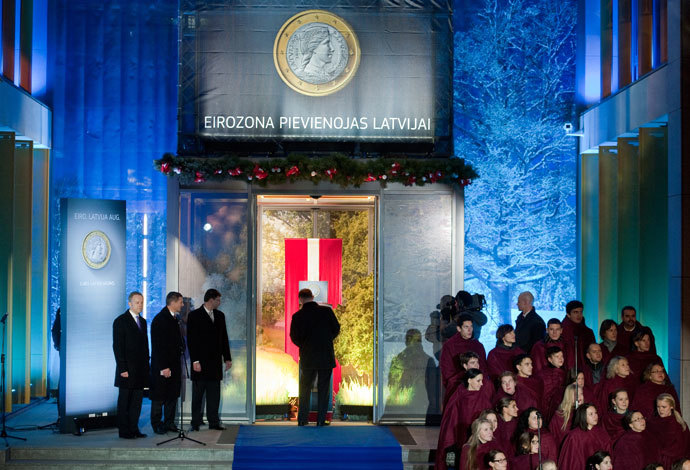 Now Laimdota Straujuma has been nominated as incoming Prime Minister, the first woman in the job (President Vaira Vīķe-Freiberga served two terms 1999-2007). She must concentrate on rebuilding a still battered nation, which needs infrastructural improvement while reducing the emigration that has shrunk the population 10 percent in the past decade alone.
Then again it is a curious conundrum that EU presidents welcomed Latvia into the eurozone aware that it has managed to become the fastest growing nation in the Bloc before, well, becoming a member! The entire eurozone is forecast to grow at an anemic 0.9 percent in 2014, despite years of hardship and recession. Latvians are wary that their fiscal prudence may yet be dissipated when further euro crises emerge and Riga is forced to contribute to the ongoing bottomless pit of Mediterranean debt.
The statements, views and opinions expressed in this column are solely those of the author and do not necessarily represent those of RT.
The statements, views and opinions expressed in this column are solely those of the author and do not necessarily represent those of RT.
You can share this story on social media: