Israel never stopped pirating in Palestinian waters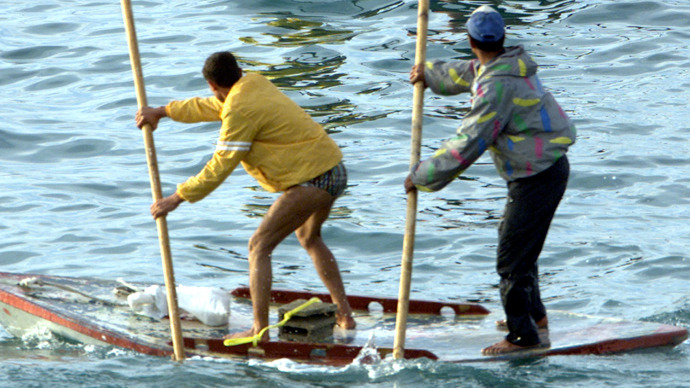 Though you wouldn't know it from the lack of media coverage, for decades Israel has been committing acts of piracy in Palestinian waters – attacking, kidnapping and stealing from Palestinian fishers.
Despite pledges of restraint, the Israeli navy's attacks have continued since the November 2012 ceasefire between Israeli authorities and the Palestinian resistance. The Mezan Centre for Human Rights noted on March 24, 2013, that "Since the ceasefire agreement, Israeli occupying forces have carried out 44 attacks against fishermen in Gaza's waters, injuring four fishermen. Israeli forces arrested 44 fishermen, confiscated nine boats, and damaged fishing equipment on five separate occasions."
The 2010 Israeli navy brutality against the Freedom Flotilla, in which Israeli commandos shot dead nine internationals (many of them point blank) and wounded more than 50 made headlines briefly, then faded. But the preceding attacks on solidarity boats, and those that followed, were at best scarcely covered in the media.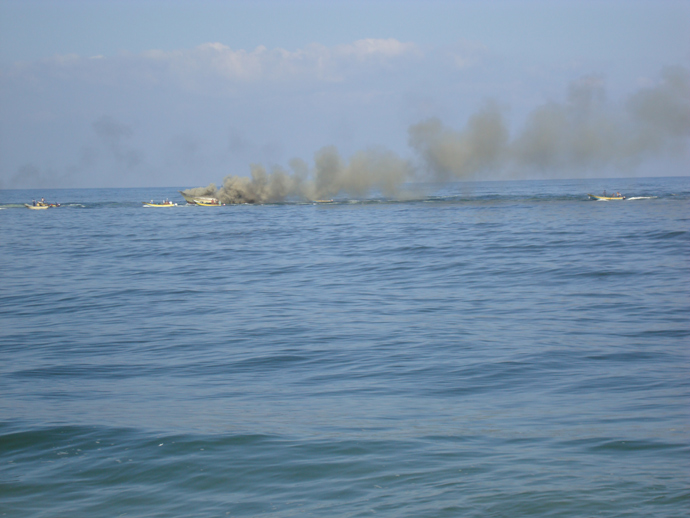 Likewise, the near-daily attacks on Palestinian fishers, although well documented by Palestinian and international human rights organizations and observers, get virtually no coverage. Israel's gunboats in Gaza's waters routinely machine-gun, shell, and water-cannon Palestinian fishers, in addition to seizing their boats.
Before abducting Palestinian fishers, the Israeli navy orders them at gunpoint to strip to their underwear, dive into freezing waters and often to swim or tread water for up to a half hour or more, after which they are then hauled aboard the Israeli gunboat, handcuffed and blindfolded (usually still only in their underwear) and abducted to Israel.
Many fishers report that their interrogations center on information gathering: The Israeli interrogators ask questions about fishers' salaries, who their neighbors are, and attempt to coerce the fishers to work as collaborators with Israel. Their abductions and interrogations thus have nothing to do with the routine Israeli explanation of "self-defense."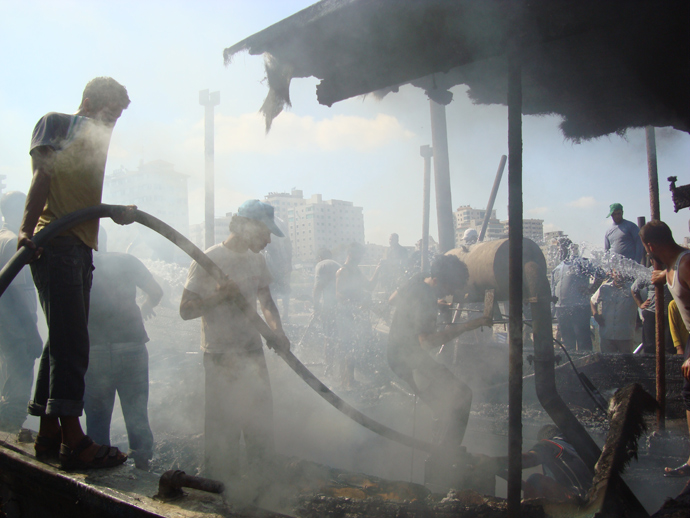 In their 2002 report, the Palestinian Centre for Human Rights (PCHR) notes that in addition to the attacks on Palestinian fishers, the Israeli navy damages their fishing equipment and sinks their boats.
Israel further imposes fines on Palestinian fishers, who must pay for the storage of their stolen boats in Israel, and the return of their boats, often destroyed or badly damaged, and almost always stripped of equipment.
It's Old News
The history of Israeli attacks and unilateral restrictions on Palestinian fishers goes back as far as the mid-1990s, just after the signing of the Oslo "Peace" Accords. Under the 1994 Interim Agreement signed by Israeli and Palestinian authorities, Palestinian fishing waters extend 20 nautical miles from Gaza's coast.
The PCHR notes that in March 1996, "Israeli occupying forces imposed a marine siege on the Gaza Strip. When they eased the siege on March 22, 2002, they decreased the area where fishing is allowed to 12 nautical miles, preventing fishermen from moving further, which had an adverse effect on their production and income."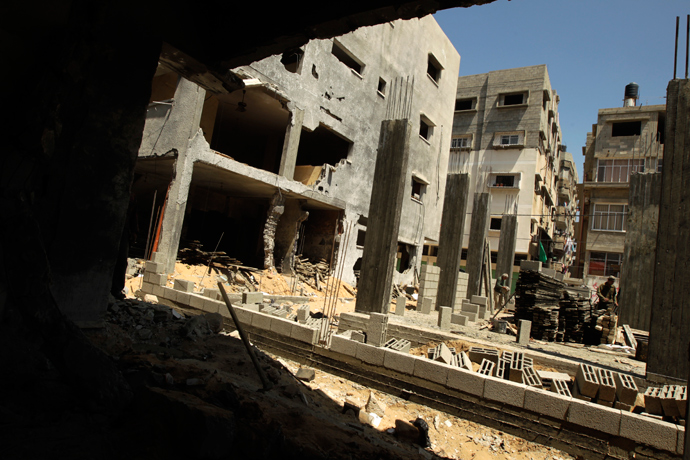 In late 2008, before waging 23 days of bombing attacks on the Gaza Strip and killing 1,455 Palestinians, Israeli authorities again illegally downsized the fishing area to 3 miles, meaning that Palestinian fishers are banned from accessing roughly 85 percent of their fishing waters.
After waging eight days of war on Gaza in November 2012, killing over 170 Palestinians, Israeli authorities benevolently extended their unilaterally imposed limits to 6 miles. In March 2013, they once again reduced the area to three miles. But many fishers have testified that the Israeli navy attacks them even when they're just one or two miles off of Gaza's coast.
Palestinian fishers say that the difference between a 3- or 6-mile limit is negligible. The UN points out that "the majority of high value fish are found beyond 12 NM [nautical miles] from shore, where the sea bed descends and becomes rocky," and, without offering any means to ensure it be implemented, suggests that "an expansion of the accessible area to 12 NM would allow fishermen to further increase their catch, exploit high value bottom-fish, and enjoy higher economic returns."
Who Will Police the Israeli Pirates?
Israeli authorities routinely claim their occupying army's actions are in "self-defence," including their piracy and lethal attacks on Palestinian fishers. But these, along with the collectively punitive 3-mile limit, are aspects of Israel's strategy of decimating Gaza's fishing tradition, means of existence, and economy, and are part of Israel's overall scheme to render as many Palestinians as possible impoverished and without hope.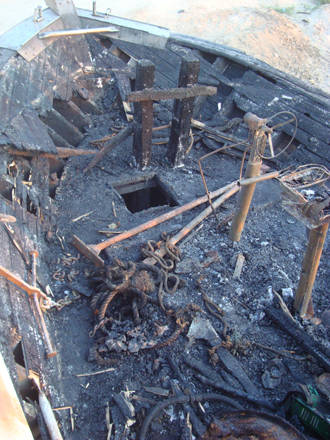 According to a United Nations report, from the start of 2009 until the report's publication in November 2011, "four fishermen have been killed and 17 others have been injured by Israeli gunfire." The number of fishers killed in the last decade is not clear, but reports from human rights organizations and local news put the total at over 10 fishers. The number of injured and abducted fishers runs in the hundreds.
Israel continues to hold 36 Palestinian fishing boats pirated from Palestinian waters, some from 2008. Without their boats, 144 fishers are out of work. The vast majority of fishers are already some of Gaza's poorest. Their boats and equipment stolen or destroyed, fishers fall further into manufactured poverty.
The Israeli siege, imposed shortly after Hamas' 2006 democratic election, has done what the Israeli closures since the '90s began: Destroyed the Strip's economy, causing the manufactured poverty that prevails today, and left 80 percent of the population dependent on food aid.
The siege-engineered wastewater crisis, in which 90 million liters of raw or partially treated sewage are pumped into the sea on a daily basis, adds another level of danger to Gaza's fishing industry. Stock fish living in these toxic waters are the only catch that Palestinian fishers are able to bring in within three miles. In August 2010, the UN noted that "microbiologically contaminated seawater found along the Gaza Strip coast poses a serious health hazard not only to people using beaches for recreation, but also to the entire population, through potentially contaminated seafood."
In 2007, the UN was warning about over-fishing juvenile stock: "Fishermen have been forced to drop their nets in waters that contain young fish and spawning species meaning that the fish caught are typically small, not to mention the long-term damage that is being done to marine habitats."
By 2011, the UN noted that "future fishing stocks will be threatened," if the over-fishing continues, and reported the impact on that year's catches. "Over-fishing in confined spaces causes sardine catch to decrease by 90 percent since 2008... This year's sardine catch was the lowest recorded in the past 12 years... 2011 will likely also have the lowest records for all fish caught."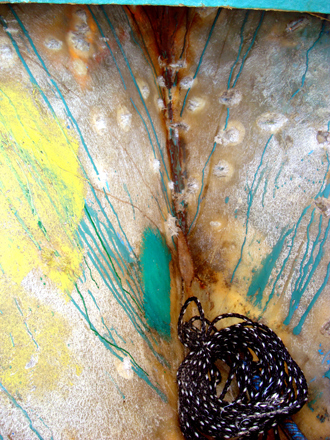 Historically, this would not have been a problem, with fishers going out 10-plus miles to catch the migrating fish, including sardines.
A fishing sector which once provided both employment and affordable nutrition to a sizeable segment of Gaza's 1.7 million Palestinians is now merely a dangerous risk and farce of its former self. The PCHR reported in March 2013 that Gaza's fishing industry is on "the brink of collapse, bringing the number of working fishermen from approximately 10,000 in 1999 to less than 3,200 today."
Also in March, PCHR and rights groups Al Mezan and Al Dameer called on the UN to take action over Israel's attacks and restrictions on Gaza's fishers. In a joint letter, the groups urged the UN Security Council to "publically recognize and condemn the punitive measures imposed by the Israeli authorities as a form of collective punishment of the civilians of the Gaza Strip."
But, as they note in their letter, the UN has previously called for the end of the siege, and stated – in 2012 – that it "amounts to a collective punishment of all those living in Gaza and is a denial of basic human rights in contravention of international law."
And what has this condemnation actually achieved? When it comes to Israel, no international body will stop it from violating international law, and committing war crimes and collective punishment.
Only in March, nearly three years after Israel slaughtered nine solidarity activists in the Mavi Marmara massacre, did Israeli Prime Minister Netanyahu (following a visit by Obama) issue a lackluster apology to Turkish Prime Minister Erdoğan, apologizing for "operational mistakes" made during the raid. And although Erdogan voiced public contentment with the scarcely apologetic apology, relatives of the murdered Turks and global supporters of the Flotilla are hardly appeased.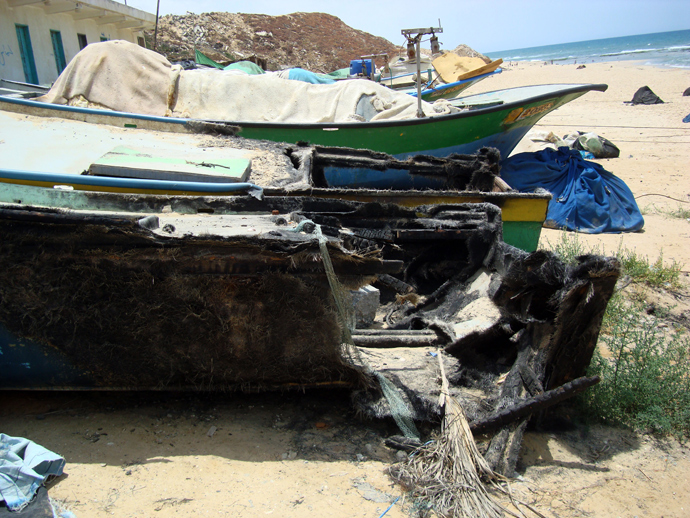 But the apology, thus an admission of guilt, is as far as accountability went: The only inquiry held was an Israeli-led investigation which concluded Israeli commandos were not in the wrong. No international body subjected Israeli authorities to one, nor will any. And of the pre-conditions that Erdogan laid out in order to resume relations with Israel, the Zionist state wriggled out of the most major condition: Lifting its siege on Gaza.
This means that Israel will continue to confine Palestinian fishers to less than three miles, shooting and shelling them at will, and no one will stop them. Gaza's fishers are left to their own, in their very limited fishing waters. It is a sad certainty that the Israeli piracy will continue uninhibited, with the complicity of the media and international bodies.
The statements, views and opinions expressed in this column are solely those of the author and do not necessarily represent those of RT.
The statements, views and opinions expressed in this column are solely those of the author and do not necessarily represent those of RT.
You can share this story on social media: