Iran membership would give lots of advantages to SCO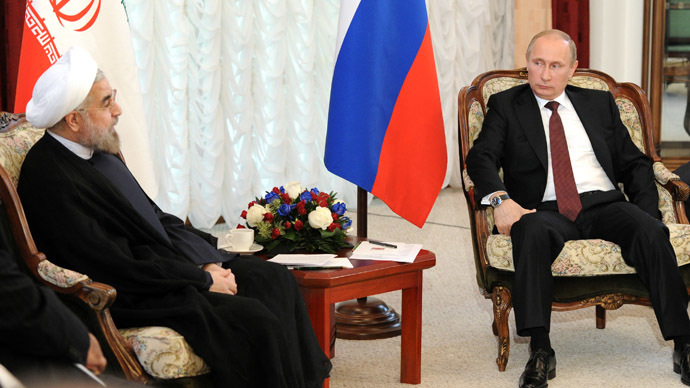 As an observer state since 2005, Iran's ties with the Shanghai Cooperation Organization (SCO) are on the up, in the light of President Hassan Rouhani's first international trip to Bishkek's SCO summit.
 As a leading Persian Gulf power that simultaneously serves a vital bridge connecting the landlocked Central Asian states to the open sea, Iran's SCO connection serves both its national security interests as well as the mutual interests of SCO member states.

Utilizing the SCO's diplomatic forum, which was held this Friday, for discussing various regional and "out of area" international issues such as the Syrian crisis, President Rouhani has had meetings with the Chinese, Russian, and Central Asian leaders - on the summit's sidelines, aimed at enhancing Iran's regional portfolio, and bolstering trade and commercial relations with the SCO family.
From Tehran's vantage point, SCO is a dual purpose security and economic regional organization that is destined to play a prominent role with respect to the sensitive stability issues, such as the Afghanistan peace co-partnership in the aftermath of the US and NATO's planned departure in 2014.

Having accepted Afghanistan as an observer state, the SCO is concerned about the multiple threats of spill-over in ethnic violence and extremism emanating from Afghanistan and, given Iran's long borders with Afghanistan and traditional influence in Kabul, it is all the more important to pursue a coordinated, even collective, regional effort within the SCO framework to address the challenges stemming from a "post-US" Afghanistan. 

Of course, there are other important reasons why Iran is genuinely interested in the SCO. The SCO's connection confers regional status and influence and thus serves Iran's "new regionalism" approach spearheaded by President Rouhani and the resourceful Foreign Minister Javad Zarif, who has an excellent track record with respect to international mediation on Afghanistan. In the past, Iran has played a constructive role in conflict-mediation - in Nagorno Karabakh, Tajikistan - and can certainly continue to do so, e.g., with respect to mediating the territorial disputes between the Central Asian members of SCO. 

On the economic front, Iran is planning to strengthen its presence at the SCO Business Council and to stimulate SCO member states' interest in trade and investment opportunities in Iran, especially in the energy sector, which is why Tehran has endorsed Moscow's pitch for an SCO energy committee.  Given the SCO region's growing"pipeline politics" and the energy security issues that are inherently connected to the stability issues Iran views itself as a "stability provider" and simultaneously as a viable conduit for the region's energy and other, e.g., regional transportation, priorities.

With respect to the nuclear standoff, which has resulted in the SCO's decision to put on hold Iran's quest for membership, the SCO by virtue of encompassing two UN Security Council veto powers, i.e., Russia and China, is poised to contribute to the on-going negotiations to resolve the Iran nuclear crisis.  Since this crisis has a security component, Iran's growing links with the SCO in fact serve a dynamic role in terms of offsetting the military threats against Iran and providing a further security cushion for Iran, which will undoubtedly decrease Iran's national security concerns. 

Unlike other observer states such as India and Pakistan, or SCO 'dialogue partners' such as Turkey and Belarus, Iran's SCO membership would not complicate the delicate inter-SCO dynamics, such as Sino-Russian cooperation. 
Rather, given Iran's Persian Gulf status, purely non-aligned orientation and foreign policy doctrine of "equi-distance" from superpowers, Iran's membership offers multiple advantages to the SCO - that outweigh the expressed SCO concerns, such as with respect to the nuclear standoff. Therefore, a "conditional acceptance" of Iran that is tied in with Iran's enhanced cooperation with the International Atomic Energy Agency (IAEA) and successful multilateral negotiations is worth exploring.  
Kaveh L. Afrasiabi, Ph.D., expert on Iran's Foreign Affairs