UK intelligence chiefs getting such a soft touch is 'shocking'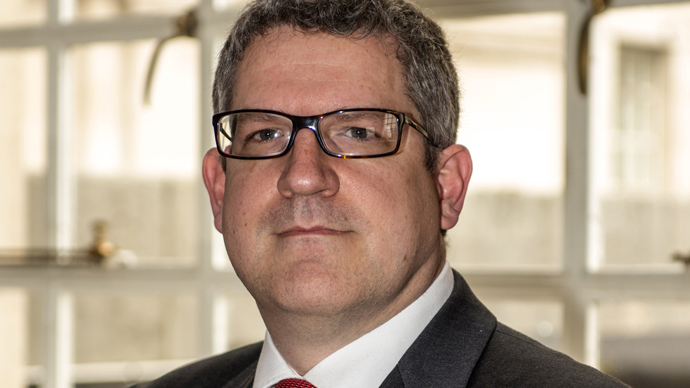 The appearance of UK intelligence chiefs before a parliamentary committee was shocking because they were given such an easy ride says former MI5 agent Annie Machon talking to RT.
RT:About this hearing: we've listened to a lot of people beforehand, and they didn't think it would come to much, but there was a hope that it would be a grilling, it turned out to be a bit of a damp squib at the end of the day. I guess you're not surprised?
Annie Machon: Absolutely not. I mean this is the first time that the intelligence chiefs have actually been called to account in public, and of course they had easy questions because the Intelligence and Security Committee in parliament has historically been toothless, even though it has a few more powers now. But the chairman Malcolm Rifkind, who used to be the Foreign Secretary and in charge of GCHQ and MI6 a few years ago, has already exonerated GCHQ in the wake of the Snowden disclosures about endemic surveillance and things like that. So he's already been on the record, arguing in favor of what the intelligence agencies do. I had no expectation there would be any difficult questions whatsoever.
RT:So today's (Friday's – RT) open meeting was just a PR stand, was it nothing more?
AM: Absolutely. And the intelligence community in the UK has been very much on the offensive over the last couple of months, arguing that, 'Of course, you know, what Snowden did is going to give a gift to terrorists, of course it would put national security at risk', all retired, old arguments, which have been trotted out year and decade after decade after decade…
RT:Are you surprised the alleged spying on Angela Merkel wasn't mentioned?

AM: Absolutely! I mean, this is a European partner. So the fact that they are sending soft balls, not, you know, hard hits, at the intelligence chiefs, it is just shocking. And I also think, what they say about terrorists, it's crazy because all terrorist groups for the last four decades have known that they could be under surveillance, and they take very good anti-surveillance techniques in order to make sure they are not watched. I mean, the Provisional IRA knew this in the 1980s and 1990s. So, any self-respecting terrorist is going to be very careful about what they do on the internet, so the idea that they [intelligence] are using that as an excuse to drag all the personal surveillance and turn us into a police state is just not feasible. And it's not just the UK! What GCHQ does in the UK of course impacts people globally and across Europe, with the 'Tempora' program which mainlines into fibre-optic cables.
RT:But as a former spy yourself, it's odd for me to be talking to you. The age-old argument here is that the security service should have as much information as they can get for the greater good or for their own particular country, etc. How can you argue against that?
AM: As a former spy, I would say that the best way to protect your country is actually targeting investigations where you try and watch and survey and investigate people you know are suspects. In fact, we probably lose more information through that endemic surveillance, and we probably put ourselves at greater risk by doing so. And also, by doing so as well, we turn the country into a surveillance state. The UK is unique in the Western world, post-Snowden disclosures, in not having a mature and proper debate, saying, 'What is the proportionality within the democracy? How can we protect our basic rights to privacy?' Because it's not some strange balance between liberty and security. Privacy is the fundamental point here. When you want to be private, when you communicate, when you read, when you meet, when you talk to people on the internet, and that's what this surveillance is taking from us.

The statements, views and opinions expressed in this column are solely those of the author and do not necessarily represent those of RT.
The statements, views and opinions expressed in this column are solely those of the author and do not necessarily represent those of RT.
You can share this story on social media: