​Free-fall: IMF to accelerate Ukraine's economic collapse?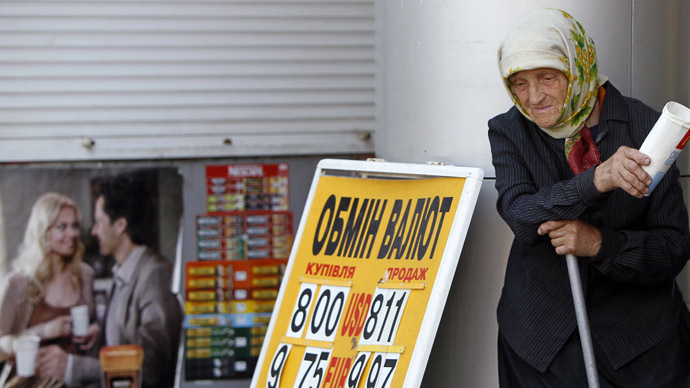 Will Maidan optimism be extinguished as the citizens of Ukraine realize their economic plight means considerable imminent hardship?
Ukraine is bankrupt. It has wavered on the cusp for some time. However, it is about to suffer the cruelest indignity: discovering that Western politicians who promised prosperity have been encouraging the IMF to deliver a leveraged poisoned chalice.
Maidan dreams are turning abruptly into a nightmare as coup gives way to penury. Siren voices from the West have lured the Ukrainian economic ship on to the rocks with the IMF about to launch a lifeboat - replete with economic subjugation as bondholders get paid and citizens suffer.
Western promises from the barricades of immediate milk and honey were always palpably false. Ukraine is on the cusp of economic trauma, forced to account for 20 years of negligent democracy and decades of Communist economic cancer, all in one short, sharp, shock…or what may prove an IMF-induced coma.
With Crimea returning to Russia's secure embrace, the IMF has dusted off the package elected government first refused in 2010. One interesting point: if the IMF lends to Ukraine that affirms Crimea's status: the IMF says it cannot lend money to a state illegally partitioned. The West has blinked on its 'invasion' rhetoric.
Unsurprisingly, the bailout fell primarily to the IMF as the EU, unable to support its failing currency zone, couldn't afford a bailout. The EU remains an empire with multiple competing Presidential Emperors, but no clothes for any of them. Elsewhere, President Obama has become confused about Kosovo and offers token support. Therefore, Ukraine has been economically abandoned to IMF austerity before it even has a new president.
Kiev is poised to become the Athens of Central Europe - but not for architectural or cultural reasons. Ukraine's governments lived in la-la land for years. Property laws are weak, stifling the ability to build businesses from the ground up. Then there's the massive weight of bureaucracy (and let's not forget corruption). Thus Ukraine has reverted to a quasi-medieval feudal economy where various oligarchical barons wield power while politicians divide the assets of the nation. Economic growth is an afterthought.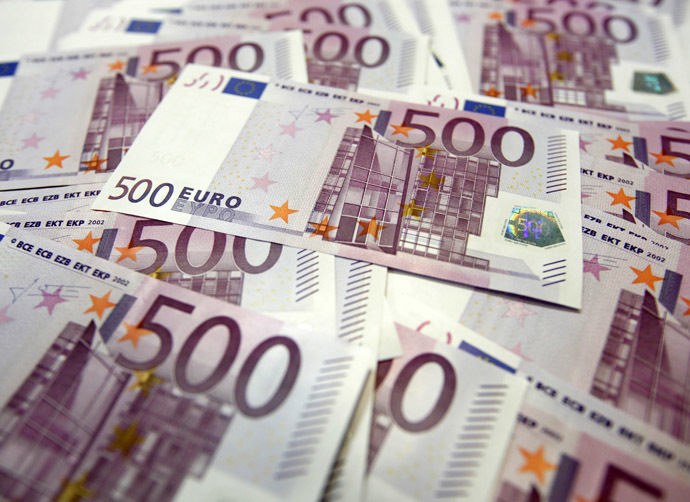 The rescue package is $27 billion with the IMF contributing $15-18 billion (the origins of $5 billion are unclear). However some $6.2 billion will be redeemed expiring bonds. That investors get privileged terms remains unreasonable.
Now the pain starts: First up, a sticking point which caused Yanukovich to pivot away from the EU pact: eliminating gas subsidies for citizens. Politics has long trumped economic logic in Ukraine. Now economic reality will bite in one shocking move. The unsustainable subsidy regime (7.5 percent of GDP) will be removed on May 1st making gas prices rocket by at least 50 percent!
With the government budget in permanent deficit, the IMF wants it shrunk. That means large widespread government cutbacks including civil service payrolls. Pensions could be halved as government strives to save billions.
IMF strictures mean the Central Bank must maneuver a narrow channel attempting to encourage stability while the currency falls. The hryvnia is already down 26 percent against the dollar this year and will likely fall more in future. This theoretically makes Ukrainian exports more competitive but where to export is a tricky issue: Russia, formerly home to 25 percent of Ukrainian exports, is no longer a free trade option. Perhaps London hipsters will embrace an austerity solidarity trend gripping venerable Ukrainian fridge technology?
The current 9 percent annual trade gap ($17 billion) will likely improve as shock therapy bites because imports become unaffordable. However, the more your currency falls, the more you need to pay off those dollar loans from the IMF.
Enduring a triple dip since 2008, economists predict the 2013 recession will involve a 5-20 percent GDP loss - a catastrophic depression akin to Greece. Nobody knows how much Ukraine may need to survive – a $50 billion package? The IMF may rapidly solve a century of economic mismanagement with one enormously recessionary package...but at what cost to Ukraine? Is a failed state in the making? Could economic pressure precipitate breakup from within?
Or will Ukraine simply avoid the pain? Twice since 2008 IMF loan tranches have been frozen due to government foot dragging on reform. Can any government stay the course? The Western embrace is about to turn very chilly for Ukraine's citizens. Extreme nationalists are already voicing dissent.
The nightmare has barely begun: Will the Maidan yet swell with impoverished pensioners who cannot afford to heat their homes?
The statements, views and opinions expressed in this column are solely those of the author and do not necessarily represent those of RT.
The statements, views and opinions expressed in this column are solely those of the author and do not necessarily represent those of RT.
You can share this story on social media: