Gitmo Hunger Strike: 'Prisoners put their lives on the line in a medieval torture chamber'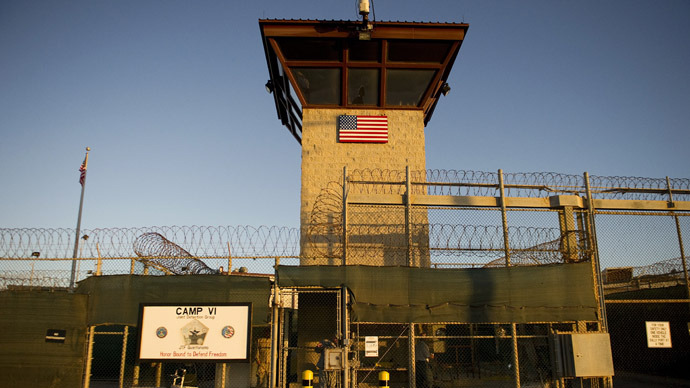 An inmate hunger strike at Guantanamo prison has entered its 40th day, with more than 100 reportedly taking part. Experts warn of health risks over a strike prompted by the confiscation of prisoners' belongings and rough handling of Korans.
The prisoners' lawyers, along with other experts and former detainees, are sounding the alarm over the inmates' critical condition. "They are indeed threatening their own lives, putting their lives on the line in this heroic effort to express a sense of autonomy, outrage at being imprisoned in what can be characterized as nothing less than the American sort of medieval torture chamber," anthropologist Mark Mason, who studies the cultural factors behind human suffering, told RT.
"We have here conditions where 166 people are imprisoned, more of half of them cleared, they should be out to the streets, free today," Mason added. "I frankly cannot describe some of the horrific conditions and treatment and humiliation that many detainees have reported. They have been stripped and required to stand around in cold rooms for hours naked. This is itself a physical stressor, but it is almost unspeakable psychological torture."
"We are humans, we are not eagles in a bag of skin, we relate to each other, we need human contact and relationships to be healthy psychologically and physically," he said.
Mason claimed that the US lives in a "distortion zone," where "people imprisoned in Guantanamo should be free while the president, our former president, vice president and bankers in the US and Wall Street should be in jail."
US President Barack Obama began his first term by announcing his intention to close the Guantanamo Bay detention center. Now, just two months into his second term, the prison has entered its 12th year of operation with 166 detainees still languishing behind bars and a reported 130 on a life-threatening hunger strike.
9- to 12-year-old kids detained and tortured in Guantanamo?
Former Guantanamo detainee Murat Kurnaz described to RT the horrible conditions he faced while being detained there, and explained the reasons behind the hunger strike.
"I have been tortured in different kinds of ways. There are no human rights over there. That means they could do whatever they wanted to with us," Kurnaz said. "They tortured me to force me to sign papers and every time I've refused, they kept on torturing me in different kind of ways."
"They really tried everything to break us including psychological and physical torture. I myself got tortured by electroshocks and waterboarding. I have seen also kids 9 years and 12 years old inside the camp. It was very difficult to watch how those kids getting beaten up in front of me," he added.
Kurnaz argued that detainees have "many justified reasons" to go on a hunger strike:"It is a bad situation, prisoners want to go to court and want their rights back. They don't have the opportunity to go to the court or see their families. They do not have the right to write or receive letters."
The state of legal limbo was also frustrating for Kurnaz, who was determined to be innocent by the US but had to spend an extra five years in detention because Germany refused to take him back.
"Their hunger strikes are the only way they have of making themselves heard. Years and years without any hope of release. Without any real charges," political writer and activist Sara Flounders told RT.
Lawyers for the Guantanamo prisoners said the men began the hunger strike on February 6 in protest against the alleged confiscation of personal items such as photographs and personal mail, as well as the alleged sacrilegious handling of their Korans during searches of their cells.
The Center for Constitutional Rights said that they have received reports of detainees coughing up blood, losing consciousness, losing more than twenty pounds of weight and being hospitalized. Medical experts have predicted that by the 45th day of a hunger strike, participants can experience hearing loss and potential blindness – on top of the psychological suffering they have endured for more than a decade.
The UN issued a statement this week that the US is violating international human rights law by holding detainees indefinitely and without charge.