WikiLeaks: Govts attacks on media 'signalling rise of fascism in UK, US'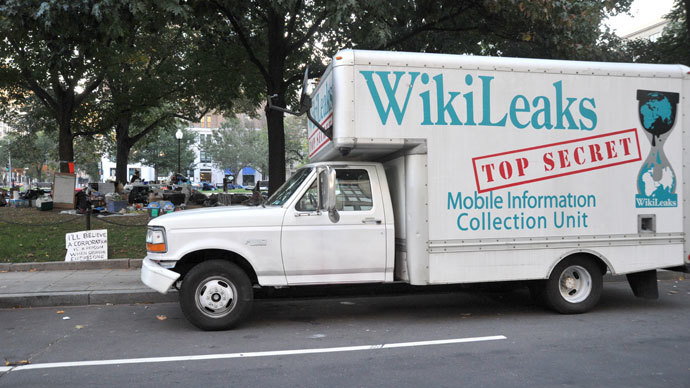 The latest scandal with the Guardian is an escalation against the freedom of the press that WikiLeaks predicted years ago, but it won't stop whistleblowers and journalists from fighting for freedom of speech, Wikileaks' Kristinn Hrafnsson tells RT.
It was revealed by Alan Rusbringer, editor of the Guardian, that the British government threatened them with legal action unless they handed back or destroyed material given to them by former NSA agent Edward Snowden.
The revelation comes after David Miranda, Glen Greenwald's partner, the Guardian journalist who published Snowden's material, was detained and questioned for nine hours at London's Heathrow airport under anti-terrorism laws.
The British government has defended their actions saying that he had "sensitive, stolen data" in his possession.
RT:Was Wikileaks surprised by the Guardian editors revelations about the British government pressuring them to give up or destroy the data related to Snowden's leaks?
Kristinn Hrafnsson: I was not surprised at all and actually, we have been warning about this for years. Let me remind you that three years ago when Wikileaks was under a massive attack even under death threats and journalists in the main stream media did not come to our defense or even were directly against us. We said you should think twice because you are next. That is exactly what has happened on [in] the escalation on war on journalism. We see phone records of AP journalists in the states being seized, we see an attempt to prevent journalists in the US who are working with whistleblowers and are called co-conspirators and could be prosecuted and now we see this recent development in the UK. This is a part of the escalation against the freedom of the press and we warned about this years ago.
RT:The Guardian was one of the first papers to publish Wikileaks documents when they emerged. Have you heard about any similar tactics carried out by the government before to pressure the Guardian or any other paper from publishing them?
KH: We know of course about both the direct intimidations and acts of self-censorships even by media that we've been working with, even The New York Times and that has been reported on and admitted by the former editor of The New York Times, Bill Keller. This is a concentrated attack on the media, not just the media that we have been working with but to [on] all media and it is a very serious issue that people have to think carefully about because in essence this is a signal of a rise of fascism in the UK, in the US and western countries. I even see traces of that in my own country, Iceland, under the new conservative government.
RT:Also we know that a few years ago, Wikileaks posted a mass of so-called insurance data which could be decrypted should something happen to Julian Assange or Edward Snowden. Would you add journalists working with whistleblowers to that list?
KH: Journalists that are working with whistleblowers are under attack. Whistleblowers have been under attack for years, now it's journalists that are under attack. Every journalist should stand up in defense of journalism. Unfortunately we are seeing some journalist cowards who are not doing that and even calling for an attack on Julian Assange, which is appalling. This is a very serious issue; we are seeing a trend here as I said earlier that people have to respond to very urgently and with strong measures.
RT:In light of what is happening many seem to feel that the UK government's actions are aimed at warning journalists against working with whistleblowers and releasing sensitive data. What effect do you think it will really have?
KH: It is not going to stop whistleblowers, more and more will come forth because people are appalled by the situation and the crackdown on journalism and the attempt to silence everybody who is exposing the wrongdoings of governments. There are people out there with enough bravery to take decisive steps and let's hope that there are enough journalists out there brave enough to respond to that. Of course we have Wikileaks and the ideals we stand for and all the organizations that hopefully will come forth endorsing the same idea. This is a part of a big picture - a fight for the basic principles of freedom of speech and privacy. We have to fight against all attempts to suppress that.
The statements, views and opinions expressed in this column are solely those of the author and do not necessarily represent those of RT.