'Inadequate equipment, workforce for Fukushima decontamination'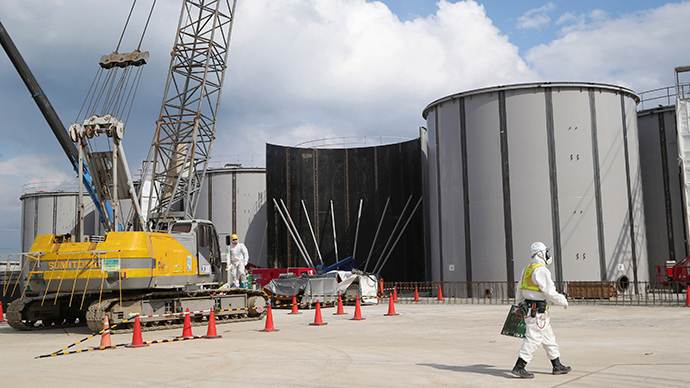 All the measures undertaken at Fukushima have been done on emergency basis and the management lacked forward thinking and adequate expenditures and equipment, nuclear historian Robert Jacobs told RT.
RT:Radioactive water is still leaking into the sea. Do you think that enough is being done to get the situation under control?
Robert Jacobs: Not at all. All that has been done was a kind of emergency ad hoc steps to put this water into tanks and there is more and more water every day being put into tanks. Tanks are being hastily constructed, we found so far that a lot of the tanks have been made from fairly shoddy materials, the cement bases the tanks sit on are cracking in places, some of the tanks have not been set up properly. Many people believe it's just a matter of time before all the water held in those tanks simply enters into the ground and the ocean. So it's just been done on emergency basis, it's not been managed with forward thinking and with adequate expenditures and equipment.
RT:Many clean-up workers had to be removed because they reached exposure limits of radiation. Who is doing that job now?
RJ: Most of the work is being done by temporary workers. There are still TEPCO industry workers that are overseeing this, but a lot of the workers that have been working at the plant for years have reached the radiation level and this is one of the problems that working in the radioactive environment it becomes harder and harder to have skilled labor. So you have a lot of temporary workers, many of whom are not being paid adequately by the some contractors that are hiring them, they have no experience at all, they are sent in for very short periods of time to do manual labor that they really have no training to do. As time goes on that labor pool become smaller and less experienced and this compounds the problems.
RT:The plant could take around three decades to decommission and certainly it can get much worse before that happens. So what people in the region need to know about the situation there?
RJ: Most of the people don't really trust the media at all. At this point there has been enough lies that most people think that what they are hearing from the media is not accurate, the media was underplaying this all along. You may remember that there was no admission of meltdowns for up to almost three months after the meltdowns happened. So there is very little trust in media at all. And I think that most people believe that the situation is somewhat catastrophic, probably not controllable, certainly not under as good conditions as it is being reported in the press. I think the general feeling is that TEPCO and the government are only admitting what they are unable to deny and that they are not forthcoming with the information at all.
RT:Considering Japan's constant earthquakes and tremors, should TEPCO and the government be working harder so as to secure the safety of its citizens?
RJ: Yes, absolutely they should be working harder. There should have been better regulation throughout the period before the meltdowns and the earthquake. There should be extremely vigorous measures being taken to ensure that there are no future problems. The government is much more focused on putting the nuclear power plants that are all offline right now back online in part to support the profitability and viability of the utility companies. So not enough is being done for public safety and protection.
One of the places that is easiest to see that is in the treatment of the people, of the hundreds of thousands of people that are refugees from the areas that they have had to evacuate or areas that have been contaminated in the Fukushima prefecture. Very little is being done for those people and they are being told that they are going to be moved back into the contaminated areas, the assistance that they received for losing their workplace, losing their businesses and homes will be cut off. The public welfare is far from the most important thing being supported in Japan.
The statements, views and opinions expressed in this column are solely those of the author and do not necessarily represent those of RT.
The statements, views and opinions expressed in this column are solely those of the author and do not necessarily represent those of RT.
You can share this story on social media: