'New poor' on rise in Europe, may suffer for decades despite recovery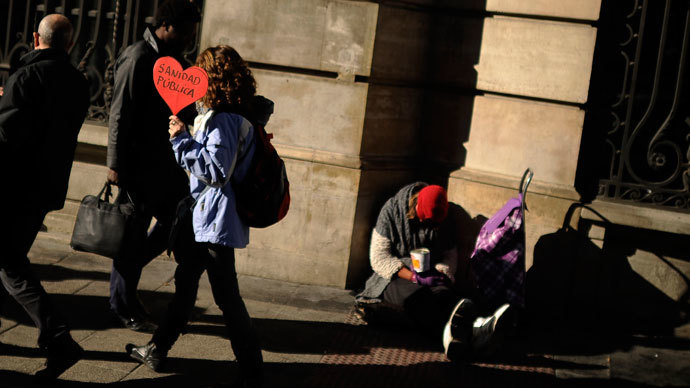 A Red Cross study found that Europe's economy could be worsening, with the number of people impoverished by the crisis rising. Despite the economic upturn people may suffer for, Pierre Kremer, of the International Federation of Red Cross, told RT.
RT: You're saying that Europe's future is more precarious that at any other time since World War II, and yet we are hearing about economic indicators suggesting that Europe is slowly coming out of recession. So it's not that bad is it? 

Pierre Kremer: We made a mapping of 42 countries through our Red Cross and Red Cross International Societies and the picture that has coming through in this mapping is indeed quite scary in terms of increased vulnerability, in terms of number of people getting poorer across Europe. So our impression is that even if there is an economic upturn there is a risk for all these people to suffer for decades because it takes time to recover, it takes time to get your livelihood back and our concern is that this economic crisis is becoming a protracted social and humanitarian crisis. 
RT: So this long term impact is having an effect on everybody on the poverty line in Europe? Aren't we talking about the southern countries having more economic troubles than the stronger performing countries like Germany? Or is everybody affected everywhere? 
PK: The picture is very mixed, of course. The countries where we feel are the most actually effected are Croatia, for example, Romania, Bulgaria. We think that Latvia and Lithuania as well are very deeply affected. We know that Spain and Italy of course mention increasing social issues related to the economic crisis. So we know that indeed in some countries it seems much better. The number of inequality is on the rise, the number of new poor is on the rise. The risk of having cuts on budgets is absolutely pertinent and of course migrants are among the most vulnerable people of course. This situation can trigger the risk of discrimination, increased violence. We have some concern about that. 
RT: So xenophobia can be directly related to these austerity policies? 
PK: It could be related absolutely. We know that poverty is potentially triggering increased violence, it's an economic factor. So we know that if we're not taking care of this social crisis we can observe in many countries today the risk of violence is real. 
RT: Can you put it into perspective for us? We all have an image of what poverty is like in countries such as India but what are you talking about with poverty in terms of European countries? Something similar to that? 
PK: Not similar in a sense, that's for example the factor for us which is extremely worrying. Is the number of new poors. We have nine percent of Europeans today who have a job but they are on the poverty line and we know what for these people it will be extremely difficult to recover. Another example is of course youth unemployment. We have a huge percent of youth unemployed, which are going through Red Cross services. We know that for example in Spain the Spanish Red Cross has 80 percent of the people they are serving being young unemployed people. That's extremely worrisome for the future of course. 
RT: So clearly the Red Cross is already feeling an impact on this and helping people. Is though the Red Cross being listened to by those government who are still pushing these austerity measures? 
PK: That's the call to action we want to raise through this report is we need to guarantee safety nets for everyone because we know that when the safety nets - whether it is in terms of health budgets – if these safety nets are disappearing the risk of poverty, the risk of increased tension, the risk of increased discrimination across European countries. We need to be sure that this humanitarian crisis that of course the Red Cross and other societies are serving across many countries today doesn't turn into a moral crisis in Europe.
The statements, views and opinions expressed in this column are solely those of the author and do not necessarily represent those of RT.
The statements, views and opinions expressed in this column are solely those of the author and do not necessarily represent those of RT.
You can share this story on social media: