'Try not paying your gas bill for just 3 months, see what happens'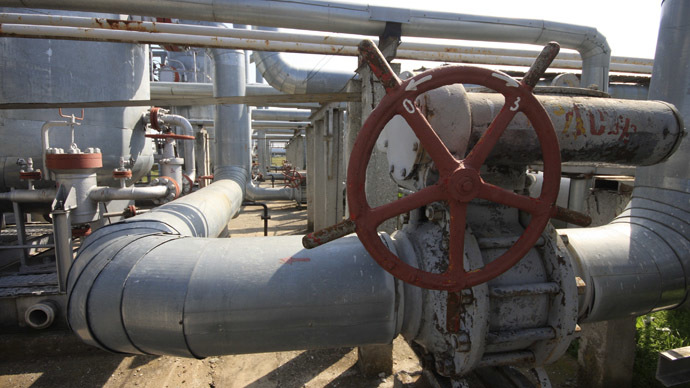 Russia has to stop gas subsidies to Ukraine as it cannot keep supporting the bankrupt anti-Russian regime in Kiev, energy asset manager Eric Kraus told RT, adding that it will be the EU's problem if Ukraine eventually starts stealing their transit gas.
RT:Ukraine says it wants heavily discounted gas from Russia. Does it have grounds to ask for that?
Eric Kraus: I think it is fairly absurd considering that you have a strongly anti-Russian regime which has been brought into place by the Europeans and by the Americans in Kiev. You can't really ask the Russians to fund this regime, can you?
RT:On the other hand, Russia has doubled prices in the span of just a few months, perhaps some calling that too harsh?
EK: It is harsh, but basically what they did is not double prices. What they did is they removed subsidies.
Russia has been very heavily subsidizing Ukraine, since Ukraine became independent, because they needed a friendly, at least a neutral state at their border. Now if Ukraine wants to align itself with NATO and basically anti-Russian countries, then they are going to have to pay their own way.
RT:The US says Russia's blackmailing Ukraine and Europe and says Moscow should not use gas as a political weapon. And president Putin reacted to the statements joking, it is bad to read other people's correspondence. What is your reaction?
EK: First of all for the Americans to accuse anyone of using economic blackmail is a major case of the pot calling the kettle black. They have been threatening illegal sanctions against Russia for weeks. So, who is using the blackmail here? And secondly, yes, the letter was not addressed to the American president.
RT:Ukraine hasn't paid for gas in three months. What are Russia's options now?
EK: Try not paying your gas bill for three months and then see what happens. Basically at some point Russia says it sells gas for money and at some point if the client does not pay, they have to close it off.
The problem is then, the danger is that Ukraine will start siphoning off the Russian gas which is being provided to Europe. And the Europeans brought this upon themselves. It is a European problem. They're going to have to solve it. They can simply pay for Ukraine's gas if they wish.
RT:There have been reports that several petroleum companies have allegedly discovered a mother lode of shale gas in Western Ukraine, near the European border. What kind of implications could that bring to the table?
EK: We have been hearing about the Ukrainian shale gas for a long time. All of the attempts to produce thus far have been failures, as has been the case for Polish shale gas. The geology is somewhat different. I don't know if this time it is for real, but it will have major implications for the European, at least for Ukrainian gas supply. But I would be very skeptical until we see this confirmed.
RT:Who do you think is to blame at the end of the day for the crisis in Ukraine?
EK: I think it has started as a democratic movement against particularly corrupt and incompetent president who was never Mr. Putin's choice by the way. Mr. Putin never liked Yanukovich.
Unfortunately as the revolutionary movement progressed, it was replaced by a vanguard of neo-fascists of far right wing parties which then took power by violence ,and are now complaining of eastern Ukrainians seeking to take power by that same violence.
The problem has been that the Europeans and the Americans have been attempting to use this. They are not concerned with the interests of the Ukrainian people. There is a game of power politics here and they are trying to push Russia into a corner and Ukraine provides convenient means of doing so.
The statements, views and opinions expressed in this column are solely those of the author and do not necessarily represent those of RT.
You can share this story on social media: