Cyprus levy on savings: 'An armed robbery by Brussels'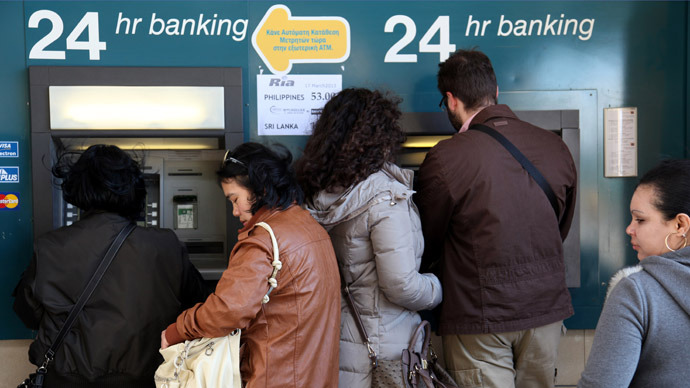 Cyprus might force its citizens and foreign investors to pay for EU's US$13 billion bailout. Global markets analyst Patrick Young told RT it is immoral to make savers pay instead of targeting bond holders and governments.
The proposal is "entirely immoral, unreasonable, and is ultimately a potential tipping point for the entire euro zone between safety and panic", Young told RT. "The question every single Cypriots saver is asking today is why do they have to pay and why do bond holders not have to pay?"
"That is what is so inherently wrong with this proposed deal. Bond investors and the government were the ones that took the risk, not the savers."
What is really worrying is that this case sets a precedent of EU policy overreaching its boundaries and into the pockets of private citizens, small businesses, foreign investors and pensioners in order to ensure the safety of the euro. 
"The EU previous stated that individuals will not be harmed, and they will not take money from pensioners. But here they have done just that. They are stealing money in order to support bond holders, which is of course hypocritical because all nations like Germany want to support their own banks who hold these bonds", added Young.
EU has put the Cypriots in a very "appalling situation" argues Young. "What the Cypriots are being told is that if you are lucky you got a leaky lifeboat, but other than that no one is coming to your rescue."
All the EU and IMF care about is to "make sure that the big 'euro ship' can sail on entirely safely."
Moreover, the levy is forcing Cyprus' non-residents, who hold over 30 percent of country's deposits, to a pay the bill as well, which sets a dangerous economic precedent, which in the short-term will lead to outflow of money from Cyprus and in the long-term a loss of future foreign investment into the EU. 
"The whole point is that everyone will be aware that there is a precedent for burning investors who want to hold the euro. And that is not good for the status of the euro, for the status of the euro zone, or indeed any bank that has foreign deposits."
Young estimates that Russian President Vladimir Putin's assessment that the levy on deposits is a wrong move for the EU is absolutely right as there was an "armed robbery by a group of people based in Brussels who decided to steal money from Russian citizens and from Russian businesses."
And this may backfire on the EU as they will lose out of potential future foreign investment.
"First of all that means is that these people are going to lose money, so they will have less money to invest back into the EU. Right now Russians are going to be looking at where are the safe places to place their funds. Ironically, one of those places might be to repatriate back to Moscow. What will happen for sure is that the money will flow out of Cyprus."
Young predicts that there are more austerity measures ahead, but ultimately, "the Cypriots have been left alone with a loaded revolver with all six barrels full and being told to go play Russian roulette."
The statements, views and opinions expressed in this column are solely those of the author and do not necessarily represent those of RT.
You can share this story on social media: