Congressional approval just a 'democratic add-on' to Obama's war with Syria
While television news looks more and more like al-Qaeda propaganda videos, by seeking Congressional approval, President Obama is trying to add a democratic fig leaf to his decision to attack Syria, believes RT contributor Afshin Rattansi.
RT:Will the US Congress do to Obama what the UK parliament did to Prime Minister Cameron - or is he assured of their support in advance?

Afshin Rattansi: A lot of sources are saying that a memo entitled "Surgical Strikes" was sent to all congressional offices on August 26. President Obama is pretty comfortable getting that approval from the members of Congress, so no real chance of that. On the other hand, he has made it explicitly clear and he has been briefing since he gave a speech in the Rose Garden that action can take place within 24 hours, if necessary.

Congressional approval is merely an add-on to show how democratic it is. More suspiciously, some sources were saying that John Hagel, Defense Secretary and Martin Dempsey, from the Joint Chief of Staff are not happy with this proposal of Tomahawk cruise missiles, and some sources were saying they were even prepared to resign without the congressional approval clause, as manifested itself in the Rose Garden speech.

RT:According to poll results we've seen, the American public is largely against an intervention in Syria - how will it react to Obama's announcement?

AR: One should not underestimate the power of TV news propaganda. One can argue that television news is looking more and more like al Qaeda propaganda videos. After all, news bulletins are made up from these YouTube videos, that they call open-source intelligence here in London, as far as MI6 and Joint Intelligence Committee is concerned. The power of that propaganda to persuade the American people that this would be a short and simple and surgical pin-point and all these absurd words.

On the one hand, I suppose, there is no threat from al-Qaeda to the US, because of course this speech today shows that the US is implicitly now working with al-Qaeda.

RT:Washington is getting surprisingly little support from its usual allies with both the UK and NATO ruling out military action, why is that?

AR: It is to a degree surprising. It certainly surprised the British Prime Minister but you've got to remember that President Obama does not care either way. When he was speaking you could almost see the flickering ambers of a dying super power.

He wants to go in. The speech had the finger prints of Susan Rice all over it. And behind that is Henry Jackson's ideology of neo-conservatism – going to whatever length for freedom. It does not really matter if there are any allies that are with you or against you because the US will act alone.

It also shows Moscow and Beijing, it is President Obama implicitly saying to them – that America runs the world and that the UN Charter, there is no point of it. He does not care what Vladimir Putin has said or Xi Jinping.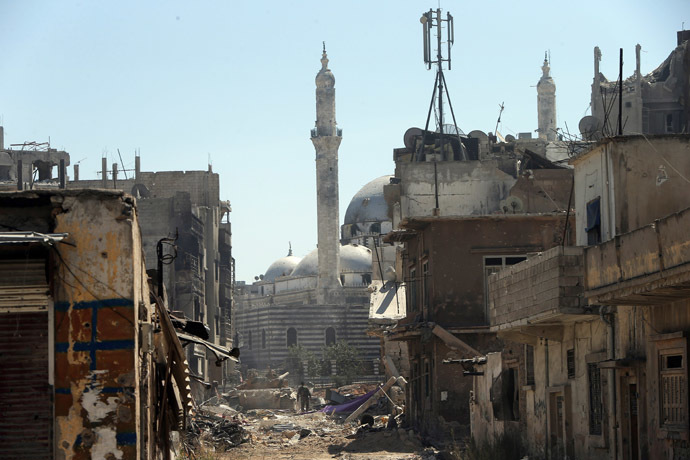 The statements, views and opinions expressed in this column are solely those of the author and do not necessarily represent those of RT.
You can share this story on social media: