China and US on same side of 'conflict'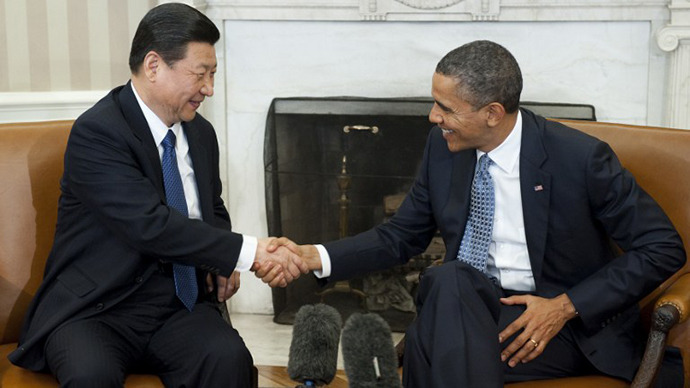 Despite mutual criticism, China and the US can't afford to be genuine foes, their economies being too interdependent. However US's pivot to Asia policy is a matter of concern for Beijing, according to analysts interviewed by RT.
"I think China and the US realize that their economies are intimately linked at this point and… that in more ways than they'd like to admit they are actually on the same side of this 'conflict'. And I don't think China can allow the US economy to sink any more than the US economy can cut its ties with China's. No matter what the political rhetoric might be… there's actually more collaboration than there is conflict. And that underscores what's going on in the political arena," says James Corbett, editor of The Corbett Report, independent news and information website based in Japan.
As for China's military build-up efforts, they shouldn't annoy the US, at least in the near future, according to Steve Tsang, Director of the China Policy Institute at the University of Nottingham.

"I don't think the United States is too concerned about China's increase in military spending. It is something which the Americans expected the Chinese to do. There are still huge gaps between the American and the Chinese capabilities and it's only understandable that the Chinese want to upgrade and modernize their capabilities, but the gap is still enormous," Tsang told RT.

US attempts to increase its presence in Asia are not particularly approved of by China, which hasn't joined the Trans-Pacific Partnership, a trade agreement initiated by the US, with 10 other nations having announced they are participating: Australia, Brunei, Canada, Chile, Malaysia, Mexico, New Zealand, Peru, Singapore and Vietnam. Intent on completing negotiations for the Trans-Pacific Partnership was mentioned in President Obama's State of the Union address.
"Well [the Chinese] have not reacted very well up to now. They are very suspicious of the pivot to Asia and the so-called Trans-Pacific Partnership... but it's been very effective propaganda for President Obama to sort of announce or reassure the countries in Asia that America has not forgotten Asia and are there to give moral support in some of … bilateral disputes," says George Koo, founder of International Strategic Alliances and board member of New America Media.
Koo goes on to say US might no longer be China's priority in terms of foreign policy.
"The next minister of the Foreign Affairs is rumored to be Wang Yi, whose expertise is not relationship with the US, but... diplomatic relations with Japan, so that would be an indication that the Chinese government plays highest importance in getting along with Japan."
Koo believes China will particularly need a Japan expert as foreign minister to settle the acute dispute between the two countries concerning the ownership of supposedly oil-rich Diaoyu (or Senkaku) Islands.
He says it's impossible at the moment for any other country to challenge the US dollar's status as the international currency. However, he insists "the emergence of the Chinese yuan is worth watching" because of the currency swap practice being largely introduced by Beijing in its trade relations with other countries.
"Over 20 countries have bilateral currency swaps with China. And what does currency swap mean? It means that they can settle trade, export-import business based on the 'renminbi' [yuan] rather than based on the dollar. Which means the two countries do not have to first change their money into dollars to pay the bills. They have a swap agreement almost done with Brazil and also with Japan. And some of the other major countries with swap agreements would be Korea, Russia [and] Taiwan. And most recently UK has set up a swap center in London, so that they can be a major currency trading center for the renminbi. So no question renminbi is coming up on the importance [stakes]."