America's war on black and brown youth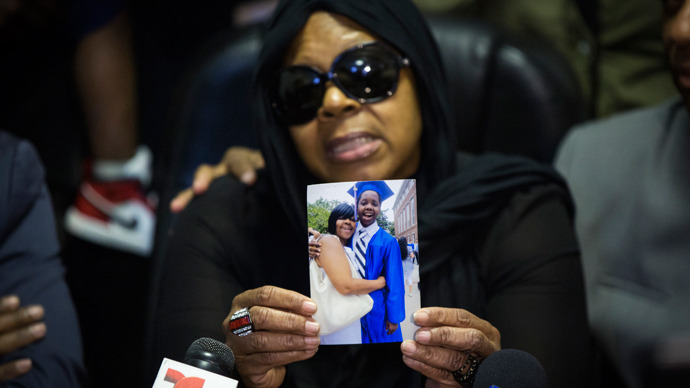 Kimani Gray, the Brooklyn teenager murdered last week at the hands of the NYPD, is yet another in a list of black and brown youth killed by the police. The injustice sparked protests that highlight the overt racism at the heart of "law enforcement."
The incident, sadly all too common in communities of color throughout the United States, is indicative of more than simply the reality of life in the urban ghetto or the racism of the NYPD.  Rather, Gray's murder illustrates the shameful and often ignored fundamental point that young men of color are the prime targets of the police, whether they are suspected of a crime or not.  Essentially, Kimani Gray has become, like Trayvon Martin before him, a symbol of the systematic victimization and oppression of black and brown youth in America.
The shooting and its aftermath
On Saturday March 9th, two New York Police Department plain clothes officers approached Kimani Gray after what they described as "suspicious actions" by virtue of his "adjusting his belt".  According to the officers, this was enough cause for them to confront the teen who fled in fear.  It was then that the officers, identified as Sgt. Mourad Mourad and Officer Jovaniel Cordova, fired eleven shots at a fleeing suspect, mortally wounding him.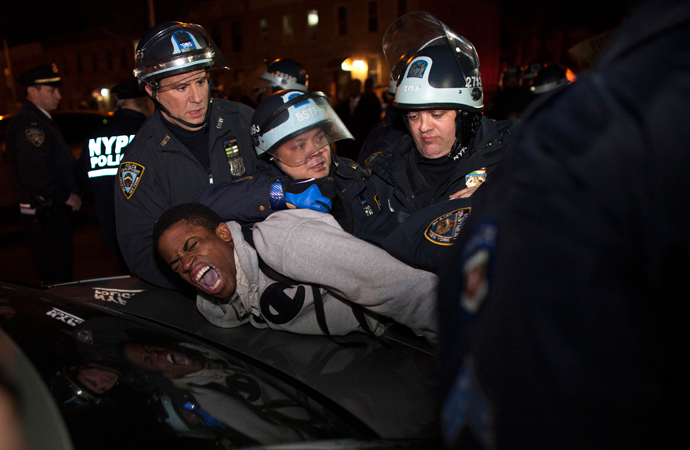 Eyewitness accounts from the incident refute the officers' claim that Gray "pointed a gun" at them.  In fact, eyewitnesses claim that Gray was "running for his life"  and that, after he had been shot and was on the ground pleading for his life, one of the officers said, "Stay down, or we'll shoot you again." Moreover, the gun that allegedly belonged to Gray had never been fired, pointing to the obvious and inescapable fact that, regardless of whether or not the gun belonged to Gray (an assertion that NYPD officials have repeatedly made despite no forensic evidence as yet), he was killed fleeing rather than threatening officers.
It is essential to note that the two officers who murdered Gray both have a history of civil rights violations and brutality. A NY Daily News article of Friday March 15th detailed that "Sgt. Mourad Mourad racked up three suits while he was a plain clothes cop on Staten Island, and Officer Jovaniel Cordova racked up two at Brooklyn's 70th Precinct – all alleging various civil rights violations including illegal stop and search and false arrest."  These allegations don't simply point to corruption in an isolated incident, but rather, endemic abuse and systemic misconduct that treats citizens as criminals and police officers as judge, jury, and, too often, executioner.
In the wake of Gray's murder, the community of East Flatbush, a predominantly African-American neighborhood, erupted in protests as enraged community leaders took to the streets to demand an end to the legally sanctioned executions of its youth.  A chant from one of the primary factions of protesters encapsulated the anger and indignation of the African-American community as they repeatedly shouted, "NYPD, KKK, how many kids did you kill today?"  This, however, is more than just a chant designed to rally supporters and antagonize the police.  Instead, it correctly points out that the symbiotic relationship of racism and police violence is at the center of this conflict.  Moreover, it is this inescapable relationship that is part of the foundation of the institutionalized racism and oppression of young people of color in New York City and around the United States.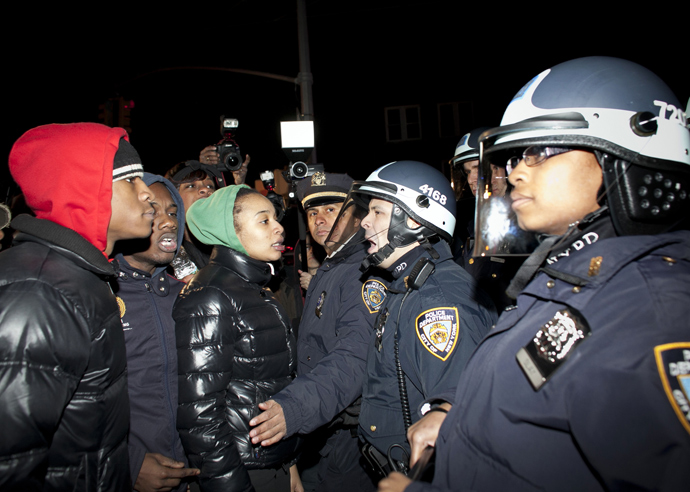 Legalizing racism and white supremacy
Kimani Gray's murder, like those of Sean Bell, Ramarley Graham and hundreds of others, provides a glimpse into how racist attitudes have been transformed into crime fighting "tools", while antiquated notions such as "equal protection under the law" and "innocent until proven guilty" have fallen by the wayside.  In fact, the Constitution itself, to whatever extent it still exists, seems to now only apply to those fortunate enough to have been born white and affluent.  For those unlucky enough to have been born into low income communities of color, there are no inalienable rights aside from the right to be a constant target.
Nothing better illustrates the institutionalization of racism more than New York's notorious "Stop and Frisk" program which allows police officers to stop and search anyone under the guise of "reasonable suspicion".  Though proponents of the program refer to it simply as a crime fighting tool, extensive research conducted on Stop-and-Frisk suggests that it is, in fact, specifically aimed at young people of color.  A 2012 report  from the New York Civil Liberties Union (NYCLU) showed that "more than 87% of those stopped [under the program] in 2011 were black or Latino." 

Although the overall statistics themselves are shocking, they do not effectively illustrate what is perhaps one of the most important effects of the program: the hate and mistrust that it breeds in targeted communities.  As NYCLU Associate Legal Director Christopher Dunn stated: "Our analysis demonstrates the alarming extent to which the NYPD is targeting innocent black and brown New Yorkers…in nearly every police precinct – black and white, high crime and low crime – black and Latino New Yorkers are stopped and frisked at a far greater rate than whites…the abuse of stop-and-frisk is making communities of color across New York City fear the force that is supposed to protect them.
Essentially, the Stop-and-Frisk program allows the NYPD to stop anyone, anytime, for any reason without any probable cause other than "suspicious movements" – an entirely subjective term that allows police to act on their own racist attitudes rather than evidence.  As renowned scholar and activist Cornell West correctly pointed out, "[Stop and Frisk] is an extension of slavery."  This wasn't mere hyperbole.  The program's direct targeting of young people of color is a direct parallel to the legacy of slavery and the racist institution known as 'Jim Crow', which sought to oppress and suppress the black population through overt and institutional racism alike.  Michelle Alexander's influential 2010 book The New Jim Crow illustrated the fact that new institutions and programs like Stop-and-Frisk and others are designed to deliberately target African-Americans and other groups of color in order to control them, using all available means.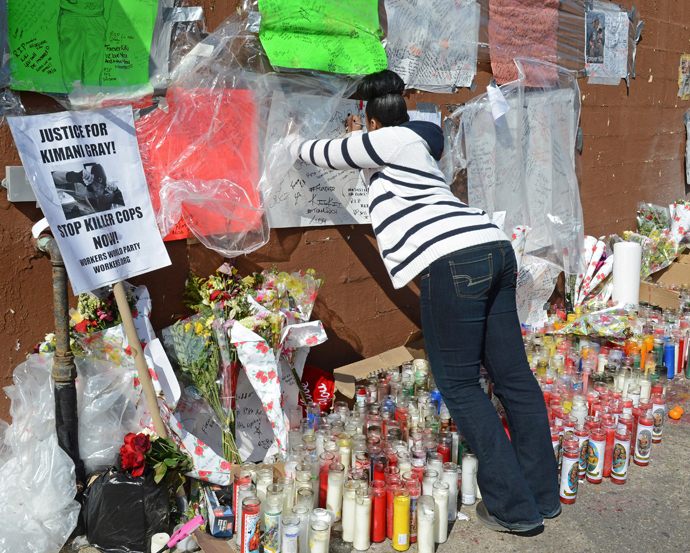 One of the most potent means of control, and the logical conclusion of the process begun by Stop and Frisk, is imprisonment.  In fact, when it comes to discussing this issue as it pertains to African-Americans and Latinos, the more correct term would be mass incarceration.  Recent studies have shown that one in fifteen black males over the age of 18 is incarcerated, with one in three due to be imprisoned at some point in his life.  The impact of this cannot be understated as communities of color struggle with the imprisonment of their fathers and sons, while young children are forced to grow up in homes where one or both parents is in a prison cell, and walk the streets knowing that an awkward glance or sudden movement might get one stopped and, ultimately, imprisoned, for little more than being black or brown.
However, it is the impact on young people, best known as the "School-to-Prison Pipeline", that is perhaps most troubling.  Youths of color wind up in prison, often for little more than minor infractions, and are never able to recover from the stigma and lasting effects of incarceration.  Forget finding a job – you're a convicted felon! Forget casting your vote on Election Day – you're a convicted felon! Forget pursuing higher education – you're a convicted felon!  In other words, young black and Latino men and women are systematically oppressed and made invisible by being deprived of the opportunities their white peers enjoy without so much as a second thought.  Nothing could be more unfair.  Nothing could be more unjust.  Nothing could be more American.
Kimani Gray's murder has become a symbol of America in the "Age of Obama" – a country that presents itself as the protector of justice and righteousness while perpetrating injustice and genocide at home and abroad.  Whether killed by a New York cop or a Predator drone, a neighborhood watch coordinator or a US Marine, countless innocents are being killed by the United States and its machinery of death and oppression.  In the wake of yet another senseless murder, we must all ask the most important question of all…
Hey, hey, USA…how many kids did you kill today? 

The statements, views and opinions expressed in this column are solely those of the author and do not necessarily represent those of RT.
The statements, views and opinions expressed in this column are solely those of the author and do not necessarily represent those of RT.
You can share this story on social media: