This devastated South Pacific nation sits on a geographical fault line, and a geopolitical one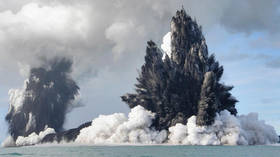 Tonga, a tiny Polynesian island nation located deep in the South Pacific, has been struck by a devastating volcanic eruption which subsequently triggered tsunamis.
Damage to this small archipelago, home to little more than 105,000 people, has been extensive. The event destroyed its internet cable to the outside world, flattened all of the houses on an entire island, and polluted its water supply with volcanic ash, causing a humanitarian crisis. A number of countries have quickly offered support, including China, Australia, New Zealand, and Japan. But that response tells us an unspoken story.
Tonga does not just sit on a fault line in the Earth's crust, but a geopolitical one, too. The disaster has occurred right in the middle of an ongoing struggle for influence across the Pacific between China and its opponents, and the eruption poses deeper questions, such as: 'Which country should rebuild Tonga?' and 'What are the implications of this?' It should be obvious already that irrespective of humanitarian questions and needs, some countries are acting on the premise they don't want to give Beijing any more clout than it already has in Tonga.
The Pacific is the central stage of America's competition against China. Framing its policy as a 'free and open Indo-Pacific', Washington's long-term strategic goal is to contain the rise of Beijing by cementing American hegemony, ideology, and military supremacy across the region, which spans from the east coast of Africa to California.
In doing so, the US has enlisted a number of key partners, including Australia and Japan, to support its objectives on the premise of aligned interests. These countries are pursuing a scramble for influence against Beijing in all nations across this space. The island nations spread out across the Pacific may be small, but are nonetheless perceived as strategically important as they represent 'stepping stones' that contribute significantly to the balance of power.
This competition has been playing out for a number of years. In 2019, China opened up diplomatic ties with the Solomon Islands and Kiribati, getting them to dump Taiwan in the process. The US – which accuses Beijing of seeking to build military bases there – and Taiwan responded by shoring up influence in an anti-China province of the islands, leading to riots and an unsuccessful attempt to topple the government. Meanwhile, Australia's government had their primary phone company, Telstra, acquire the biggest Pacific telephone operator, Digicel, with the goal of keeping China out. Beijing is also making its own moves, such as hosting summits of Pacific Island leaders.
Prior to the disaster, Tonga had courted China as a close partner, which has invested millions in building its infrastructure at an affordable rate. For Beijing, Tonga's very small size and population allows it to be extraordinarily generous in what it can offer, providing small projects that proportionally go a long way. However, not all are happy about this. Described as "the somewhat sleepy backyard of Australia, New Zealand and the United States," it is a nation which the West's hegemony over has long been taken for granted, but is now being challenged. The reaction to this is similar to how the British media has depicted China's relationship with Barbados, prompting hysteria that Beijing is 'buying' or 'taking over the island'.
This has led to a strategic determination that the US and its allies ought to compete with China for the allegiance of the Polynesian nation. Australia, in particular, has long taken a hegemonic attitude over Pacific Island countries, an elitist outlook extending from colonial times and their belief they are defending them from 'the Yellow Peril'. This is one reason why these island nations like China as an alternative partner. While Beijing does not appear to have any military or ideological ambitions for Tonga, it nonetheless sees its ties with these nations as important strategic pieces in order to prevent its own encirclement in the region.
As a result, the response to the disaster in Tonga is far more political than meets the eye. While there is a natural inclination to give humanitarian aid as a moral imperative, underneath the surface there is a geopolitical imperative to compete over the question of who rebuilds and assists the islands, with the US and its allies fearing the expansion of Chinese influence. With infrastructure being completely destroyed, we aren't just talking about essentials such as food and water, it's also about who gives financial assistance, who rebuilds homes, roads, bridges, schools, communications infrastructure, and so on.
The US fears that leaving all of this to Beijing will be to their geopolitical detriment. This has turned the aid process into a politicized contest. New Zealand and Australia have delivered aid, but so has China. Xi Jinping personally sent condolences to Tonga's king and personally pledged support, describing the two as "strategic partners." The US is also offering aid. To show their military prowess and dominance over what they deem to be their backyard, New Zealand and Australia also sent surveillance planes and warships to investigate the disaster.
The real heat here is not just the damage done by the volcano, but the struggle for the heart of the geopolitical future of Tonga and ultimately how a tiny island nation has become a flashpoint in the struggle for who will dominate the Pacific. Tonga may not be a nation of economic significance, but its place on the map matters. Hopefully, the rush to throw aid at it from all sides can ultimately be a net positive in helping it recover faster and enjoy the best of both worlds. It doesn't need to exclude any party when benefits are on the table.
The statements, views and opinions expressed in this column are solely those of the author and do not necessarily represent those of RT.
You can share this story on social media: