'I'm stuck in Australia's refugee hotel with Novak Djokovic – and it's hell'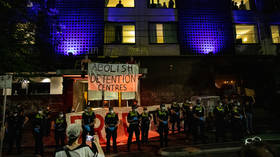 Novak Djokovic's current home is a Melbourne hotel that serves as a detention centre for desperate asylum seekers. RT spoke to a refugee being held there to find out what life is like for the Serb and his fellow 'guests'.  
"Can you hear that?" asks Mehdi Ali, an Iranian refugee whose laid-back demeanour belies his desperate situation. The loud chants of "Djokovic!" are for the man in an identical room a level below, on the first floor of a Melbourne hotel.
The world's best male tennis player, Novak Djokovic, is sequestered at the Park Hotel until Monday, when a court will decide if he is to be deported or can play in the Australian Open. The Park has been designated as an "Alternative Place of Detention" by the Australian government, and holds an array of asylum seekers and refugees from around the world.
Djokovic's family have been mocked for claiming the superstar's ordeal is similar to the crucifixion of Jesus, and that he's being treated like a "prisoner." But, according to refugees and experts with experience of what is informally referred to as the "Park Hotel Prison," those claims aren't that wide of the mark. RT spoke to Ali and another former 'guest,' Farhad Bandesh, to get an idea of what life is like for those being held by the Australian government.
Bandesh is a softly spoken 40-year-old Kurdish artist and musician, who left a detention center in Melbourne in December 2020 and has painted a bleak picture of his time there. "The refugees in the hotel cannot go for a walk, they are surrounded by guards and are locked up," he said. "There is no privacy, they check your room more than 10 times a day and try to annoy you with that sort of treatment… you have no basic human rights." He arrived in a Melbourne 'detention' hotel following six years at Australia's controversial Regional Processing Centre on Manus Island Papua, New Guinea – where he says he was beaten and insulted, before being transferred for medical reasons.
Ali, meanwhile, arrived in Australia via another processing centre on the island of Nauru, which he describes as "a cruel and savage place" where he saw other detainees burn themselves alive. Now 24, he has spent nine years in Australia's immigration system, with The Park as his home for the past few months. It's a challenging existence, where his only chance of seeing the sky is a communal roof area too small to walk about on.
He spends most of his time in his claustrophobic room with a window that doesn't open and devoid of any home comforts, with only a bed and basic chairs, unable to leave the hotel other than for medical appointments, when he is escorted by guards. "You can hang out with the other guys, you can go to level four for a smoke… that's pretty-much it," he explained.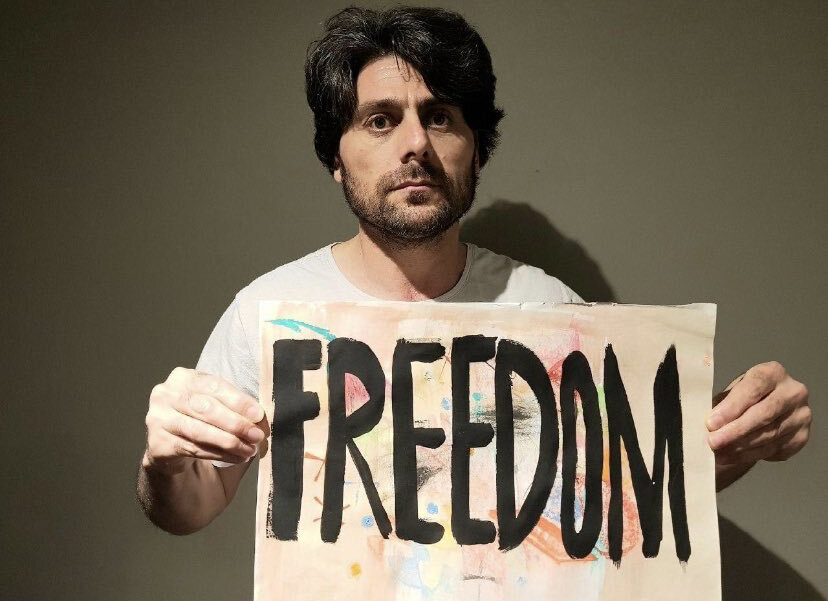 The unappetising food provided is his only option as they aren't able to buy anything else. Mouldy bread and small plastic containers of sludgy sauces are regular fare, and Bandesh even claimed that some meals were delivered containing maggots. Ali confirmed, "The quality is really bad – sometimes I just don't eat." He added that the guards have told him Djokovic is being given the same meals as the other residents, but that his are vegan due to his dietary requirements.
Understandably, Djokovic's predicament has meant The Park has become a major focus of attention, with crowds gathering outside – a mix of fans of the 20-time Grand Slam winner, people supporting the refugees, anti-lockdown protesters, and the world's media.
This has been unsettling for those inside. "When people are standing outside shouting and the days are not repeating, when something new is going on like this, we find those days as heavy days," said Ali. "We don't have the strength anymore to hold or carry any extra drama, tragedy or pressure." While keen to try to stay positive, Ali's tone is of someone who has been ground down by his plight and it's hard not to wonder what will remain of his resolve by the time he is given his freedom.
But there's no clear date when that will be.
"They are keeping us here for no reason, a small amount of people as sacrifices, I think, for the sake of the offshore [detention] policy, like political prisoners," he continued. "It's a humanitarian disaster and the [Australian] media isn't doing very well to cover it – prisoners are treated much better than us. At least they know when they are going to get out. That uncertain cruelty is affecting our mental health.
"Most of us have been diagnosed with PTSD. Others have suicidal thoughts all the time and panic attacks. Some people have got cancer, some people need surgeries, need treatments or medications and they don't get them, or they get them really slowly."
Bandesh echoes the desperation. "They treat us as less than criminals," he said. "Me and all the others were locked up for no reason." Now he's out and has a bridging visa that has to be renewed every six months, he hopes Djokovic's brief stay at The Park might prompt the star to raise awareness of what is going on there.
He said, "It would be great if he speaks out. Pressure needs to be put on the Australian government to end these human rights abuses. the international community needs to help us to make the government accountable for the torture they have inflicted on so many people who have fled horrible situations, and simply need help and safety."
Bandesh isn't alone in hoping that the attention Djokovic has brought will force change for the men locked up. Marion Costello, spokesperson for Whistleblowers, Activists & Community Alliance (WACA) said, "At last the mainstream media is amassed outside, below the locked windows, but they are not there to tell the world of the refugees' plight inside the airless confines of a second-rate hotel cum ad hoc immigration prison surrounded by Serco guards.
"Novak Djokovic has been caught up in political machinations over so-called border security in the context of the Covid pandemic and is now a 'guest' of the facility. Unlike Djokovic, who will be there for a few days only, the other 'guests' are indefinitely detained."
Human-rights activist Dr Louise Hansen added, "I also hope that Novak's stay shines a light on the other 33 men that have been detained for nine years now, and Australia's unacceptable human rights record."
The fate of Ali and the rest of Djokovic's fellow residents depends on the government. But activist Jenell Quinsee explained how, even if they are given their freedom, they will have to rely on the kindness of strangers, "There are some agencies and organizations that do support people, but their capacity is really quite limited. I think it's a beautiful thing how some of the Australian community step up and show leadership and be progressive in human rights, when the Australian government doesn't."
Djokovic's fate on departing The Park will, of course, be very different, regardless of whether he is allowed to compete in the Australian Open or not. The world will wait in fascination to see what, if anything, he has to say about his time there – and the people he met.
The statements, views and opinions expressed in this column are solely those of the author and do not necessarily represent those of RT.
You can share this story on social media: