Boris Johnson's 2021 report card: The subjects the PM excelled in or failed at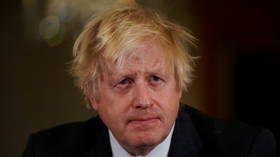 The British PM, whose approval rating dropped to an all-time low this year, recently managed to unite even his own MPs against him. But the biggest challenge to his position as 'head boy' are his failures on health and safety.
Dear voters,
The following is a compilation of Boris Johnson's grades for 2021, which are broken down into relevant subjects, followed by my comments. The predicted and actual grades are also included.
Management Studies
Expected Grade: D
Actual Grade: F
We have always known that Boris is a great showman and campaigner but a poor manager. The worst example of Boris' failure to manage came in November, when Tory MP Owen Paterson was caught up in a lobbying scandal. In some ways, it is to Boris' credit that he stood by his friend, but in doing so, he opened a can of worms and damaged his own reputation in the process.
His defence of Paterson caused a media frenzy, and the Conservatives' jobs outside Parliament were thrust into the spotlight. Boris therefore managed to unite the majority of his own MPs against him, and his failure to control the situation led to the return of allegations of "Tory sleaze".
Boris' lack of management skills has also led to his class clown act wearing thin with the public. His chaotic persona is no longer seen as "Boris being Boris", but rather that of a bumbling buffoon who is not fit to be prime minister. And for this, he scores the lowest grade: an F.
Health and Safety
Expected Grade: B
Actual Grade: F
Last year, Boris could do no wrong when it came to health and keeping the public safe. He had survived Covid himself, and the vaccine rollout was by far the best in Europe. However, this year, all goodwill towards Boris has dissipated, as he has been caught out being either a poor manager who doesn't know what's going on under his own roof, or a downright liar.
Last Christmas, while people were not even able to see their dying relatives, Boris' team reportedly partied in 10 Downing Street, and then were told to leave by the back door. What is worse, Boris initially attempted to cover for his underlings, but the evidence that the party took place seems to be overwhelming.
As a result, Boris' popularity plummeted, and he ended up losing a by-election in a constituency that had been in the possession of his party for 190 years. He is also now trailing in the polls to the uninspired Labour leader Sir Keir Starmer. Moreover, his own friends are turning against him, and the week before Christmas, 99 Tory MPs rebelled against his plans for Covid passports.
Boris' failures regarding health and safety are by far the biggest threat to his position as head boy.
Migration Studies
Expected Grade: D
Actual Grade: F
Boris has never been comfortable with this subject, and has shown both weakness and a lack of understanding in the past. In 2021, however, his performance has been little short of catastrophic.
Around 25,000 illegal immigrants have made it across the English Channel this year, and none has so far been deported. In November, the inevitable occurred and 27 migrants died when their boat capsized in choppy waters.
The failure to get a grip on the situation must rest with Boris, because, as the saying goes, "the fish rots from the head down." Boris has not even bothered to travel the 60 miles from London to the South Coast to see this unfolding tragedy for himself.
With regards to Migration Studies, Boris is either sleeping on the job or wants to pretend the mess in the Channel is not happening. We can only hope that he improves next year in this subject, because it would be almost impossible for him to perform any worse.
International Relations
Expected Grade: B
Actual Grade: D
A mixed bag this year for Boris. On a positive note, under his leadership, the UK has signed a number of post-Brexit free trade deals, including agreements with New Zealand, Japan and now Australia. But that's pretty much where the positives end.
Relations with the European Union are at an all-time low, with the promised free trade deal further away than ever. Indeed, it seems as though Boris' Brexit chickens have begun to come home to roost, especially regarding Northern Ireland. What's more, last week, his hardline Brexit minister, Lord David Frost, quit his role, leaving the UK's negotiating position significantly weakened.
Boris also seems to have been in constant conflict with the French this year. Whether it is about Brexit, fishing or illegal immigration, there seems to be no end to the war of words between him and his French counterpart, Emmanuel Macron.
Boris also has a rocky relationship with Joe Biden. Biden clearly doesn't like Britain, Brexit or Boris. Not only does the US president always back the EU against Boris, but he also failed to inform Boris of his nonsensical decision to withdraw from Afghanistan.
It's been an up-and-down year for Boris on the international scene, and, next year, he therefore has many bridges to rebuild.
Sex Education
Expected Grade: A
Actual Grade: B
Boris has excelled in this subject this year. He's not known as 'Bonking Boris' for nothing. He now has seven children – two in the past few years with his third wife, Carrie Symonds – which is pretty impressive for a chap of 57!
But Boris' former indiscretions have been catching up with him. American businesswoman Jennifer Arcuri claims she had an affair with Boris when he was London mayor, and that, in return, he promised to promote her business interests. This could result in an embarrassing criminal inquiry next year.
On the whole, however, Boris has done well in Sex Education classes, regardless of his past activities, and has certainly been keeping up the British end.
Principal's comments
All Boris' early promise in the year has disappeared. In many people's eyes, he is lazy and seems incapable of telling the truth. He is also clearly easily led, especially by the opposite sex, and does not seem to have any real opinions of his own.
Next year, Boris must show drastic improvement, or we will have to consider removing him from his position as head boy. This is a much coveted role, and many others would like it. If Boris doesn't up his game, then he may well be removed by his peers, because they, like we, are fast coming to the conclusion that someone else could do a better job.
The statements, views and opinions expressed in this column are solely those of the author and do not necessarily represent those of RT.
You can share this story on social media: