Meet the Afghan refugee turned Tory politician who came to Britain in the back of a lorry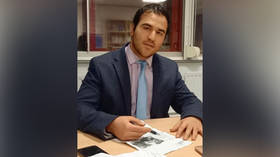 RT speaks to the former refugee who is bidding to become a player in UK politics and surprisingly, it's for the party of the elite, the Conservatives.
Darius Nasimi came to Britain huddled inside a refrigerated container and is now a Conservative candidate in next year's local elections, in the London Borough of Hounslow. What's striking is that despite being a native Farsi speaker, close your eyes and he sounds a bit like BoJo. Open them and he has some of the same mannerisms, it's almost spooky, but perhaps that's what they teach you at Conservative Campaign Headquarters these days.
However, in terms of how they came to politics, they could not be more disparate. While Prime Minister Boris Johnson went to exclusive private school Eton and Oxford University, enjoying a life of establishment luxury, Nasimi's family endured a nine-month overland trek fleeing the Taliban in 1999. And he says it was this real-world experience that attracted him to the Conservative Party.
"I believe in their values of innovation, creativity and using the opportunities available to achieve something. The idea of individual liberty, democracy and British values; these are the values I would like to represent," said Nasimi.
Those ethics were crystallised by life in Lewisham, South East London, where his family was allocated a house after arriving with nothing but the clothes on their backs. It's a Labour area, the traditional party of the working class.
Nasimi said: "It's a very strong Labour area but unfortunately I haven't seen much progress in Lewisham. I went to New Cross a couple of weeks ago and I could see the situation has worsened, the area is still very deprived. The Labour councillors have not been able to improve the local area, to make it more wealthy, more successful, more prosperous, attract more business and help more people find employment."
He recounts a neighbour who arrived from Iran 20 years ago and spent all of that time, apart from the last three years, unemployed.
"He was stuck at home and facing a lot of mental health problems with depression and loneliness. When the Conservatives came to power, they encouraged him to find a job. Eventually he started working in New Cross Gate train station as a security guard. After one year he came to me and said 'Darius, I'm so pleased I have a job, my mental health is better, why did I spend 17 years at home receiving benefits?'" Nasimi said.
"For people like myself coming from migrant backgrounds or coming as a refugee, I think the best party for us is the Conservative party. We had 12 years of Labour, Tony Blair and Gordon Brown, during which areas such as Lewisham continued to be deprived. In Hounslow, we have areas like Chiswick which is a Conservative area and I can see the quality of life of the people is much better than other parts of Hounslow which are Labour areas."
For many, that jars with the mainstream narrative, but the ace in the pack is that Nasimi has lived what he is talking about. He isn't relying on well-meaning commentators or statistics.
"It was a very, very dangerous journey, it took us nine months to get to the UK," he explained. The family eventually made it to Belgium. "We were put inside a refrigerated container in the back of a lorry. I was only four months old at the time, my parents were also there and my sisters. They used their cigarette lighters for a short time until they finished so we could see each other's faces. The container was filled with cheese and dairy products."
After nine hours, the doors burst open and they were in the UK. "That's one of the reasons we survived. There was a similar case in the news when52 Chinese migrants died making the same journey we took in 2000. They were dead, as they were inside for 36 hours."
His parents knew it was a risk but they had no other option, their homeland had turned into a totalitarian state. Nasimi said, "It was impossible for my parents to continue to live in Afghanistan, they had studied outside of Afghanistan and had a liberal ideology and it was impossible for people like them to live in a society where the Taliban were in power. Eventually we reached Dover and the UK Border Force opened the doors of the container, and they let us out and called the ambulance as we were in a very bad state medically."
They were processed at a refugee centre before being allocated a house in Lewisham.
"We were probably the first Afghan people when we arrived. We couldn't speak a word of English, we didn't know how to enrol at the GP or at school, we didn't know how to access language classes, how to find employment and how to navigate the British system," he said.
Nevertheless, Nasimi has nothing but praise for how he and his family were welcomed. They felt supported and he doesn't speak of being marginalised.
He said: "The people were very welcoming and understanding of the plight of my family. I would like to thank the British people for their hospitality, the UK has a very positive history of welcoming refugees and providing a new life for them. They showed a huge amount of sympathy and solidarity to myself and my family for escaping the Taliban and making the difficult journey to the UK."
After finding their feet, his father began the Afghanistan & Central Asian Association charity. Its mission is to help people like themselves, so it provides language classes, women's groups, offers advice on how to navigate the British system and gives refugees a platform to build on. The organisation has gone from strength to strength and has played a big part in receiving the new wave of Afghans who fled following the Taliban's return to power in August.
"Our office became like Kabul airport, every day 500 people queuing from 6am in the morning to get some advice on how to evacuate their family members from Afghanistan to the UK," he said. "We had a huge team of 75 volunteers providing advice and guidance, writing letters for them, contacting their MPs so they could speak to the Home Office on their behalf and providing an update."
Nasimi works as a fundraiser at the charity, and he feels that will make him a potent elected official.
"I want to use the experience I have, the skills and knowledge of working on a grassroots level, to empower people in our society and to bring about a positive change to people's lives," he said. "More needs to be done, the government needs to support these refugees and support grassroots charities who are working on a frontline level to provide the right services."
Recriminations are playing out over whether the UK and US governments dropped the ball over the withdrawal from Afghanistan and effectively handed power back to the Taliban.
It was that miscalculation that resulted in the heartbreaking scenes of Afghans hanging onto aeroplanes as they raced down the runway, such was their desperation to leave.
A British whistleblower has revealed Johnson's government mismanaged the exit of people and that a lack of resources led to "people being left to die at the hands of the Taliban".
For Nasimi, the post-mortem is not what matters. He stresses the need to help those left behind.
"I think the priority now is to think forward, what should we do from now on? There are millions of people in Afghanistan who are struggling because they are facing extreme poverty and hunger, they don't have access to basic supplies because the international community are reconsidering how they can support Afghanistan in light of the fact that the government is now run by the Taliban."
In echoes of what happened in Iraq and Syria, the ordinary people are bearing the brunt for what their leaders do. Although the Taliban, of course, staged a coup and were never elected.
"The people don't want to live under the Taliban's rule and the Taliban does not represent the people of Afghanistan," added Nasimi. "The international community has the money, but they don't know who to give the money to. They don't want to give the money to a government that is run by the Taliban so they can use it for their own purposes. We need to have a proper debate and discussion to avoid any human disaster in Afghanistan, the people have suffered war for the past 42 years and there is a need for international organisations like the UN and the World Bank and the British government to come together to create a new plan for Afghanistan's future."
Part of that vision for Nasimi is the return of foreign troops, he doesn't see any way else things can be resolved.
"Military presence on the one hand I think is necessary, because Afghanistan is not a country that should be left alone. The Afghan government needs the support of the international community, the capacity to run and manage a country is not there."
It may be that one day, Nasimi takes BoJo's current position and could be making these calls for real. He of course understands that's a long way off, but doesn't mind entertaining the dream.
"The ambition in the long term is to get involved in British politics, of course you have to start somewhere. At the age that I am, prime minister will be a long-term goal, first I have to get involved at a local level, and hopefully I win the election next year."
He does add, however, that it reflects what he associates with Britain and the chances it offers. "It would be so good to have the British prime minister who came as a refugee in the UK in the back of a lorry and comes from Afghanistan. Thanks to the hospitality and the opportunities available in Great Britain, people are able to achieve what they want and build a successful life."
Whether he gets to 10 Downing Street remains to be seen, but Nasimi wants to be an example even if he never goes beyond the local council. It's about shining a light to a pathway that he knows would never have been possible if his family had remained in Afghanistan.
And it's also to shatter the British idea that to be in the Conservatives means you must hail from blue blood and wealth.
"I want to break that stereotype, it's for everyone who has a dream and wants to achieve something and is thinking about innovation. There are a lot of opportunities for people like myself and we need to work very hard to be a catalyst for change and a role model for thousands of other people who are in a similar position that we were in, when we came to the UK."
The statements, views and opinions expressed in this column are solely those of the author and do not necessarily represent those of RT.
You can share this story on social media: