Why BoJo will survive a catastrophic defeat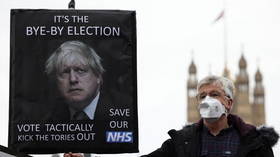 The political obituaries are being penned for Boris Johnson after his party's humiliation in a by-election. But there are a number of reasons why the UK Prime Minister is likely to survive this dismal verdict on his premiership.
Boris Johnson's Conservatives took a drubbing in a shock by-election loss on Thursday. In normal times, the PM's party could have expected an easy victory, but his recent mishandling of almost everything that has come across his desk and bumbling performances resulted in an embarrassing defeat.
The by-election, which took place in North Shropshire, was called because the former Conservative MP, Owen Paterson, resigned having been found to have breached parliamentary rules regarding lobbying. So, there was already a whiff of Tory sleaze surrounding the election.
Nonetheless, this should have been a routine victory for the Conservatives and the loss will send shock-waves through their ranks. To put this in perspective, they had a whopping majority of 23,000 going into the contest and the seat had been in their possession for almost 190 years.
This area also voted heavily for Brexit and the former MP was a leading light in the Leave campaign, so the Conservatives should have expected an easy night. This proved to be anything but the case, and the Liberal Democrats came from nowhere to win the seat with a majority of nearly 6,000.
The mainstream media narrative now is that Boris Johnson is toast. I suppose, in many ways, he should be. The scandal regarding 2020's Downing Street Christmas party, and his staff's flagrant flouting of Covid rules, has infuriated voters. Moreover, his government's handling of the migrant crisis has been a national embarrassment, so if anyone deserves to carry the can, it should be Boris.
However, I would argue that Johnson is in less trouble than most people think. Indeed, the fact that it was the Lib Dems and not Labour that won in North Shropshire will provide him with some much-needed breathing room.
The fear that many Conservatives have is that the Red Wall seats in the north of England, which they won in 2019, will revert back to type. However, in many of these Red Wall seats, the Lib Dems barely register, and nor will they anytime soon. Their brand of metropolitan woolly liberalism is far removed from the old mining towns of the north-east and the mill towns of Lancashire.
Johnson's only real competitor in these areas is the Labour Party and they polled under 10 per cent last night. Moreover, for the Labour Party to win the next general election, they really need to be miles ahead of the Conservatives in the polls right now. The fact that they are pretty much running neck and neck with the Tories is a clear sign that voters are not ready to switch to Labour.
Johnson is also not in danger from the Right, which also performed poorly in North Shropshire. Reform UK, which had been tipped to do well, polled only 4 per cent and lost its deposit (in the UK 5 per cent is required to save the £500 deposit). Laurence Fox's Reclaim and my old party UKIP fared badly, too.
If these parties do not unite under one banner – or at least come to some tactical agreement – then Johnson will not face any real challenge on his Right flank and will therefore remain safely ensconced in 10 Downing Street.
What happened in North Shropshire was clearly a protest. But a protest is all it was, as mid-term by-election shocks are rarely translated into general election results. We have seen a number of examples over the years.
Back in 1981, the old Social Democrat Party – a forerunner of the Lib Dems – won a by-election in Crosby, a seaside town in the north-west of England that was considered a safe Tory seat at the time. The loss proved a massive shock to the Conservatives, and many saw it as a breakthrough moment for the SDP.
There were murmurings about the future of the then PM Margaret Thatcher, but the Conservatives did not panic and remove her. They instead stuck by Thatcher, and in 1983 she won a landslide victory in the general election.
And then in late 2014 my own party went and won a by-election in Rochester, Kent, causing what seemed like another earthquake. The Tories did not pull the trigger on the then PM David Cameron, and six months later he won a general election.
Nevertheless, Johnson cannot simply ignore what happened last night. It was a royal kick up the backside for Boris and a message to get his house in order.
But was it really anything else, as many political pundits would like it to be? I don't think so.
The statements, views and opinions expressed in this column are solely those of the author and do not necessarily represent those of RT.
You can share this story on social media: