What France's position on China means for the EU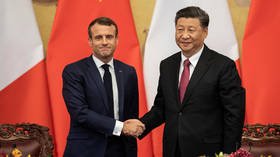 As France inks bilateral agreements with China and the EU presidency moves to Paris, Europe's outlook may remain mainly focused west across the Atlantic, but its eastward glances are getting ever longer.
Last week, the United States announced a "diplomatic boycott" of February's 2022 Beijing Winter Games over the Chinese government's alleged human rights abuses, with a handful of Western Anglophone countries following suit.
Notably, America's oldest ally did not join the "insignificant" boycott, as French President Emmanuel Macron put it. This wasn't because France is against such a move in principle – and the EU is apparently crafting a collective approach right now – but because of the way the US was orchestrating it.
What's more, France announced a date alongside China for the eighth China-France High-Level Economic and Financial Dialogue. This dialogue ended with both sides signing an agreement on the preservation of French pork exports in the event of African swine fever (ASF), which was a major sticking point for the French side in the November 2019 Action Plan for Franco-Chinese relations.
While this might seem trivial at first glance, it isn't. That's because, in 2019 alone, an estimated 40% of China's pig population was killed off due to the virus, causing economic damage that was estimated to be about 0.78% of China's GDP. Other countries, such as where I am, in the Czech Republic, saw an inflation surge, due in part to the rising cost of pork in the global market.
In addition, when China and other Asian nations were finally able to tame their ASF outbreaks, China had to ban imports from countries suffering from their own, such as Germany. This had a knock-on effect on agricultural producers in those countries.
This bilateral deal between France and China essentially amounts to a supply chain agreement that will see closer integration and communication between the two sides. Clearly, it is aimed at helping French producers stave off unnecessary trade barriers and reducing inflationary pressures that are already becoming intolerable for much of the world. It could easily be replicated for other EU countries, too.
The communiqué on the agreement itself makes clear that this is just one example of many on which France, China, and the EU as a whole could work together.
As French Minister of the Economy, Finance and Recovery Bruno Le Maire was quoted as saying, "This agreement is the first of its kind to be signed by China for the benefit of a country in the European Union. In this sense, it is exemplary and a precursor to other agreements to come with other sectors and other countries."
According to the Global Times, there are already some in the works. China's Ministry of Finance said, after the dialogue, that it would welcome French financial institutions establishing wholly owned securities firms in China. The two sides also discussed a host of other issues, including a bilateral civil nuclear partnership, promoting the issuance of certifications for French aviation vehicles, and joint environmental projects.
As France will have the presidency of the Council of Europe in the first half of next year, Paris' pragmatic approach to China, as opposed to outright confrontation, is notable. For one, this latest dialogue with Beijing was clearly designed or, at a minimum, understood to be a slight snub against Washington, which continually demands its allies sacrifice their own economic interests to join the new Cold War.
That France went forward in signing a bilateral agreement with China, published a communiqué that opened the door for more such agreements, and decided not to join the US in its diplomatic boycott – all within a matter of days – shows this was not a mistake.
A recent phone call between Chinese President Xi Jinping and Macron, in which Macron said he hoped the EU-China Comprehensive Agreement on Investment (CAI) would soon come into effect, makes it even more clear that France is not willing to shoot itself in the foot for the sake of Washington.
The European Parliament has little power except for ratifying treaties such as the CAI, the drawing-up of which was a huge blow to the administration of Joe Biden. But it's currently holding up its ratification. If France is somehow able to get it through by making it a major priority in 2022, that would be a major knockback to Washington and a huge move in the direction of EU strategic autonomy.
Outside of the realm of trade, though certainly still connected, France has also shown its ability to move independently on defense. After the AUKUS nuclear submarine deal was penned between Australia, the UK and the US, overturning a multi-billion-dollar French contract to supply Australia with submarines, an outraged Paris used its leverage to get a massive concession from Washington: a common European defense structure that should "complement" NATO.
While the details have not yet been worked out and everyone who is party to the discussion has stressed that such a bloc would not replace NATO, the organization itself faces an existential crisis ahead of its next major summit in Madrid in June. There, leaders will draft a new 'strategic concept' document – the first of its kind since 2010 – that will determine the organization's future.
Washington obviously wants to switch gears from 'terrorism' to containing China's resurgence, because the current iteration of this document doesn't even mention China. In fact, none of the ministerial sessions during NATO's last major meeting, in October, had China as a theme.
However, from France's point of view, and we could say even from Europe's, it makes little sense to focus defense strategy on containing something that is beneficial to China's economy. China already overtook the US as the EU's largest trading partner back in 2020, with trade reaching €586 billion ($711 billion), compared to €555 billion ($627 billion) between the US and the EU, according to figures published by Eurostat.
Should the CAI be ratified or countries such as France independently deepen their bilateral investments and agreements with China, which they look set to do, this interconnection would only be entrenched. Therefore it would make even less strategic sense for the EU (and thus NATO, as 21 of its 30 members are also EU member states) to follow Washington in its containment policies.
Now, this is not to say that France or the EU as a whole are going to become out-and-out Chinese allies in opposition to the United States. Just days before the high-level trade dialogue between France and China kicked off, the French Embassy in Beijing shared a lengthy Weibo post criticizing China's human-rights record and peddling a lot of US-manufactured talking points.
It should also be mentioned that President Macron's opposition to the US' "diplomatic boycott" of the Olympics was not because he doubted the Americans' abuse claims, but rather that he thought the strategy was counterproductive. France does not see itself as opposed to US values – in fact, it's the place of origin for many of the ideals the US supposedly holds dear.
If the European Union pursues 'strategic autonomy,' especially with France at the helm of the Council of Europe, this should not be interpreted as a complete 180 on its current foreign policy. Rather, it should be seen as an effort to emulate what the EU believed the US was itself aiming at – at least until relatively recently.
The statements, views and opinions expressed in this column are solely those of the author and do not necessarily represent those of RT.
You can share this story on social media: