I've rescued starving babies from junkie parents. Here's how to end our drugs nightmare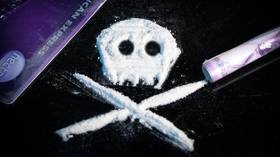 As a long-serving police officer in London, I was on the front line of our battle against the criminal activities of ruthless drug gangs. It's why I welcome the new government move to take them on.
There's been a lot said about drugs by politicians in Britain this week. The Speaker of the House of Commons has expressed concerns about traces of them being found in parliamentary buildings, while Kit Malthouse, the Policing Minister, has launched a new initiative to take on criminal drug dealers.
After 30 years in the police in London, there's nothing here that's unusual. With thousands of people visiting Parliament every day, I'd have thought it likely that people who use drugs visit the place. We shouldn't be surprised if some of them even take their drugs there and leave traces behind.
After all, the security processes at Parliament are designed to stop terrorists, not people with drugs.
Whilst this may make for shocking headlines, the thought that some visitors, young staff members or even reckless MPs might have smoked cannabis or snorted some cocaine is hardly earth shattering. We've often seen MPs in the parliamentary chamber the worse for wear from alcohol or from other drugs. They've even assaulted or sexually abused each other in the parliamentary estate when inebriated.
Scratch any big business, army unit, fire station, A&E department or police force, and you will find similar examples there. As humans, it's what some of us do. It's one of the things that kept me busy in my job as a copper, trying to stop or manage such behaviour.
Because in today's world this is what passes for 'normal behaviour'. Of course, this doesn't make using 'recreational drugs' a good thing – far from it – but it is a rite of passage for many young people. We should discourage and try to stop it, but we will not succeed. Young people believe they know best and always have.
But behind this supply of these 'recreational' substances are networks of unscrupulous drug dealers making handsome profits from it. They are part of a distribution system that drives some of the teenage murders on our streets, and supplies the class-A drugs for the 300,000 or so addicts in the UK, who commit more than half of all offences of burglary, robbery and car crime. All committed to raise funds to feed their habits, and to keep themselves from being punished by their rapacious suppliers.
These dealers use brutal enforcement – beatings and kidnappings – on those in their debt; their predations drive the approximately one quarter of a percent of our population who break into our homes and cars and rob us on our streets.
These 'junkies' have another insidious impact on our society. They end up ill with things like septicaemia and HIV by injecting drugs into their bodies and become a big burden on the NHS. Others who abuse strong forms of cannabis end up with severe forms of psychotic behaviour that manifests itself in domestic violence, child abuse and violent, often unprovoked, attacks on the street.
This all costs a lot of public money and time to manage. And results in untold pain and sadness.
These criminal dealers are also behind the misery and abuse that causes so many vulnerable young children to suffer awful and neglected lives.
I suspect when we look into the circumstances leading to the dreadful and cruel murder of six-year old Arthur Labinjo-Hughes, we will see the part that drugs played in setting up the conditions for this child to be killed by his father and stepmother.
I've seen it many times before. I've taken starving, filthy babies from their stinking urine-soaked cots while their parents lay slumped on the floor of their council flat in a drug-induced stupor. Completely oblivious to the overflowing and fly-blown rubbish thrown in every corner of their flats or the nauseating smell of drying dog faeces on the sticky carpets and stained sofas.
That is why I say we should get over the latest statement by the Speaker and concentrate on what the Policing Minister is saying.
I know Kit Malthouse from his days when he was both deputy mayor for policing and member of the London Assembly for West London. At the time, I was the borough commander for Hammersmith and Fulham and later area commander for West London.
I used to meet with Kit regularly to discuss crime matters. He always asked me to explain why troubled and disadvantaged areas on my patch, such as the White City Estate and Shepherd's Bush, had the best crime reduction of all the 32 boroughs in London.
I could have said it was my leadership, but that would have been wrong. I had a truly visionary number two, and I gave him his head to use handpicked specialist plain clothes squads to go after low-level drug dealers who supplied the burglars, robbers and car criminals. The uniform patrol and neighbourhood officers supported this and were equally focused.
I backed my deputy's strategy in the face of demands from the Met's hierarchy to follow their latest plans to disband our drug squads and those concentrating on robbery, burglary and car crime. I refused; I knew what we did worked.
Kit loved what we were doing, backed me, and asked why the rest of the Met didn't copy it. I suggested he ask my bosses at Scotland Yard.
He did, and I was called up and accused of "spying" for the deputy mayor, "who keeps telling us to copy what you do at Hammersmith and Fulham". It was made very clear that what I did was not going down well with some of the top brass.
Not surprisingly, promotion didn't follow for me. But it did for the senior officer who had been embarrassed by her lack of competence and the questions asked of her by Malthouse. She ended up moving to a very senior post up North. Such is the way the world turns.
But what is now happening is even more gratifying than what we were able to achieve in a small part of London. Kit Malthouse is now in a position to take what we learned there and make a difference across the whole country.
Firstly, he is putting pressure on police chiefs to focus on drug dealing. That will be hard for some, because many have no idea of how you do that, and have cut the resources and skills needed to achieve it. I am afraid this is modern policing: strategic planning and direction is sacrificed for political expediency. Whether it is putting resources into diversity or reacting to whatever is the latest and inevitably politically opportunist soundbite.
Secondly, as part of his strategy to reduce the numbers of those 300,000 junkies who steal so much from us, Kit Malthouse is reinvigorating a health-focused approach to reducing drug dependency with a host of new and previously successful measures.
Of course, much expertise has been lost because of austerity and the cuts. Most notably, proactive policing skills against gangs, drug dealers and those who can teach those techniques. As well as specialist drugs and rehabilitation workers within the health arena.
The money currently allocated is nowhere near enough, but it is a start and a strong steer from the government. It's one of the few initiatives that I have seen in recent years in regard to tackling crime that is on the money and not just political knee-jerking. After all, drugs have been a problem for 60 years.
Malthouse has a long history of political oversight of the police. From what I see, he has learned from that, and continues to listen to those he judges are competent.
If he can get police chiefs to grasp the fact that proactively targeting the drug dealers will suppress burglaries and robbery, and steer them away from making soundbites on "recreational drug use" and to do something tangible and effective against the drug gangs, he will make a real difference.
Going after the dealers will not stop the problem overnight or entirely, but it will help rob some of the 300,000 junkies of their reason to steal from us and that's got to be a good thing.
Finally, we seem to have a politician who knows what he is doing in his post. It's long overdue.
The statements, views and opinions expressed in this column are solely those of the author and do not necessarily represent those of RT.
You can share this story on social media: