Why EU will never out-build China's Belt and Road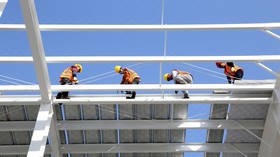 The European Union's bid to compete with China's Belt and Road Initiative is doomed to failure because Brussels is incapable of cajoling its members into singing from the same hymn sheet.
On Wednesday the European Commission revealed a proposed €300 billion Euro fund to take on China's Belt and Road Initiative, titled "the global gateway". The project strives for member states and private sector financiers to come together and invest in an "alternative" for infrastructure needs across the developing world. It comes at a time when Western nations are all proposing new brands to "counter" China's massive spree of overseas infrastructure financing, including America's "Build Back Better" as well as the UK's much smaller scheme announced under Liz Truss. It seems to be the Western agenda of the time is a multilateral, yet individual, gamut of projects all designed to counter Beijing. Incidentally, they also seem to give the impression that they wouldn't really care about developing countries if it weren't for that.
As set out in the BBC report, even though it does not name China directly, it is a naked battle for influence and there's no effort to hide that. But of course, the jury is out, is it truly an "alternative"? And can they pull off their grand vision successfully? The answer put simply is, 'no'. The European Union is, collectively speaking, the single most poorly positioned and ill-suited actor in this grand "scramble for infrastructure" going. For a plethora of reasons, this project will never ever live up to its promises, let alone compete with the monolithic, highly organized mantra of the Belt and Road Initiative.
Why so? The answer is not so much structural, as political. It's a matter of "how" as opposed to "if" or "why". Ideally speaking, why would any countries turn down increased infrastructure spending from Europe? No matter where you stand on the China spectrum, it's a good opportunity. Germany is particularly famed for its engineering prowess. France is also a successful country when it comes to infrastructure, there's a reason why China participates with them in their own nuclear energy initiatives at home. Europe has quality, experience, and success. But that isn't the same thing as trying to singlehandedly organize a visionary global infrastructure scheme applied to developing countries, is it? And given how Europe is politically and economically organized, and how they plan to implement these projects, it is bound to run into trouble.
China is a single party, hierarchic Communist state which coordinates its mega Belt and Road Initiative (BRI) through an almost command and control system of state-owned banks and engineering and construction enterprises, which work in near perfect unison with China's Foreign Ministry. When China wants something done from the top, it gets done, and the task jumps through all bureaucratic hoops. For example, building a functional hospital in 10 days. On the other hand, the European Union is a bureaucratic ensemble of 26 different countries existing in a supranational organization that has limited collective sovereignty and attempts to function by establishing points of unity and consensus amongst its members. Institutions such as the European Commission attempt to guide and induce legislation, but ultimately act as referees and have little power to entice, let alone compel, states to act.
The European Union is not a "state" and cannot function as a coherent body on the global stage without setting the bar very low. This makes it extraordinarily more challenging to coordinate large transnational finance projects, with a separate private sector, in the way China can. They rely on the goodwill and presumed cooperation of companies and banks, who will be interested in some things, but will ultimately consider many countries China has dived headfirst into as undesirable, high risk or financially unpalatable. The EU can't "force" companies to invest and nor can they so readily jump through all the hoops whilst insisting on "standards". This not only means projects are less likely to materialize but will take significantly longer to come about too.
Secondly, you might be mistaken thinking the European Union is a union of prosperous equals, it is not. The EU is suffering myriad economic problems, it is in a state of stagnation and has a huge north-south and west-east divide in wealth. It cannot even address its own infrastructure needs, let alone those of other countries. Last week on a trip to Greece, a country that has lost 50% of its entire GDP since 2007 thanks to European financial mismanagement, I discovered the grim reality of Athens Central Railway station, which does not even have a working information screen, and only has aging, graffiti covered rolling stock. How can some EU states be content to cough up €300 billion, across seven years, into an ambitious geopolitically motivated overseas infrastructure race, when such widespread problems at home remain? Is this fair?
These internal divisions are real. We see the scale of the struggle over even the most important things, such as the EU recovery fund last year in the midst of Covid, how one of its most important member states literally quit, and how a new wave of economic damage is surely on its way with Omicron and the growing number of lockdowns across the continent. Then you have dissenting states such as Poland and Hungary, who may seek to upend, delay and block the entire thing as part of wrestling their sovereignty away from the institution. Doesn't it speak volumes that Budapest is getting China to build its high-speed railways? Where is Brussels amidst all this? In many aspects, the EU can barely keep itself together, let alone coordinate this. It wants to compete with the BRI but can't actually keep the BRI out of its own territory.
Finally, whilst €300 billion sounds like a lot, it is only a fraction of the BRI in real terms. As a report from the Silk Road briefing sets out: in the first quarter of 2020, the value of belt and road projects exceeded US$4 trillion for the first time. Among these, 1,590 projects – valued at $1.9 trillion – were BRI projects, while 1,574 other projects with a combined value of $2.1 trillion were classified as "Projects with Chinese involvement". By 2019 at least $519 billion worth of projects had been completed, showing the EU is offering too little, and too late,
The EU are jumping headlong into a pie-in-the-sky grand scheme which, though they would bring tangible benefits on paper, is ultimately and fatally devoid of realism. A loose gathering of states mired with all kinds of problems wants to try and compete with the engine-like unity of a Communist economic giant. What we see today is little more than a public relations stunt which very well could be doomed from the start, simply because Europe is bad, and will continue to be bad, at making things happen.
The statements, views and opinions expressed in this column are solely those of the author and do not necessarily represent those of RT.
You can share this story on social media: