Australia has to realize who's actually undermining it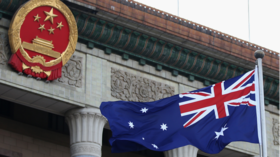 As Joe Biden's administration accuses China of launching an economic war against Canberra, guess who is raking in vast profits from this Washington-fuelled spat?
According to the White House's Indo-Pacific coordinator, Kurt Campbell, China is conducting "dramatic economic warfare" against Australia.
"China's preference would have been to break Australia. To drive Australia to its knees," Campbell said in a speech in Sydney on Wednesday.
This take from the Biden administration is totally ahistorical and obfuscates the actual causes of the breakdown between China and Australia. It also omits the fact that the US is itself cashing in on the breakdown between the two, showing once again that Washington is a very unreliable partner.
For starters, there is no Chinese aggression against Australia. Australian media and various officials have tried to paint the current situation as one where Australia is valiantly defending its sovereignty against perceived Chinese aggression, using all the familiar Yellow Peril tactics we're familiar with, when this is simply not true.
The reality is that China has always wanted closer ties with Australia. In 2014, for example, President Xi Jinping visited Australia and agreed to sign the China-Australia Free Trade Agreement (ChAFTA), which ensured increased exports to China and more Australian jobs.
Whether it be raw material exports or middle-income consumer goods like lobsters and wine, trade relations with China have greatly benefited the Australian economy, with China now sitting as the country's top trading partner.
However, things changed because of decisions by the Australian government, such as its politically-motivated decision to bar Huawei from building its 5G network or the Morrison government's apparent endorsement of the "lab leak" Covid-19 conspiracy theory.
In response to these actions, the Chinese government came to the conclusion, as Foreign Ministry Spokesman Zhao Lijian said, that no country will be allowed "to reap benefits from doing business with China while groundlessly accusing and smearing China and undermining China's core interests."
It hasn't been just the Chinese government's retaliatory trade policies that have impacted Australia's economy, but also regular Chinese consumers and business people that lost interest in the country thanks to the Australian government's harmful actions.
This was not an escalation that China wanted or sought; it was initiated by Australia, and now Canberra has to deal with the consequences of its own actions.
But it also needs to be said that Canberra wasn't acting alone but was obviously carrying water for Washington in its escalating New Cold War against China. The irony of this decision-making from Canberra is that it's objectively against its own interests to do so. Another level to this irony is that the United States is actively benefiting from and economically exploiting the breakdown between Canberra and Beijing.
According to data from the US Energy Information Administration, the US exported 5.4 million tons of coal to China in the first half of 2021, compared to 531,000 tons for the same period a year ago – an absurdly high 920% year-on-year increase. In the same period in 2019, the US exported just over 771,000 tons to China.
This has helped Beijing fill the gap left after it imposed its retaliatory ban on importing Australian coal last year. Canberra shipped 35m tonnes of thermal coal to China in 2020, and around 50m tonnes in 2018 and 2019,. After November 2020, its coal exports dropped to zero, according to industry experts.
So while there has been an effective ban on Australian coal going to China, the US was certainly more than willing to fill this vacuum – even as it treats China like its sworn enemy.
The question is, why does Australia ignore this? If Australian officials are willing to put their country on a chopping block, economically speaking, for Washington's interests, why does that relationship not go both ways?
Easy. Because the relationship between Australia and America is not an equal one. It is not a relationship of mutual respect; it is a relationship of subservience and domination. That is the exact kind of relationship that the Australian media and the Morrison government claim exists between their country and China ​​– but is actually, verifiably, the case between Australia and America.
Time and time again, Washington pressures allies like Australia into taking hardline stances that inevitably backfire, hurting their national interests and security. Enough is enough. Australia has to come to its senses and realize that allowing Washington to dictate its foreign policy only makes it less safe and prosperous.
The statements, views and opinions expressed in this column are solely those of the author and do not necessarily represent those of RT.
You can share this story on social media: