If Democrat policies are so popular, why are so many of them quitting politics?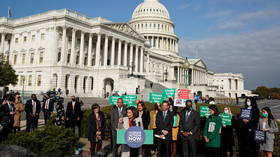 This week, Democrats in the US House and Senate will once again take up the mantle of trying to pass more legislation that both common sense and logic tell us Americans don't want.
"Senate Democrats hope to pass President Joe Biden's social safety net and climate plan before Christmas and put the finishing touches on their agenda before next year's midterm elections can stifle progress," said CNBC about the social spending package the Dems acknowledge will be dead on arrival when voters go back to the polls next year and weigh in.
Once again, the Democrats will use every means at their disposal to tell Americans that their eyes should not believe it and their ears should not hear it, when common sense and logic tell them they don't want more spending on socialist projects.
Since Biden was elected president, the Democrats and their allies in the media have run the same disinformation campaign on America. They propose radical, divisive, and sometimes outlandish solutions to problems that don't exist and then justify their passage by saying the measures are wildly popular with Americans.
Last winter and spring, in a race to ram through so-called coronavirus relief without Republican participation, the media sought to portray Biden's $1.9 trillion 'American Rescue Plan' as the most popular measure ever undertaken by a Christian nation on behalf of heathens, or some such rot.
"Joe Biden's $1.9trn stimulus package is one of the most popular bills in decades," trumpeted The Economist in February, as the instrument for the elite Eastern establishment.
"With Congressional Stimulus Fight Looming, 76% of Voters Back $1.9 Trillion Plan, Including 60% of Republicans," the Morning Consult later echoed in support.
"Biden and his Covid-relief bill prove popular in new CNN poll," said CNN in a poll conducted by CNN on behalf of CNN's Democrat viewing audience.
And so on, until passage.
"There are popular laws, beloved laws and [then there is] President Joe Biden's American Rescue Plan," gushed the UK's Financial Times, after partisan approval by Democrat votes only.
FT.com celebrated the passage with a truly aristocratic tongue-lashing of the GOP votes against the bill, saying: "The debate over the wisdom of such largesse is everywhere except in the general public." You could almost hear the High Sheriff of London titter at this anti-Republican witticism behind a scented handkerchief.
Eight months later, some of those same polls are saying something completely different. A Morning Consult poll conducted in November blames Democrat spending on the American Rescue Plan for historic inflation in the economy, with 62% of registered voters, including nearly half the Democrats surveyed, saying the Dems were responsible for surging prices.
"All politics is local, and it doesn't get more local than the prices that families are paying at the local grocery store each day," Calvin Moore, communications director for the Republican-backed Congressional Leadership Fund, told Morning Consult. "There's this feeling that people are doing all the right things, they're working hard, they're getting raises, but their lives aren't getting any better."
"Forget politics – it's not an ideal scenario if you can't afford a turkey or can't find your canned pumpkin at the grocery store this year," said Adrienne Elrod, a longtime Democratic strategist for Hillary Clinton's presidential campaign. Leave it to the out-of-touch Democrat named Adrienne to not know that canned pumpkin isn't one of the things we'll go without this year.
Still, Biden and the Democrats want to go to the wishing well again, spending another $1.8 trillion on social programs and climate-change revisions they previously called "human infrastructure" but now call Build Back Better (BBB).
They promise the BBB plan will reduce inflation, pay for itself, and likely get the seas to stop rising as the planet heals itself. It might even get Joe a Nobel Prize. No, not really.
So, right on cue, the media is selling BBB on behalf of Biden and the Democrats by claiming it's "popular" among voters even if Old Joe and the Democrats remain personally unpopular.
"The president's large spending plans remain broadly popular," says a poll by Monmouth University, in New Jersey. "Support for the Bipartisan Infrastructure Framework (BIF), which passed Congress last week and awaits the president's signature, stands at 65%, down just a few points from prior polls. Support for the still-pending Build Back Better (BBB) plan to expand access to healthcare, college, paid leave, and other services remains steady at 62%."
But the numbers of Democrats leaving Congress to find other jobs – along with the generic Congressional ballot-polling – paint quite a different picture of events. No fewer than 15 incumbent Democrats have thus far decided not to run for reelection in the House, citing redrawn districts, difficulty with compromises on legislation with their own caucus, and falling poll numbers for their decision to retire.
"The House Democrats' retirement crisis is quickly becoming a five-alarm emergency," said Moore.
That sentiment is echoed in a new poll by Quinnipiac University, in Connecticut, that says Americans prefer GOP control of Congress to a Democrat majority by an impressive eight points.
"Americans say 46 to 38% they would want to see the Republican Party win control of the House of Representatives, while 16% did not offer an opinion," said Quinnipiac. It's hard to reconcile the rush to retirement with these plunging approval numbers, if Congress is passing wildly popular programs.
So, why would the Democrats continue to march down this road to apparent ruin by passing laws Americans don't want? In part, it's because the Democrats just have to be Democrats. They are much further left than most of them would admit.
If they didn't have to reconcile with those pesky voters, they'd nationalize colleges, universities, and healthcare, get rid of all fossil fuels by January 2022, pull aid from Israel, outlaw guns, and guarantee a national basic income for everyone who votes Democrat. And then wrap up the day by surrendering to China. But that's not the whole story or even the most important part of the story.
Democrats march down that road to ruin because they know that, just like in the case of Obamacare – another law that didn't work as advertised and was passed without the support of the GOP – the Republicans won't have the guts to repeal what the Democrats have done, because, after campaigning against the law to gain the majority, the GOP will decide it's just "too popular" a law to repeal.
Thus one day, in the winter of 2023, you'll finally find the ultimate targets of the Democrats' disinformation campaign to be the Republican members of Congress. Sadly, it probably will have worked on them, even if it didn't fool Americans.
Like this story? Share it with a friend!
The statements, views and opinions expressed in this column are solely those of the author and do not necessarily represent those of RT.
You can share this story on social media: