R.I.P. 'Dislike,' YouTube's best button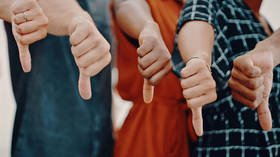 YouTube's removal of its 'dislike' counter is among its most tone-deaf moves ever. But it's not really surprising, as after countless controversies it's become clear the platform prioritizes ad revenue and hiding public dissent.
YouTube's recent decision to remove dislike counts on all its videos seems to be yet another indicator that critique, discussion and feedback are slowly becoming things of the past. All to appease those who require complete conformity, and get triggered into a hysterical frenzy anytime someone disagrees with their opinion, rejects their narrative or points out flaws in their thinking.
The fact that people could freely express their dissent has apparently been bothering YouTube for a while now. They first tested the removal of the count earlier this year, but now they've made their final decision. The removal will be done gradually, as dislike counts will start disappearing from under videos. The button will still be there, and there will still be a 'thumbs up' count, too, but the public won't be able to see the amount of dislikes. Creators, on the other hand, will still be allowed to see that information, should they choose to.
But the feature that counted the number of dislikes was easily one of the most useful on YouTube and set it apart from other social media websites that only feature 'Like' and 'Share' counters.
If anything, it actually had the practical function of saving time. Before watching a bunch of ads to get to a video that turned out to be clickbait garbage you could simply check the dislike count for an early warning.
And, with the sheer amount of videos on YouTube, a massive chunk of them being 20-minute-long useless tutorials with deafening music, 'leaked trailers' and 'full movie' uploads linking to shady websites, the dislike count was a godsend.
It also allowed users to gauge the truthfulness of a content creator. If a video had a clickbaity title such as 'the truth about …' the amount of dislikes quickly gave away the fact that the author was full of it.
But unwatched videos means unwatched ads, and that's lost revenue for Google. So now users will actually have to sit through the whole thing or read through the comments (if they're even enabled) before realizing they've wasted their time.
YouTube says it removed the count display to supposedly 'protect smaller channels from dislike attacks' but, seriously, who are they kidding? YouTube itself has personally killed more channels with the use of its algorithm and shadowbanning tools than any dislike ratio ever could.
And the only people that seem to be happy about the removal are apparently the people who are incapable of handling ANY sort of debate or conflicting viewpoints. But the question is – if you can't handle the pressure of a thumbs-down icon, why would you even post something for the public to see in the first place? Just to stroke your ego? That would at least explain why these people equate a dislike button to "bullying and harassment."
Good! You have done the right thing. The dislike button also needs to go. It is just used to cyberbully. Just to go by the clicks and if people remain engaged.

— Ann Drogyne (@AnnDrogyne) November 10, 2021
but at least now people can make their own decision on whether or not they dislike the video and not just follow the crowd yk

— Racklle (@racklle) November 10, 2021
Despite a few people applauding the move, the overwhelming response to the decision has been extremely negative. Users and creators are pleading with the platform to reverse the decision. But, in light of recent controversies, it's become quite clear that YouTube doesn't actually care all that much about its users or creators. The biggest benefactors of this move turn out to be the likes of YouTube itself, which still holds the record for the most disliked video on the website, with its 2018 YouTube Rewind amassing a staggering 19 million dislikes.
Using the cheap excuse of 'protecting the little guy' Youtube has effectively shielded itself and those it rubs shoulders with from one of the last remaining representations of public disapproval.
Because, be it Biden's latest speech or some woke company's latest PSA ad promoting progressive ideology, those videos have proven to be some of the most downvoted on the platform. Removing the dislike count in this context is literally hiding mass dissent.
And unsurprisingly the public's response to Google's decision seems to be overwhelmingly negative, with many citing it as yet another reason they can't wait to get off the platform.
YouTube removing dislikes not only censors dissent from corporate propaganda and brand agendasIt also protects predators and abusers from accountability to their audience, making new victims easier to findIn the effort to make users "safe" YouTube has done the opposite

— Zack (@Asmongold) November 11, 2021
Nobody asked for this. Downvote attacks on smaller creators? Brah. That isn't happening. We are doing fine. We just wanted less censorship & political targeting from you guys The only people getting mass downvoted are propaganda pieces that nobody likes & government accounts

— ELIJAH (@ElijahSchaffer) November 10, 2021
While YouTube still essentially holds a monopoly on video sharing, there are still some rising platforms (DTube, Rumble, Odysee, etc) that could potentially challenge the tech giant in the near future. But, unfortunately, they still have a long way to go, so until then users will just have to read the comments (those that haven't been deleted) to gauge the public's opinion on a YouTube video.
The statements, views and opinions expressed in this column are solely those of the author and do not necessarily represent those of RT.
You can share this story on social media: