EU Parliament's posturing over Taiwan only proves how pointless an institution it is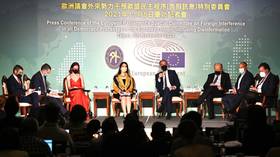 The European repository for bloviating political lightweights who can't get elected in their own countries may be making anti-China noises, but the real powers in Europe have no intention of burning any bridges with Beijing.
Europe probably has the most infiltrated foreign policy circles out of any region on the planet. Why so, you may ask? Precisely because it harbours a ridiculous number of US funded think tanks and institutions dedicated, primarily, to lobbying on behalf of American foreign policy goals, to such an extent that, ironically, it wouldn't be tolerated by the United States itself. These think tanks, of course, all speak the conventional foreign policy "wisdom" of the time, that is to demand the continent take a tougher approach in its dealings with China in line with Washington's preferences and subsequently, glorifying those who do. Hence yesterday came the article on "Europe Is Doubling Down on Taiwan," claiming that "As China gets more aggressive in its region, the European Union is refusing to back down."
Also on rt.com
China reacts with fury to US lawmakers' Taiwan visit
But what exactly is foreignpolicy.com basing this on? It's a sweeping claim, but it's simply on the news that a delegation from the European Parliament, an essentially pointless institution, happened to visit the island much to Beijing's ire. Apparently, this trip is representative of a coordinated turn against Beijing across the continent that equates to a "doubling down." Of course, there are pockets of resistance, especially so in Central and Eastern Europe where Sinophobia blends into historically entrenched anti-communist sentiment, hence the saga in Lithuania and Joseph Wu's recent trip to the Czech Republic. But to make this argument out of it? It's embarrassing.
The European Parliament has of course positioned itself as the cheerleader of anti-China causes in Europe beyond individual states, that's quite obvious, but since when was it ever a relevant or powerful institution? It's best known as a talking shop, a vacuous home to hot air which, precisely because of its lack of power, becomes a podium for a lot of angry and disaffected views which do not constitute mainstream political consensus. UK voters for one have never taken it remotely seriously.
While the parliament obviously uses its only power of ratifying treaties to seemingly block the imposition of the Comprehensive Agreement on Investment (CAI) with China, it is otherwise just reduced to hand-wringing and useless motions which go nowhere. Yet it is ever so predictable that US-sponsored think tankers and journalists suddenly round on this body as being relevant, pretending it is somehow the infallible Holy See of all European politics which dominates its foreign relations. It isn't, not even close.
This overreach is all part of a broader problem in coverage relating to China which obsesses with narrative, point-scoring and tedious ideological bias, rather than facts. And when you look at the facts, you learn quite quickly that this beatification of the EU Parliament means nothing. First of all, Taiwanese Foreign Minister Joseph Wu attempted to visit Italy to join the Anti-China IPAC meeting as part of his tour. What happened? He was denied a visa to enter for political purposes. Rome, even under Mario Draghi, had little appetite to upset Beijing. Of course, this development went largely unreported. Likewise, bar Lithuania which has to all intents and purposes isolated itself, can you see any of the other major EU governments in the West courting Taiwan?
Xi Jinping in the past few weeks has continued regular communication with Macron of France and conducted a farewell call with Merkel, the leaders of the two EU states which dominate the bloc, especially on economics. Only yesterday Council of Europe President Charles Michel defended the CAI agreement with China, quoting Dutch Prime Minister, Mark Rutte, saying "Europe must be a player. Not a playing field." And that the deal "would create more reciprocity and address labour laws and conditions." Does this sound like a Europe which is "doubling down on Taiwan?"
Once one looks at the trade picture, the Taiwan issue becomes even less relevant, with the Belt and Road agreement having consolidated new supply trains through China-Europe freight railway links. As noted by the Global Times: "Freight trains between China and Europe reached 11,343 trips in the first nine months of 2021, transporting 1.903 million Twenty-foot Equivalent Units (TEUs), up 29% and 37%, respectively year-on-year" reaching more and more destinations across 23 countries (but now cut off from Lithuania). Likewise, famous e-commerce firm Alibaba just opened up a 30,000sqm smart logistics hub in Belgium's Liege Airport, the largest of its kind in Europe. Meanwhile to the southeast, Beijing has consolidated its relationship with Greece and taken a bigger stake in the port of Piraeus, the largest in Europe. Despite these booming economic ties, supporters of Taiwan are seriously contemplating that the EU should pursue an investment deal with them instead? The European Parliament is out of touch and irrelevant, it finds no place and serves no purpose in a relationship which, despite difficulties and multifaceted pressures, nonetheless continues to boom and conduct business as usual.
Also on rt.com
'Those who betray the motherland will never end up well': China's stark message to Taiwan
In conclusion, the EU Parliament is being turned into a circus, egged on and bigged up by various anti-China influencers who see it as a platform to push their anti-Beijing agenda and puff up their egos. But that doesn't make it relevant or influential, not least when you look at the diversity and complexity of Europe. It can be a nuisance, but it is not, never has been, nor ever will be, a game changer. There is an old saying, "the dog barks whilst the caravan rolls on" and that's precisely what happens here. China won't fall into the Taiwan trap in this instance and is likely to continue to vest considerable diplomatic resources in keeping the leaders of states onside, it might just pay off.
Like this story? Share it with a friend!
The statements, views and opinions expressed in this column are solely those of the author and do not necessarily represent those of RT.
You can share this story on social media: