Cancelling Terry Gilliam because some theatre staff don't like his opinions is pathetic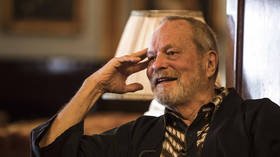 Gilliam was set to stage the musical 'Into The Woods' next year, but the production has now been shelved, after staff at London's Old Vic objected to his views on trans issues and the #MeToo movement.
It might be the funniest movie scene of all time, but it'd never get past the cultural thought police these days. No way.
It's set in an amphitheatre in Jerusalem, around the time of Christ, and members of a resistance movement against the Roman occupation are having a debate. One man continually interrupts to make sure women get a mention. "Why are you always on about women, Stan?" another man asks him.
"I want to be one. I want to be a woman. From now on, I want you all to call me Loretta... I want to have babies… It's every man's right to have babies if he wants them!"
"But you can't have babies," says their leader, Reg, dumbfounded.
"Don't you oppress me!" Stan retorts.
"I'm not oppressing you, Stan – you haven't got a womb. Where's the foetus gonna gestate? You gonna keep it in a box?"
Monty Python's 'The Life of Brian' was released in 1979, and absolutely nailed the tedious trans argument in under two minutes. Over 40 years later, the debate rages louder than ever and that central gender fact still remains.

At the end of the scene, the People's Front of Judea agree to support Stan's right to have babies – even though he simply, physically can't.
"What's the point of fighting for his right to have babies when he can't have babies?" counters Reg.
Also on rt.com
Monty Python icon Terry Gilliam has new stage production CANCELLED after staff uproar over 'transphobic' views
"It is symbolic of our struggle against oppression," replies Francis.
"It's symbolic of his struggle against reality," Reg concludes.
No way would a big Hollywood studio back that sort of humour these days – no way. Even though it's funny and factually accurate: men cannot have babies, not unless they were born with a womb and are therefore genetically female. It doesn't matter how many rights are demanded – this is a gift decided by Nature, and Nature doesn't care about a trans person's 'feelings'.
Notice, though, that it isn't the masses – you and I – who object to this kind of material. It's the minuscule number of people who happen to be the self-appointed cultural arbitrators of the era. And they either cave in immediately to the woke mob, or are active members of the woke mob themselves, pitchforks in hand.
Now they've managed to skewer themselves a Python. Terry Gilliam was a founding member of Monty Python's Flying Circus, as an animator and occasional cast member. He later co-directed their 'Holy Grail' film, as well as directing movies such as 'Time Bandits', 'Brazil', 'The Fisher King' and 'The Man Who Killed Don Quixote'.
He's toast now, though. He can't even put on a show at the Old Vic. Gilliam was supposed to co-direct Stephen Sondheim's musical 'Into The Woods' next year, but that production has now been cancelled after an objection from staff.
Notice the crucial point here: an objection by staff. Not by the public, not by anyone who might actually want to buy a ticket to see a production co-directed by a big name such as Gilliam. He's a director of such cultural significance, even Quentin Tarantino cited him as a major inspiration.
And his crime? He expressed opinions about trans rights and #MeToo. He is not, though, entitled to his opinion. Not if he wants to keep working. His views aren't even particularly outrageous – after all, it's not like he's trying to gestate a foetus in a box.
Also on rt.com
'I'm here to talk to his master': Chappelle protesters & supporters clash during Netflix walkout demonstration
Gilliam responded to a debate about diversity at the BBC in 2018 by saying: "It made me cry, the idea that ... no longer can six white Oxbridge men make a comedy show. Now we need one of this, one of that, everybody represented... This is bullshit. I no longer want to be a white male. I don't want to be blamed for everything wrong in the world. I tell the world now I'm a black lesbian ... My name is Loretta and I'm a BLT, a black lesbian in transition."
Oh, dear. Last year, he got into trouble for implying that some women knew precisely what they were doing when it came to the 'casting couch' in Hollywood. "I want people to take responsibility and not just constantly point a finger at somebody else, saying, 'You've ruined my life.'" He went on to say that the #MeToo movement was "a witch hunt. I really feel there were a lot of people, decent people, or mildly irritating people, who were getting hammered. That's wrong. I don't like mob mentality."
Too late, Terry, mate. The mob has got you now, skewered right on the end of a pitchfork.
Gilliam recently backed comedian Dave Chappelle, after the trans lobby tried and (so far) failed to get his new Netflix special cancelled. Gilliam described Chappelle's comedy as 'socially aware, dangerously provocative and gut-wrenchingly funny.' And it is.
The cancellation of Gilliam has been welcomed by members of the new thought police, the Old Vic 12. They're a group of young writers, producers and directors who do stuff for the place. And they've been wielding their digital pitchforks on Twitter.
Also on rt.com
Fear and loathing in Odessa: Terry Gilliam in hot water after thanking RUSSIA at Ukrainian film festival (VIDEO)
"This should have been scrapped over a year ago, but it's taken them this long to do something right for ONCE," tweeted Nassy Konan. "Good. It should have been cancelled over a year ago," Penny Babakhani agreed. "And the leadership at the Old Vic owe many of us an apology for the awful, awful way this was handled."
Ever heard of these two? Do you want to go and see anything they're involved in? Me neither. You can be sure it'll be safely woke, socially aware and very, very… dull. They're not in Terry Gilliam's league, and never will be.
Someone needs to pick up this production and run with it – there'll be a queue around the block. Because people are sick of being told by these cultural Nazis what they can and cannot see.
Think your friends would be interested? Share this story!
The statements, views and opinions expressed in this column are solely those of the author and do not necessarily represent those of RT.
You can share this story on social media: