Precedent of charging Bolsonaro with 'crimes against humanity' threatens leaders that deviate from the western Covid narrative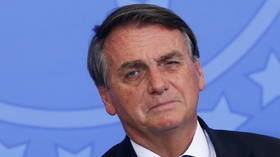 By recommending charges of "crimes against humanity" against Brazilian President Jair Bolsonaro over the way he handled the pandemic, a senate panel there is setting a dangerous and irrational precedent for the world.
The Brazilian high chamber commission has recommended nine criminal charges in total against President Jair Bolsonaro over his handling of the Covid pandemic, including "charlatanism," "prevarication," and "incitement to crime."
From the outset, Bolsonaro has resisted liberticidal and economically suicidal measures adopted by western nations. Relative to its population, it doesn't seem that Brazil was ultimately much more or less spared from Covid than other nations, regardless of the machinations, rhetoric, and hand waving in which others chose to engage contrary to the leader nicknamed the "Trump of the Tropics."
Brazil's peak of 4,249 deaths in a single day in April 2021 isn't wildly disproportionate, for example, to France's 987 Covid-labeled fatalities registered in a single day in April 2020, since the population of Brazil is about three times that of France. It's also worth noting that the waves ebb and flow at different stages in different parts of the world and that a snapshot of any given moment doesn't capture the full story.
Contrary to most other western leaders, Bolsonaro obviously wasn't a believer in lockdowns as a solution to curtailing the virus and, after witnessing the disaster caused early on by lockdowns in places like New York state, can you really blame him? As we later learned, Governor Andrew Cuomo was accused of underreporting Covid-related nursing-home deaths in the wake of filling them with 9,056 "recovering" Covid patients early in the pandemic, according to an Associated Press report.
Also on rt.com
Brazilian President Jair Bolsonaro censored by Facebook and YouTube again, as he falsely links Covid jabs to AIDS
Cuomo was never held accountable – let alone accused of "crimes against humanity." Instead, he resigned due to being too "expressive" with his hands, notably around attractive women.
The glaring difference between Bolsonaro and Cuomo is that Cuomo sang from the approved hymn book of the global elite. If you're imposing lockdowns and banging on about the "new normal," health passes, vaccine passports and QR codes, all while telling people that they're going to lose their livelihood and freedoms if they don't get the jab, then no one's going to look too closely at the death statistics.
Where are the crimes-against-humanity charges against the authorities in so many other countries who led vaccinated citizens to believe that the jab is virtually a panacea that confers on them invulnerability to the virus? "All vaccinated, all protected," was the message that I saw regularly lit up on a government-controlled billboard on a highway overpass near Paris for weeks over the summertime. The French health minister, Olivier Veran, has said that if everyone was jabbed, then there would be no more virus.
Collector : @olivierveran si tout le monde est vacciné, plus besoin de passe car il n'y a plus de virus. Nouveau nuage de Chernobyl à l AN. Et les preuves scientifiques elles sont où ? pic.twitter.com/G62BUGHkOD

— Xavier Azalbert, compte personnel (@xazalbert) July 21, 2021
Such disingenuous comments from authorities peddling the jab have led to scenarios like the one I regularly see at the local swimming pools, which is subjected to France's "health pass" attesting to a user's recent negative lateral flow test or two jabs. The aquacise tank looks like a scene out of Sea World with large mammals splashing around. They gleefully greet each other and pack into the tank to jiggle around to some music before double-cheek kissing each other goodbye as they discuss the elaborate desserts they feel they've just earned.
The jabs are really doing a lot of heavy lifting here. These people are victims who have been lied-to and misled into thinking that their health is protected because they did this one single thing that, yes, gives them a level of protection against Covid, but possibly not as much as they imagine, given their overall state of health and lifestyle.
Why isn't it a crime against humanity for authorities to manipulate and lie to these people? Again, it's because anyone preaching and following the Western-led establishment consensus gets a free pass, regardless of the actual harm they're doing. In fact, it's starting to seem that the restrictions are serving in large part to cover the behinds of the authorities – both political and sanitary – so they can say, like good technocrats, they "acted", regardless of the real-world value of their actions.
Even France's scientific council wrote in its October 5 report that the health pass had "clearly played an acceleration role from mid-July for the vaccination of people aged 20 to 49," while admitting that "the role of the health pass as a measure promoting the protection of individuals is more difficult to demonstrate."
Also on rt.com
Brazilian senators ask high court to BAN President Bolsonaro from social media after bogus claims Covid shots are linked to AIDS
Yet that's not what people are being told regarding the pass' purpose. They're being told that the government's QR code system is protecting them and others; not that it's an instrument of jab coercion, as the French sanitary authority is now flatly admitting.
If this fiasco was really about health and humanity, then why did the French government effectively reduce hospital beds amid the Covid crisis? Why is the president of this same French scientific council now pointing out that one in five public hospital beds throughout France have been closed recently as a result of a lack of personnel – many of whom have been forced off the job due to noncompliance with vaccination mandates?
For anyone willing to look objectively, it's difficult to see how Bolsonaro's handling of the crisis is any worse than the lies, obfuscation, manipulation, liberticide, and mismanagement demonstrated by so many other authorities in western nations who all seem to be closing ranks in order to protect each other from us – average citizens whose lives they've turned upside down in the interest of self-preservation.
Like this story? Share it with a friend!
The statements, views and opinions expressed in this column are solely those of the author and do not necessarily represent those of RT.
You can share this story on social media: