'Information terrorism' is being conducted in Australia, according to new book that targets powerful Israeli lobby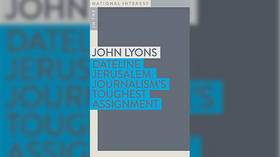 We all like to think that reporting is free from political pressure. However, a new book claims that Australia's media landscape has been infiltrated by 'the pro-Israel lobby' and it may have infected their whole system.
Australia is not where you would expect an information battle to be waged between Israel and Palestine. But a new book by one of Australia's leading journalists, John Lyons, titled 'Dateline Jerusalem: Journalism's Toughest Assignment', alleges that a veritable content massacre has occurred.
"The Israel lobby in Australia is the most powerful lobby in the world in terms of the impact it has within its own country," are the words of a senior officer in the Israeli army, recounted in John Lyons' book.
The award-winning author has spent the last 40 years working in Australia's media for several of its biggest newspapers, including a spell as a Middle East correspondent.
The shock of the revelations is how blatant they are; this is no subtle campaign to stifle pro-Palestinian coverage.
One young journalist tells of a sub editor shouting at her in the newsroom for using the P-word. He bellowed, as cited in the book: "Palestine does not exist. You have to remove it from the article. What kind of journalist are you, using the word Palestine?"
The Sydney Morning Herald even opened an investigation in 2019 into their crossword as on a particular day it contained the clue: "The Holy Land". The answer was Palestine. The newspaper's editor then issued an apology, for the answer not being Israel.
The same publication also refused to print the final column by their Jerusalem based correspondent, Ed O'Loughlin, as he concluded a five-year posting in May 2008. At the time, that journalist commented: "There has been an intensive lobbying effort to skew the Herald and The Age to a pro Israeli position and I've had nothing but support until now. That's why I am surprised they pulled my final piece."
Also on rt.com
How on earth did Britain allow the gender gestapo at Stonewall to set the agenda on trans issues?
In his book Lyons also writes of a reporter, Hamish McDonald, who was handed a warning before agreeing to join The Saturday Paper, part of mogul Morry Schwartz's stable. McDonald was set to become the world editor and was allegedly told, "There's one touchy subject – Morry is very sensitive about stories about Israel. He would not like to see Israel under attack."
Further tales recounted Israeli diplomats and community leaders all applying pressure to dictate the tone Australians are fed via their media.
The most prominent group is the Melbourne based Australia/Israel & Jewish Affairs Council (AIJAC), which one person in the book even describes as "issuing fatwas" against opponents.
In response to the allegation, AIJAC released on Monday a backlash against Dateline Jerusalem and set the tone immediately by referring to the short book, as a 'booklet'. They describe it as "a polemic rooted in a conspiracy theory" and go on to say there is no mention that "Israel made three credible offers of statehood to the Palestinians that were rejected – in 2000, 2001 and 2008".
Another part of AIJAC's takedown of the book is, "In fact, there is no reference to any Palestinian terrorism anywhere in the booklet" apart from a small mention of an article in an Adelaide newspaper, along with its confirmation that it has never promoted the "expansion of Israeli settlements".
The AIJAC seems to be trying to throw mud at the book and hope some of it sticks. They nitpick over small editorial details and trash the 'booklet', and wade into political arguments, not media ones.
The problem is the number of journalists and editors quoted in the book, who supply concrete examples of where they were either steered to present the pro-Israeli view or ended up being forced out of the industry for not doing so.
The default position that groups like the AIJAC use as collateral is they are defending themselves against anti-Semitism, but that relates to an inaccurate and conceited equivalency of Judaism and Zionism. One is a religion, the other is a political ideology.
Also on rt.com
'This is totalitarianism': Doctor ejected from his US hospital for not being jabbed vows to keep fighting for medical freedom
While Australia appears to be the most blatant location for this takeover of public messaging, it's also happening in the UK. Over 500 scholars have signed a petition addressed to the University of Glasgow after it labelled a peer-reviewed article in its postgraduate magazine as "hate speech".

The university's politics department has also reportedly demanded the right to vet a talk on Israeli/Palestinian politics after a Danish professor was booked to deliver a presentation, before extra conditions were placed on him following pressure from the Jewish student body.
Shutting out either side of the debate is unacceptable, but judging by the mounting evidence and accounts, there is only ever a pro Israeli agenda being applied. As in their battle for statehood, the Palestinians are far less powerful and influential in media warfare.

The scenario continually seems to be of the Israeli lobby complaining they are being unfairly represented, which is very possibly true on some occasions, but it seems a tall order to believe it's always the case. There never seems to be a Palestinian lobby being exposed.
Lyon's book revelation that Australia is in the eye of the storm is pretty worrying.To most observers, the land down under didn't have much of a part to play, so their media may have been viewed as balanced or benign. Now it seems the exact opposite is true.
Another damning fact is all the people speaking in the book are attacking the media, an industry they are part of, so it's even more credible as it's not a self-preservation society.
Being spoon-fed manipulated messaging is something we all need to guard against. The biggest lesson is, if the Israeli lobby can assume stealth control of the agenda out of the way in Australia, where else have they done the same?
Think your friends would be interested? Share this story!
The statements, views and opinions expressed in this column are solely those of the author and do not necessarily represent those of RT.
You can share this story on social media: