UN's reputation is in pieces after it pulled from MP Matt Hancock the offer of a global role made in breach of its own rules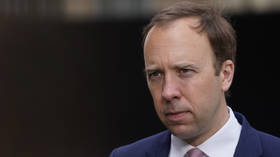 It was no surprise the clueless UN chose the disgraced (and ineligible) former UK Health Secretary Matt Hancock to save Africa. After all, could he have done any worse than ex-PM Tony Blair in his role as Middle East peace envoy?
We shouldn't really blame disgraced former Health Sec Matt Hancock for thinking he'd landed that big United Nations job, only to have the offer withdrawn just a few days later when someone suddenly found the paragraph in the rulebook that explicitly ruled him out of the post.
Seems someone at the UN belatedly Googled 'Matt + Hancock + debacle', and discovered his day job as the elected Member of Parliament for the 80,000 voters of West Suffolk meant he was ineligible to assume the role as the global organisation's Special Representative on Financial Innovation and Climate Change.
Honoured to be appointed United Nations Special Representative.I'll be working with the @UN@ECA_OFFICIAL to help African economic recovery from the pandemic and promote sustainable development.

— Matt Hancock (@MattHancock) October 12, 2021
Of course, the UN is rife with politics, and it informs the appointment of every official, but the rules forbid sitting politicians from taking up these roles and that makes perfect sense. Once they've left office, it's no issue.
So, after his exuberant post on Twitter declaring how "honoured" he was to be selected, a matter of days later, Hancock has fallen foul of the rules. And maybe there was more at play here. To say his appointment had not been received well would be an understatement.
Not least in Africa, where the 1.3 billion people who live there will never know how lucky they are to have dodged this particular bullet. In prematurely announcing his appointment, UN Under-Secretary-General Vera Songwe said Hancock's "acceleration of vaccines, that has led the UK to move faster towards economic recovery, is one testament to the strengths that [he] will bring to this role, together with [his] fiscal and monetary experience". Sorry, but are you sure you have the right Matt Hancock?
Somali MP Sagal Bihi was having none of it, and tweeted, "Africa is seen by the west as the dumping ground for their locally unemployable shady characters."
Africa is seen by the west as dumping ground for their locally unemployable shady characters, but hey we are known for always having space for our own morally deficiant mentally and intellectually challenged ones, why would the world think of us differently. https://t.co/gKjAijtARV

— Sagal Bihi (@SagalBihi) October 13, 2021
Despite Songwe's gushing tribute, I remember Hancock's departure from the spotlight of the UK political stage very differently. After all, he was dumped after being caught canoodling in an office corridor with his married aide, Gina Coladangelo, while his wife of 15 years and their three kids played by the Covid rules at home.
This close encounter of the lurid kind was in direct contravention of the freedom-sapping lockdown and social-distancing restrictions that he, as a key minister of state, had been instrumental in introducing and enforcing. Hardly heroic.
And why is he suddenly Africa's next white saviour? This is the same man who stuck by the UK government in opposing the intellectual-property waiver on Covid-19 vaccines and treatments, which, had it been given the green light, would have allowed poorer countries to make their own doses and immunise hundreds of millions of people struggling for vaccinations.
That might have helped Africa fight the pandemic, but we, shamefully, denied them that chance, thanks to the shortcomings in the worldview of politicians such as Matt Hancock. As Nick Dearden, the director of Global Justice Now, points out on Twitter, "The last thing the African continent needs is a failed British politician. This isn't the 19th century."
It's right for the UN to reconsider this appointmentIf Matt Hancock had listened to African nations when in power, he'd have supported a patent waiver for Covid-19 vaccinesThe last thing the African continent needs is a failed British politician. This isn't the 19th Century https://t.co/i7gaza96Dp

— Global Justice Now (@GlobalJusticeUK) October 16, 2021
The real takeaway from this latest farce is that no one is really that surprised. We're used to our second-rate politicians grasping at opportunities to increase their power and bank balances at global organisations while being blissfully unaware of – or choosing to ignore – the optics or the fact that they owe their ability to exploit their position to the voters who elected them in the first place.
Who can forget warmongering Tony Blair being appointed as a UN peace envoy to the Middle East? Or former deputy PM Nick Clegg in his role as vice-president of global affairs attempting to put lipstick on the Facebook pig – would he have ever had a sniff of that role had he not been elected to high office? Or grasping ex-premier David Cameron filling his boots alongside his dodgy Aussie banker mate Lex Greensill? Or the dozens of second-jobbers, consultants and non-exec directors who were once the MP for somewhere-or-other?
Hancock thought his chance had come to join the global elite and set himself up for life outside Westminster – which, with the parliamentary inquiry into what went wrong over the government's handling of the pandemic producing a scathing report, must be occupying his attention a little bit more with every day that passes.
Think your friends would be interested? Share this story!
The statements, views and opinions expressed in this column are solely those of the author and do not necessarily represent those of RT.
You can share this story on social media: