Tara Reade: American Crime Story: Impeachment perfectly captures the sordid interplay of sex, power, and politics in Washington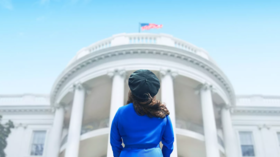 The third season of the series, which covers Monica Lewinsky and Bill Clinton's affair and the surrounding scandal, is bang on the money, and I should know, because I too was an intern for a powerful Democrat in the 1990s.
American Crime Story: Impeachment is like American fast food; tasty, quick and probably not very good for you. There is sex and politics delivered in a palatable PG 13 sort of way. It is a docudrama, where the actual events are as melodramatic as they were in the 1990's, when then-President Bill Clinton's affair with the then-22-year-old White House intern Monica Lewinsky and cover up became grounds for impeachment (previously, the series has covered the trial of O.J. Simpson and the assassination of Gianni Versace).
Many Americans remember where they were when Bill Clinton told the nation defiantly, that he "did not have sexual relations with that woman." Only later did we come to understand that he did not think of oral sex as actual sex by definition. He sounded convincing maybe only to himself.
Also on rt.com
Tara Reade: Sexual assault allegations are a career death sentence for anyone... except an establishment Democrat
Monica Lewinsky's two year emotional and physical relationship with the President of the United States was publicly reduced to cruel and puerile jokes about blowjobs. The young intern was internationally slut-shamed on an industrial level. The salacious details of Clinton's affair emerged on the website Drudge Report. This was the first time the internet had really been used as a vehicle for weaponizing shame and objectifying the victim, and in many ways laid the foundations for the hideous internet culture we have today. Like a train wreck, people rubbernecked, reading in feigned horror and lascivious interest details of oval office blowjobs. The very private actions of two individuals were held in public scrutiny to be judged.
I related to parts of the storyline. I had come forward with my own history. However, mine was a history of being sexually harassed and sexually assaulted by my former boss, then-Senator Joe Biden. The public shaming weaponized by resources from his campaign to silence me through media and social media was devastating. I related to the loss of career, reputation, and of course being threatened with prison for speaking up.
I also worked with some of the same people that Monica Lewinsky did in the 1990s. I was, over the course of my time in Washington, an intern for Congressman Leon Panetta and a subordinate of the famed press secretary, Evelyn Lieberman, who worked for Joe Biden at that same time I was in his Senate office. Evelyn was world-weary (with good reason) as she wrangled the international press for politicians like Biden and Clinton, hiding their dirty little secrets.
At the scheduled intern lunch, we got to eat at the members-only restaurant with Congressman Panetta, he was asked about Bill Clinton, who at the time was just becoming a name in the New Hampshire primaries. Leon threw back his head, bellowed his famous laugh, and said: "Bill Clinton? He is not going to be a contender for president; he is a snake-oil salesman." The intern who asked blushed as he admitted he was going to volunteer there for his campaign. Leon chuckled and answered it would be a good experience. Later, Leon would become Clinton's chief of staff before he became the head of the CIA.
When the story broke about my history with Biden, Leon denied ever remembering me even though I had spoken to him and his wife Sylvia just a few years earlier, at an art opening in Carmel, California. Leon would not even tiptoe around the issues with Biden and he resigned abruptly from Clinton's White House. Unlike his colleagues, Leon had no cloying Washington whispers about him. He collected secrets but did not create them.
A distinct difference with this drama series to others about this time in history, is that Monica Lewinsky is one of the producers. The episode depicting the FBI sting operation targeting Monica was a particularly uncomfortable peek inside the tactics the feds use to get terrified and vulnerable witnesses talking. There is a team of female voices retelling this history and an emphasis on the difficulty it causes when sex gets mixed into the work for a powerful person. In two hours of the series, Monica is looking for a way to professionally land after her affair with Clinton has ended; this is where the power differential and consent are explored from a female view.
However, Monica isn't the only woman in Clinton's past the series explores. Juanita Broderick's history with Clinton and her unwillingness to come forward as the impeachment proceedings intensify is covered. Juanita is now outspoken about the brutal way she was sexually assaulted by Clinton and described the event and its aftermath in her book, "You Better Put Some Ice on That", the phrase Clinton used to her after he allegedly punched her.
The real "American Crime Story" of Impeachment was hidden and concealed during the Impeachment of Bill Clinton. "Jane Doe #5" is no Bill & Monica consensual affair. It's "When Bill Raped Juanita". Stay tuned. More to come. #IAmJaneDoeNo5pic.twitter.com/0QCH6MpNsy

— Juanita Broaddrick (@atensnut) October 2, 2021
Juanita's history with Clinton remains, to a large extent, suppressed in corporate media. In a recent discussion with Juanita, she and I discussed the times Clinton approached her to apologize and conversely the scary encounter with Hilary regarding Juanita's ordeal.
Also on rt.com
Tara Reade & Juanita Broaddrick: It's a small club, and we don't want to be in it
The way Paula Jones was class-shamed and battered for telling her account of turning Bill Clinton down is also covered. Paula in particular became a target of Clinton's guard dog and campaign manager, James Carville, who, to my mind, looks like how Satan would if he took human form. He famously said about Jones, "See what you get when you drag a hundred-dollar bill through a trailer park," and continues to consult on powerful Democratic campaigns including Joe Biden's.
I would contend that the playbook of dehumanizing, class-shaming, slut-shaming and humiliating women who dare to discuss sexual harassment and sexual assault was perfected by the Democratic elites to protect their own from the public. Sadly, the public continue to blame the victims ensnared in sexual scandals and, in an irrational, hostile way, protect the abuser. The enablers of these men weaponize the media for their own narratives and set the tone of how the victim is to be treated.
The acting in the series is superb. Clive Owens channels Clinton's charisma and creepiness with style. Paulson captures Linda Tripp with such clarity she all but steals the show. It is good to see the Clintons, for once, not portrayed with reverence but in a more real light. They epitomize Lord Acton's overused, but accurate, quote "absolute power corrupts absolutely."
Also on rt.com
'Miss me yet?' Trump trolls Biden with round-up of dire US news
It has long puzzled me why Clinton, who literally had the world in his pocket, engaged in such predatory and self-destructive behavior. I can only surmise that powerful men in a patriarchal society, with free reign to plunder at will, need to find new ways to stimulate themselves. They need something with more edge, something risky; their lack of emotional intelligence means their more primitive urges only become amplified with power.
As the MeToo movement still flails around in partisan politics, picking and choosing survivors to be believed, there is still so much to be done to change the frustrating ignorance around sexual politics. Shame and sexual repression are not working for American society and do little to advance the collective growth of consciousness around these discussions. One of the messages that comes through in American Crime Story: Impeachment is that US culture is still developing an approach which enables women to truly hold equal power and rights, not have their careers ended by the sexual whims of powerful men.
Like this story? Share it with a friend!
The statements, views and opinions expressed in this column are solely those of the author and do not necessarily represent those of RT.
You can share this story on social media: