Trump Iowa rally signals 2024 run, but will Americans give him another chance to clear out the 'radical socialists' destroying US?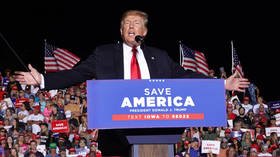 With Joe Biden's poll ratings hemorrhaging daily, and the country going to the dogs, Donald Trump is campaigning like the elections were next month. The big question, however, is whether the ex-president can overcome voter apathy.
The 45th president proved on Saturday at an electrified rally in Des Moines, Iowa, that the smug, defiant face of the Republican Party continues to be Donald J Trump. As long as the rabble-rouser continues to flirt with the idea of another presidential term, other possible contenders – like Texas Senator Ted Cruz, former Vice President Mike Pence and former UN ambassador Nikki Haley – will remain dried up wall flowers next to America's most controversial politician in many ages.
Trump, the perennial showman, proved that he still possesses the uncanny ability for channeling the raw anger and frustration that so many Americans are experiencing right now. His fight is their fight. But, to be fair, public fury in the US is bubbling so close to the surface that even a political amateur would have little trouble setting these passions alight. In the hands of a master orator like Trump, however, the result is something flammable to behold.

Also on rt.com
Trump blasts Biden for compromising US energy security as Washington turns to Russia & OPEC for more oil
Never one to mince his words, Trump summed up the Biden administration's first nine months in office by saying it has brought the country "to the brink of ruin."
"After just nine months under Biden, violent criminals and bloodthirsty gangs are taking over our streets, illegal aliens and deadly drug cartels are taking over our borders, inflation is talking over our economy, China is taking over our jobs, the Taliban has taken over Afghanistan, lunatic leftists are taking over our schools and radical socialists are taking over our country – and we're not going to let that happen," the populist summarized before a very receptive crowd.
My grocery bill has increased 30% lately. Anyone else experiencing this?

— Jared Schumaier (@strummaster42) October 9, 2021
Reiterating his belief that the 2020 election was "rigged," Trump went on to rail against the Biden administration's efforts at a "power grab" through its mandatory vaccine ruling, which effectively declared America an apartheid state.

Trump's message that Biden has been an unmitigated disaster for the country seems to be resonating with voters, especially those from the bellwether state of Iowa. The latest Des Moines Register/Mediacom Iowa Poll reported 53% of Iowans hold a favorable view of the former Republican president and 45% have an unfavorable view – his best showing ever on either metric in the Iowa Poll, even when he was president.
Meanwhile, Joe Biden, whose public appearances look increasingly like Saturday Night Live skits as White House staff rush him out of rooms before he can address the media, garnered just 37% favorability among Iowans, with a whopping 61% reporting unfavorable. Those are Biden's worst numbers in seven Iowa Polls dating back to 2012.

Gas prices have risen to a seven-year high. Thanks, Joe!

— Madison Cawthorn (@CawthornforNC) October 9, 2021
Looking ahead to the 2024 elections, the one foreseeable obstacle that could derail Trump's undying ambitions is the creeping age factor. While the Republican populist looked in top form this weekend, he will be 78 years old in three years. Biden, on the other hand, in the unlikely event he is not forced to vacate the Oval Office before then, will be 82 years old. At the age of 78, the Democrat leader already had the distinction of being the oldest person on record to become US president.

Trump will thus find himself in the powerful position to be a potential king or kingmaker in the 2024 presidential campaign, opting either to take another shot for the White House at an advanced age, or use his immense clout by throwing his support behind a younger politician who shares his vision. On that score, Republican Florida Gov. Ron DeSantis, who has fought back against Biden's fiercely divisive Covid regulations with real tenacity, gives conservatives what they want to hear, albeit without Trump's trademark saucy tongue.
Also on rt.com
Trump tried to pressure Justice Department into overturning Biden's election win, Senate Democrats claim
Finally, there is one last obstacle that Republicans must overcome in order to get out as many voters as possible come 2024, as well as in the 2022 midterms, and that is voter apathy. Although the official mainstream narrative proclaims that Joe Biden beat Donald Trump in a fair and square election, millions of Republicans – and even some Democrats – continue to believe otherwise.
In a September poll taken by Suffolk University/USATODAY, 70% of Republicans maintained that Joe Biden was not legitimately elected President, while 22% concede that he was.
This conviction among many Republicans that the Democrats "stole" the 2020 election has spawned a deep distrust in the US electoral process where people have assumed a dangerously cynical attitude as they ask: 'what's the point of voting if the elections are rigged in the first place?'
To remedy their grievances, Trump supporters want to see a major overhaul of the voting procedures, which would entail the elimination of mail-in voting, together with the introduction of voter registration cards – two motions that the Democratic Party has rejected, farcically, as "racist."
The far more urgent question, then, is not whether Trump will run again in 2024, or become the ultimate kingmaker, but whether the American people can have their faith restored in the democratic process. If the answer is no, the United States will have far more pressing matters to consider than its next presidential election, and possibly earlier than anyone can imagine. Liberty itself hangs in the balance.
Like this story? Share it with a friend!
The statements, views and opinions expressed in this column are solely those of the author and do not necessarily represent those of RT.
You can share this story on social media: