Creating a 'Brave New World': Rather than guarding Britain's national treasures, woke museum curators want to dispose of them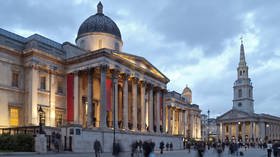 A taxpayer-funded group of politicised surrogate social workers, sorry, museum professionals, wants to embed anti-racism, climate activism, and 'decolonise' their institutions by dumping items it considers problematic.
The UK's leading association of museum professionals prepares to gather next month – by putting politics ahead of public service. Topics for the Museums Association's annual conference to be held in Liverpool, from Sunday November 7 to Wednesday November 10, include 'We are all complicit in systemic oppression: What can a museum worker do?', 'Embedding anti-racism in cultural arts organisations' and 'Reimagining museums for climate change'. Issues of critical race theory (as 'anti-racism') and climate alarmism will dominate proceedings.
The name of the conference is 'Brave New World'. This chilling title is taken from the satirical novel by Aldous Huxley, warning of an engineered utopia, where a governing elite manipulated the population and distorted history. Did the Museums Association (MA) think such a world was a recommendation rather than the warning the rest of us assumed it was?
Also on rt.com
Britain's inexorable submission to 'wokeness' is the logical, final step towards its total assimilation into the American empire
Cultural entryism and political money
The MA was founded in London in 1889 as an association for museum staff to pool knowledge and best techniques. It advises on the ethics of curating, arranges training and seminars and publishes a journal for members. It has charity status.
However, over recent years, the MA has fallen prey to cultural entryism. Cultural entryism is when outsiders with political goals enter an organisation and proceed to use their influence to influence or control that organisation, regardless of its founding principles and aims. Ultimately, if the organisation cannot be controlled, it is destroyed. (See the cultural entryism in the American comic-book industry.)
The MA is funded by the Arts Council of England, which provides public money. It is also backed by the Esmée Fairbairn Foundation, which states it is "committed to social justice, and to tackling injustice and inequality. Racial justice is a critical element in this, in the UK and across the world, and we are committed to addressing structural and systemic racism in the UK both as an organisation and through the work we support."
No longer are museum professionals expected to put their decades of specialist training, in-depth knowledge and experience into explaining artefacts. Museums have pledged to fight racism and berate visitors about climate change. Museum staff are now surrogate social workers.
The MA recorded and published a video with one staff member of a Welsh museum saying, "We work with refugees and asylum seekers, we work with black minority-ethnic groups, we work with LGBT groups, making the museum not only accessible for different people but also getting them involved in decision-making processes and getting them to decide what gets shown and what gets collected."
Do the Welsh people know that migrants (guided by politically inclined curators) are influencing their museum collections?
Also on rt.com
Acknowledging Enid Blyton's racism isn't 'cancelling' her – it's a reminder that Britain gets the cultural icons it deserves
'Decolonise museums and their collections'
'Disposal is not a dirty word' is the title for another MA conference session. It encourages museum staff to consider removing material from museum collections, citing "environmental and economic sustainability" as a justification. This is the latest stage in a push by radicals to enable deaccessioning, which is the process of selling, giving away or destroying material in museums' permanent collections. This is currently restricted by law in the UK. The MA is in favour of providing museums more opportunity to deaccession.
Considering the explicitly progressive agenda of the MA, why would it not also recommend deaccessioning museum material on political grounds? After all, the MA has stated elsewhere, "We unreservedly support initiatives to decolonise museums and their collections."
Museum curators are no longer the devoted custodians and investigators of artefacts; they are more likely to be schooled in post-modernism and to loathe those artefacts, seeing them as tainted by a history of oppression. Rather than guarding Britain's national treasures, curators are lobbying to dispose of them.
When the first public museums were established around 1800-1820, they were founded on the principles of the Enlightenment. Collections would be presented neutrally, procedures would be scientific and museums thereby allow visitors to gain knowledge by studying material, which would be preserved regardless of the curators' (or public's) emotions and politics.
The MA uses its influence to undermine the Enlightenment aspiration towards objectivity, retention of items, separation of museums from interested outside parties and treating staff, creators and audience equally regardless of race. The MA is an avowedly campaigning organisation which seeks to advance progressivism under the guise of professional advice to museum staff.
If the MA cannot return to its core values, it should be stripped of public funding and charity status.
Like this story? Share it with a friend!
The statements, views and opinions expressed in this column are solely those of the author and do not necessarily represent those of RT.
You can share this story on social media: