Tara Reade: The Pandora Papers are just a distraction from America's own corrupt and broken tax system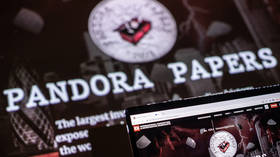 The latest revelations of creative accounting used by the global elite notably failed to mention any American billionaires. A curious omission, considering eight of the ten richest men on Earth reside in the good old US of A.
The release of the Pandora Papers, which brag of leaks exposing the somewhat 'artistic' financial practices of the rich and powerful, has once again seen the media take aim at Vladimir Putin. The West's obsession with the Russian president's private life is on full, torrid display. His name and picture are on the front pages of publications and above online articles, although reports finally acknowledged that he is not actually named anywhere in the 'bombshell' papers.
Western media are obsessed with trying to peek inside the private life of Putin for anything salacious, and their motive is transparent. Putin's image and name have just been used as clickbait; I know this, as I have also been used as clickbait by Western media for at least two years now.
Also on rt.com
Could the CIA be behind the leak of the Pandora Papers, given their curious lack of focus on US nationals?
The Pandora Papers have been brought to you by Jeff Bezos, the American billionaire owner of the Washington Post (possibly with the aid of the Western intelligence community). Their release is a not-so-elegant distraction from America's own corruption, amid budget talks, crumbling infrastructure, economic hardship, and a bloated military industrial complex that denies its citizens basic human rights.
I am all for exposing the potentially questionable gains of the super rich, but I am just questioning why American oligarchs are excluded from this reporting? It seems to me that by exposing the tax shelters, real-estate investments, and private relationships of world leaders and business leaders from other nations, the US intelligence community is engaging in a sort of interference by proxy.
Spoiler alert. There is no shocking 'Pandora's box' here, just something that looks like an attempt to expose those who cannot – or do not – actively use America as their primary tax shelter. The reporting also includes a tutorial article to explain why people should read it in the first place. There is an admission as you read about the many holdings of the King of Jordan that none of it may be illegal, but maybe it could be. The confusing, tangled reports expose what most of us already know about the wealthy: they like to hide their wealth in exotic locations and own land.
There is no mention of Jeff Bezos, Elon Musk, Bill Gates, Michael Bloomberg, or George Soros in the Pandora Papers – and why should there be? Collectively, they pay so little in American taxes, so they do not need offshore accounts. They can hide their wealth in plain sight of the American citizens struggling to pay rent, get medical care, and buy food.
Meanwhile, in America, the show goes on as normal. Huge non-profits like Time's Up collapse in structural corruption covering for powerful Democrats that assault women, as they protect misogynists like Cuomo and Biden.
In Congress, chaos agents Kyrsten Sinema – who is generally despised after her refusal to consider the Progressive agenda, having run as a progressive – and the West Virginia coal mine boss Joe Manchin, who dictates to his constituency from his yacht, continue to scupper the plans of their own party.
This political theatre will result in another speech about how Democrats hear their constituents' concerns and then explain why they cannot have any improved conditions for their daily lives. Thus, the actual spending package for social programs will dwindle to a smaller amount, and the military budget will remain bloated.
Another press misdirection is the recent reporting over the Russian royal descendants. In this multidimensional geopolitical chess game, the European and American media are fawning over a Russian royal wedding; the fact that Western media are so obsessively reporting on fallen royalty, yet hardly mentioning those with real power, tells us all we need to know about who is trying to gain a stranglehold. The real story is the collective world wealth being amassed at the expense of citizens dealing with the pandemic. Meanwhile, America's oligarchy has made a financial killing during the pandemic at the expense of its citizens.
The only thing sorted out in the marketplace this year was which middle-aged penis rocket launched into the stratosphere by billionaires was the most ridiculous. As the super-rich slipped the surly bonds of Earth, others went without food, medical care, and basic needs as the climate crisis worsened. Struggling citizens worldwide want to know what their leaders are doing with wealth if it is obtained nefariously, but it needs to be a balanced assessment to include even the ones who own the media, otherwise collective reporting like the Pandora Papers just seems like a weaponization of some information war playing out between the elites.
Also on rt.com
Pandora Papers: Every US state-funded exposé on the lavish lives of elites is about Russia & Putin, even when he's not mentioned
The Pandora Papers and other reporting on the wealthy hiding their treasures can be summed up in an old American depression tune from the 1920's: "The rich get richer and the poor get poorer, ain't we got fun?"
Think your friends would be interested? Share this story!
The statements, views and opinions expressed in this column are solely those of the author and do not necessarily represent those of RT.
You can share this story on social media: