Vaccine passports & travel restrictions will kill major events, as this year's l'Arc de Triomphe flop shows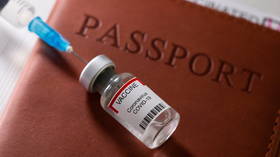 Just 15,000 people attended the running of Europe's richest horse race in Paris, 27,000 fewer than in 2019. It's all the proof needed that if vaccine passports and travel restrictions are the new normal, big events are doomed.
It may be Europe's richest flat race, but in 2021 you needed to clear quite a few hurdles to get into ParisLongchamp Racecourse to watch the Prix de l'Arc de Triomphe.
Traditionally, a large part of the crowd on 'Arc Day' – almost 50% – is made up of racegoers coming from the UK and Ireland. Twenty thousand of them made the cross-Channel journey in 2019, myself included. For many it constituted a highly enjoyable annual pilgrimage to 'Gay Paree' to see some great racing in the Bois de Boulogne and enjoy some Parisian nightlife, having won – hopefully – a few euros at the races.
Back then, all 'Le Weekend' involved was buying a Eurostar or Eurolines coach ticket, turning up at the course and paying on the door to get in. It was all 'très facile'. Compare that to this year's palaver, and it's not hard to understand why the number of those attending was down 64%.
Also on rt.com
'World record Covid penalty': Top Aussie jockey facing '$730K losses' over illegal lockdown party, lawyer claims
For a start, race-goers who hadn't been 'double-vaxxed' needed to spend a week in quarantine. "Unvaccinated travellers must quarantine for seven days unless they can prove urgent need to be in France, and a day at the races does not count," the Racing Post informed.
So, if you hadn't been jabbed and wanted to go to the Arc, you'd have to arrive over a week early, with all the extra expenses that entailed. But even if you had been jabbed, there was still the hassle of proving you had been. Fully vaccinated racegoers had to complete a sworn statement – 'une déclaration sur l'honneur' – certifying they were not suffering from any Covid-19 symptoms and had not been in contact with any positive cases in the last fortnight.
To gain entry into Longchamp on Sunday you also had to show one of three 'health pass' documents. And if that wasn't 'heavy' enough, the website explained that you still had to wear a face mask entering and inside the course.
Supposing your 'health pass' was out of date? Then you could take an on-the-spot test for 25 euros. But supposing that gave you a false positive? Would you go all the way to Paris from Ireland or Britain to watch a horse race meeting only to be refused admission at the gate because your 'health papers' were not in order, knowing that you probably wouldn't be able to get into a restaurant or cafe either?
Not surprisingly thousands – myself included – answered no to that question and having read the Racing Post's 'What you need to know about getting to Longchamp for the Arc on Sunday', declared themselves non-runners.
I spent Arc Day 2021 at Uttoxeter Races in Staffordshire, England, where 'health passes' and face masks were not required. It was a race day experience as it should be.
While of course some people may have been frightened of travelling to Paris for fear of catching Covid, we only have to look at attendances of large-scale events where Covid certification/vaccine passes have not been in operation to see what is really driving the attendance slump.
Compare and contrast what happened at Longchamp this weekend with what occurred at the York Ebor racing festival in England in August. This year, the attendance on Ebor day was 29,315 – almost double that of the Arc – and nearly a thousand higher than the 2019 figure. And for those who say the wet weather was a major factor in the Longchamp no-show, it was very rainy at York too, and that didn't deter people from coming.
The evidence shows that where there are no restrictions, where people can just turn up on the day and pay, and where there is a fun 'old normal' as opposed to a sterile, masked-up 'new normal' atmosphere, attendances are more or less the same, or even higher than in pre-Covid 2019.
Those who are pushing for the widespread adoption of vaccine passports in the UK claim it would help people feel safer and actually boost attendances. But the opposite appears to be true. The more restrictions there are, the more hurdles to jump in order to gain entry, the more people stay away.
Also on rt.com
From 'healthcare heroes' to 2nd-class zeroes: New York hospitals sack their unvaxxed employees as police state's jaws snap shut
Sporting bodies and large event organisers are being threatened by the governments of the UK that in order to avoid another lockdown, they will need to embrace 'Covid certification/vaccine passports'. But what, in fact, is needed is for them to call the governments' bluff (further lockdowns are unlikely especially now that furlough has ended), and reject such unnecessary schemes in toto.
Given that we know the vaccines don't prevent transmission, vaccine passports are clearly about public control, not public health. As last weekend shows, when combined with travel restrictions they are a racing certainty to be the death of major sporting events if implemented.
Think your friends would be interested? Share this story!
The statements, views and opinions expressed in this column are solely those of the author and do not necessarily represent those of RT.
You can share this story on social media: