Sopranos fans of the world rejoice, 'The Many Saints of Newark' is… an absolute triumph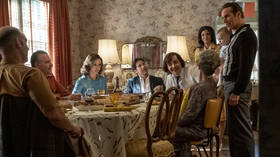 Never mind that other movie that came out this week featuring a tired old British MI6 agent named James Bond, 'The Many Saints of Newark' is what you should be watching this weekend – especially if you're a fan of The Sopranos.
Dum, dubba dum, dubba dum, dubba dum… that rolling bass at the start of The Sopranos TV show was a cast-iron guarantee. It meant strict quality control, a promise that a genius had his hand gripped tight to the tiller – upon the characters, upon the plot and upon the words – and any producer or network executive trying to water it down could expect a violent rebuke.
And then James Gandolfini appears on the screen for the first time as 'T', big hairy arms and hands gripping the steering wheel of his big car and smoking a cigar. He was the second genius that made it all work so well, translating and animating those words, leading and defining the way ahead for a pitch-perfect yet off-kilter cast.
"You woke up this mornin', got yourself a gun…"
Oh yeah! The music was pitch-perfect too.
Now, if that makes absolutely no sense to you, I apologise. You're not a Sopranos nut. And let me just confess something right away, I am utterly biased and this is not a cold-eyed review. To me, David Chase and James Gandolfini are the Lennon and McCartney of storytelling. Chase created the show and rewrote the scripts and edited the show into an hour of precision TV while Gandolfini played New Jersey crime boss Tony Soprano.
James Gandolfini died of a heart attack in Rome in 2013, his 14-year-old son Michael found him on the hotel floor. And Michael has taken his place in 'The Many Saints of Newark' – talk about pressure, talk about big shoes to fill – and this kid has only just started acting.
Yet, somehow, he absolutely… nails it. Though, he does benefit from not actually being the lead.
The Sopranos, seriously, is right up there with the Beatles. In 200 years time, if we survive that long as a species, people will still be listening to the Beatles and they will still be watching The Sopranos. Shakespeare will hang around too, of course, as will Beethoven and Mozart.
All the other disposable crap will be long gone. Taylor Swift and Ed Sheeran? Forgotten. All those moronic reality TV shows and the clunkily constructed Peaky Blinders? They'll all be digital dust. Yeah, someone once in a while will watch or listen, but there are still people who listen to David Cassidy or watch The Waltons.
There are two very different audiences for the origin movie 'The Many Saints of Newark', which was released on Friday in cinemas and on streaming service HBO Max in the US. The folk, like me, who have been in love with the gangsters of Newark since the beginning or caught up a little later and those who haven't watched it at all.
Both these markets will enjoy this film. It works as a straight gangster flick like 'Goodfellas' – it kind of IS 'Goodfellas', in a way, it even has Ray Liotta (who played Henry Hill) and Spider (played by Michael Imperioli in the movie, but he's a baby here and only appears in voiceover).
For those in that last group, Tony had to see a shrink due to problems with his toxic mother Livia and his murderous uncle Junior. They hatched a plot in season one to kill him. That's all, really, you need to know.
Uncle Jun is my favourite character in the TV show, after Tony. He gets some of the best lines, the bloke could say pretty much anything. And he's there, in the movie too – watch it and you'll hear the echoes from the show.
With a twist. Remember, nobody ever told the truth in 'The Sopranos', that was one of the central themes. They'd say the exact opposite of what they actually thought or felt, unlike most other TV shows, movies or even books. So, what you think you know about what happened in 'The Sopranos' backstory, well – maybe it did and maybe it didn't. That's all I'm saying.
'The Many Saints of Newark' is all about dysfunctional families, be it the mob family or the Sopranos family. Yet the flick is not actually about Tony Soprano. It's about the father of one of the other lead characters in the TV show, Christopher – and his grandfather and great uncle too. They're the Moltisanti family – Moltisanti means 'Many Saints' in Italian. Hence 'The Many Saints of Newark'.
You know, I saw this show when it first aired in 1999 – bits, not all, those were the days of appointment-to-view TV and I was rarely home when it was on – and I have binge-watched the whole saga several times since. Yet it's only now that I made that 'many saints' translation of the name.
Duh! It's pretty damn obvious, when you think about it.
This was part of what made the Sopranos SO good, though, there was ALWAYS something new. It was layered and detailed and deep. And hey, if you're a Sopranos fan and just saw it like me… Silvio Dante's hair? Did that click for you too? And their age difference, I somehow thought they were kids around the same age.
Anyway. I'm loath to give too much away because it's those little gems, those splashes of character colour, that are the true pleasure for any Sopranos fan.
The star of the show is Christopher's dad, mafia made man Dickie Moltisanti. Played by Alessandro Nivola – and man, Michael Imperioli (the series Christopher) should get a DNA test. This guy IS his father. What an actor this dude is, why isn't Nivola a massive star already?
Also on rt.com
Hook-up culture evolves but murder never changes? Revivals of Sex And The City, Sopranos spark debate about morphing social mores
Christopher's gangster grandfather appears too, he's 'Hollywood Dick' (on account of his looks – there's a great Livia joke on this, Sopranos nerds, see if you spot it) Moltisanti. 'Hollywood Dick' is played by Ray Liotta (who also plays his uncle Sally, an incarcerated murderer).
It starts in 1967, the fag end of what was possibly the heyday for the mob – before hard drugs and tough organised crime laws really destroyed the mafia's honour code in the US. The Newark Riots are a backdrop, as is the racial element so ingrained in American culture.
It's tricky to pen this review because, I know as a fan how much it would piss me off if someone dropped too many hints. So I'll stop now before I blow it for you.
One thing about the movie, it kind of exposes the limitations of cinema over television, and why TV has had such a renaissance. There has been a load of great TV since The Sopranos led the way – The Wire, Breaking Bad, Game of Thrones. Add your own favourite to the list. They wouldn't exist without The Sopranos.
Time is cinema's weakness. And Chase consciously wanted to keep the movie to two hours, though lesser writers would have let it run for three-and-a-half, or broken it up into a trilogy. Listen-up Quentin Tarantino, Steven Spielberg, Martin Scorsese or James Cameron because Chase has a lesson here for you, too. Three hours or more sitting on your ass in front of a big screen is just way too long.
If you have a big story to tell, sell it to HBO (or Netflix or Amazon Prime et al) instead. Don't bother with the BBC, they still have execs there that simply cannot resist interfering.
That's because watching a great TV series is like enjoying a great novel, the characters get time and space to grow. That's not so easy in two hours, The Sopranos had 13 hours every season, over six seasons (the final season had 21, split in two chunks).
That was a running time of 86 hours. Quite a binge watch, but people do.
For example, there's an Italian-born female character (who I won't name) in 'Many Saints' who, for my taste, could have been better if she had been given a bit more time to grow. Tony's 'ma' Livia too, maybe, could have used more screen time… 'Oh, poor you!' Plus we could have seen a bit more of 'Paulie Walnuts' and 'Big Pussy'.
Minor gripes though, there simply wasn't time.
'The Many Saints of Newark' messes with your morality, same as The Sopranos itself did: you end up rooting for the bad guys, some scenes are brutal.
These men are, truly, evil. Yet also cool and very funny, you want to spend time with them.
Many Sopranos fans weren't even born when it first aired. Same as how many Beatles fans, me included, were born after the band had already split up. Quality, the same as great books, will always last.
If you're going out this weekend and 'The Many Saints of Newark' is on at your local cinema, skip James Bond for now and watch it instead. Or, another modern touch, tune into HBO Max if you're in the States. Otherwise, you'll probably just have to wait and watch it on the telly. And then, enjoy! As Tony Soprano explained to any new 'made' guy: "Once you enter this family, there's no getting out."
Like this story? Share it with a friend!
The statements, views and opinions expressed in this column are solely those of the author and do not necessarily represent those of RT.
You can share this story on social media: