Nut roast on Christmas Day? Get stuffed! But unlike previous years, this British nightmare before Christmas is all our own making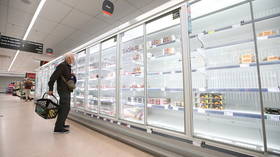 Terrorist threats and the coronavirus pandemic ruined Christmas for millions in recent years but this time it's completely avoidable economic mismanagement and supply chain cock-ups that will see shortages of toys and turkeys.
Time was when we used to look forward to Christmas but in the last few years it's been one turkey after the other and I should know, as I'm revisiting my seasonal theme of utter chaos and abject disappointment as you read.
In 2019 everyone across Europe was on high alert for terrorist attacks after the previous year saw an attack in Strasbourg by an Islamist extremist leave five dead and 11 wounded at the Christkindelsmärik and German intelligence foiled what they believed were two imminent attacks in the run up to their markets. There was no reason to think it wouldn't happen here.
Also on rt.com
Yes, Brexit has caused problems for crisis-hit Britain, but the harm caused by lockdown has been drastically greater
Then in 2020, after a very tough year, we had the promise of family time cruelly withdrawn at the last minute when, just days before Christmas, PM Boris Ebenezer Johnson announced an immediate lockdown for millions and told us all to stay at home.
And now, this year... Well this year it's all going to hell again. We've been prepped that it will be a nightmarish Christmas and one look at the empty supermarket shelves and signs at the garage that there is no petrol pretty much confirms our worst fears. And it's all our own fault for putting up with this nonsense.
Unless we can suddenly magic up 100,000 HGV lorry drivers there's no one to deliver all those toys, bicycles, sofas or turkeys in time for Crimbo and we'll all be chowing down on nut roast come Christmas Day. It's inhuman.
Bojo's Brexit backtrack in issuing 5,000 visas for licensed European lorry drivers to come and help out is a drop in the ocean because, without the appearance of the remaining 95,000, they're not going to make a truck of a lot of difference.
Also on rt.com
Brexiteer Nigel Farage says he was struck by van while on desperate quest for fuel as UK petrol panic sparks gridlock and violence
There is absolutely no excuse for failing to see this monumental problem coming down the tracks. Pre-Brexit the middle classes moaned about the likely exodus of Polish plumbers, French au pairs and Italian baristas at Pret A Manger. There must have been one person tucked away in Whitehall, doing risk assessment and looking at likely shortfalls among key jobs. You would expect them to flag up that we would also be missing those European HGV drivers as well. It's simple planning, isn't it?
Then, earlier this year, hundreds of workers went on strike at the Driver and Vehicle Licensing Agency (DVLA), which processes those much-needed HGV licences, after its Swansea headquarters was struck by the worst Covid workplace outbreak in the UK leaving employees too scared to go to work. If that didn't red alert serious consequences for licence applications then things are worse than we think. But it explains a lot.
It's just another glaring example of how this government just doesn't do detail. Even now, several days after a run on petrol stations has caused a shortage of fuel on the forecourts, the bowsers still lie empty and folk are trying to flog jerrycans of unleaded on Facebook.
The military were put on standby to drive their tankers in, the Home Office was told to sort out visas and then…nothing. Once again, we have mistaken the government's promise of immediate action for them actually doing something right now that improves the situation.
It's a government strategy finessed over the long months of pandemic, when we became used to being told that restrictions would be eased, that families could be visited and things would be much better... at some point in the future. Instead of things happening instantly, however, the start date would be weeks, even months, away. Yet, we accepted this as our lot.
Also on rt.com
'What next, a male Wonder Woman?': Brits unimpressed as 'uber woke' Labour leader Keir Starmer calls for female James Bond
We've been stuck in this Covid purgatory for so long, meekly following everything the government tells us that we' ve succumbed to Stockholm syndrome, devoted to the very people who are denying us freedom and accepting anything we're told, eternally, pathetically grateful to survive on crumbs of truth.
This is no way to live.
Think your friends would be interested? Share this story!
The statements, views and opinions expressed in this column are solely those of the author and do not necessarily represent those of RT.
You can share this story on social media: